George Steinbrenner, Legendary Yankees Owner, Dead at 80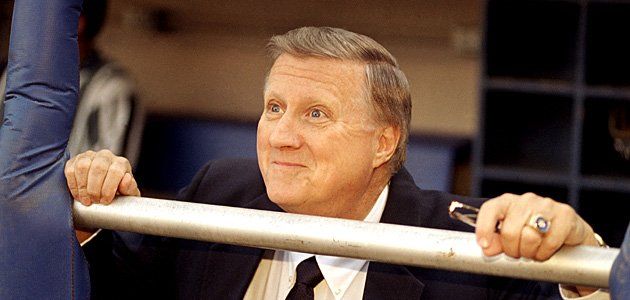 George Steinbrenner, who owned the New York Yankees for 37 years and restored the franchise to its former glory, died Tuesday morning of a heart attack. He was 80.
Though he was born near Cleveland and made his money in a family business there, he will forever be associated with the city of New York. Buying the struggling baseball team in 1973, Steinbrenner made some enemies with his dictatorial style—nicknamed "The Boss," he frequently feuded with managers and interfered in the day-to-day operations of his club—but won the hearts of Yankee fans with 11 pennants and seven World Series titles, using the team's deep pockets to lure baseball's biggest stars to New York, from Dave Winfield to Alex Rodriguez. He even became a recurring character on the quintessential New York television show, Seinfeld.
In 1990, NEWSWEEK's David A. Kaplan profiled the Boss for a cover story, calling him "the most hated man in baseball." Although it was a low point in his ownership—the Yankees were struggling, and he himself was under investigation for association with a gambler—
Steinbrenner was jaunty and nonchalant about the animus many fans and fellow owners felt for him.
"You think Lincoln was popular? Lincoln said, 'I do the very best I can. If the end brings me out right, what is said against me won't amount to anything. If the end brings me out wrong, 10 angels swearing I was right would make no difference.' I have that saying up in my office, at Yankee Stadium, in my bedroom, everywhere."
Writing in the same issue, George F. Will said that while Steinbrenner was almost certainly not a gambler, that was the only sin of which he could be absolved: "Steinbrenner is a boor and a buccaneer, overflowing with the animal spirits that fuel capitalism in its rawer forms." But despite the cloud of criticism over Steinbrenner in the early 1990s, he led the team back to success as a perpetual contender and World Series champs in 1996 and then back-to-back-to-back from 1998 to 2000.
Steinbrenner had stepped back from the club as his health faltered. His sons Hal and Hank have been running the team since 2007. According to a statement released by the family Tuesday morning, he died at his Tampa home. "He was a visionary and a giant in the world of sports," the family wrote. "He took a great but struggling franchise and turned it into a champion again."
Steinbrenner's death marks the second major passing of an era for the Yankees this week. Famed public-address announcer Bob Sheppard, nicknamed "the Voice of God," died at 99 on Sunday.