John McCain Funeral: George W. Bush and Michelle Obama Sharing a Moment Went Viral
Memorial services for Senator John McCain were held on Saturday in Washington D.C. During the emotional service, a light-hearted moment between former president George W. Bush and former first lady Michelle Obama went viral.
The Bush's and the Obamas were seated next to each other for the funeral. Footage from the live stream shows him passing her what many internet users say is most likely a hard church candy during Senator Joe Lieberman's eulogy.
"I'd like to think that moments like this between W. Bush and Michelle Obama are what McCain was hoping for," tweeted Brenna Williams, a politics editor at CNN.
"George W. Bush sneaking a piece of candy to Michelle Obama is warming my heart," Roland Scahill tweeted along with a video.
"Bipartisanship," said MSNBC. "Laura Bush, via President Bush, hands a piece of candy to Michelle Obama during the memorial service for John McCain."
Bush and the former first lady share an unlikely friendship, both coming from different backgrounds and political parties, and have previously been photographed together at public events. Bush said in an interview with People magazine last year that they have the same sense of humor. "Anybody who likes my sense of humor, I immediately like," he said.
The ceremony took place at the Washington National Cathedral. Former presidents Bush and Obama were asked to speak at the service, both of them having beat McCain in separate presidential elections.
Bush delivered a moving eulogy at McCain's funeral. "It is this combination of courage and decency that makes the American military something new in history – an unrivaled power for good," he said in his eulogy. "It is this combination of courage and decency that set America on a journey into the world – to liberate death camps, to stand guard against extremism, and to work for the true peace that comes only with freedom."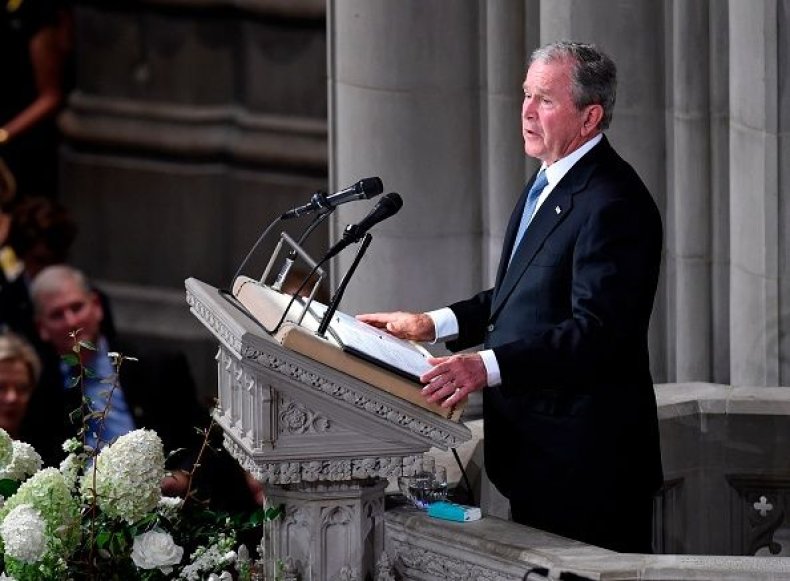 "We come to celebrate an extraordinary man. A warrior, a statesman, a patriot who embodied so much that is best in America," Obama said in his eulogy.
McCain past away on August 25, a year after he was diagnosed with brain cancer.