George W. Bush Calls for Reform, Says 'There Is a Real Issue in Police Accountability'
Former President George W. Bush has called for police reform while insisting that there is "no question there needs to be police."
Bush gave the country an "A" grade following the conviction of former police officer Derek Chauvin for murdering George Floyd during an interview on The Dispatch podcast recorded Thursday. The former president gave "police people" his slightly less enthusiastic approval, saying he believes law enforcement is necessary but "there is a real issue in police accountability."
"The Floyd verdict causes me to give the grade, you know, A. Because I think the trial was fair and justice was served," Bush said. "The question is, 'What grade do you give police people?' And the answer to that is overall good, except police departments need to learn to weed out those who don't hold our fellow citizens in the same regard as they hold themselves."
"And there's no question there needs to be police reform," added Bush. "But I think one of the lessons that people will learn over time is that there's no question there needs to be police. And so again, I'm optimistic about the country's capacity to take on real issues. And there is a real issue in police accountability."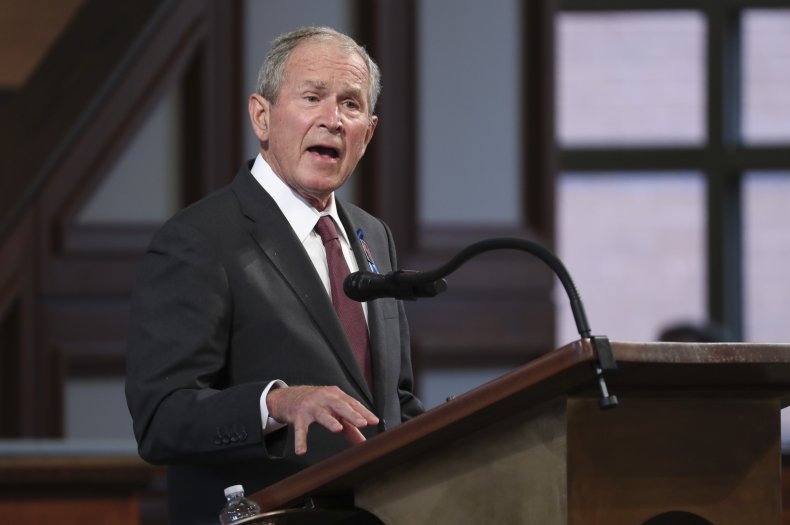 The former president went on to say that Americans should be "encouraged" that "the institutions held" following the violent breach of the U.S. Capitol on January 6. Bush made a similar comment during an interview on NBC's Today show only hours before the Chauvin trial verdicts were announced, while adding that he believed "one of the institutions that's really important for the confidence of the American people is a fair judicial system."
Chauvin was convicted of second-degree unintentional murder, third-degree murder and second-degree manslaughter on April 20. He is scheduled to be sentenced on June 16 and could face decades behind bars.
On the podcast, Bush was responding to a question about Floyd's death in the context of a 2016 speech he gave memorializing the deaths of five police officers who were killed in a mass shooting in Dallas. Bush said "too often we judge other groups by their worst examples, while judging ourselves by our best intentions" during the speech.
About a week after Floyd was killed by Chauvin on May 25, 2020, sparking a massive wave of protests, Bush issued a statement saying that he and former first lady Laura Bush were "anguished by the brutal suffocation of George Floyd and disturbed by the injustice and fear that suffocate our country." Bush also said that ending "systemic racism in our country" was "long overdue."
Newsweek reached out to the George W. Bush Presidential Center for comment.