Watch: George W. Bush Appears to Hand Michelle Obama Candy at His Father's Funeral, Recreating Touching Moment
George W. Bush and Michelle Obama recreated the heartwarming exchange that went viral during the funeral of late Senator John McCain as world leaders gathered in the nation's capital on Wednesday to bid a final farewell to Bush's father and former President George H.W. Bush.
Former Presidents Jimmy Carter, Bill Clinton and Barack Obama were seated in the first row of the Washington National Cathedral along with their spouses when Bush, the 43rd president of the United States, took a moment to shake each of their hands.
During the exchange, Bush took a moment to slip into the aisle and sneak former first lady Michelle Obama something that appeared to be a piece of candy, mirroring a sweet moment the two had while attending the funeral services of McCain in September.
Cameras had captured the moment during McCain's funeral service as Senator Joe Lieberman was delivering a eulogy for McCain, who had passed away after a year-long battle with an aggressive form of brain cancer. Both Barack Obama and Bush were asked to eulogize the late lawmaker.
During an appearance on NBC's Today Show a month after McCain's funeral, the former first lady said that she "didn't realize at the time that anybody noticed what we were doing" but said it was an act of friendship.
"President Bush and I…we are forever seatmates because of protocol, that's how we sit at all the official functions, so he is my partner in crime at every major thing where all the formers gather," Obama said. "So we're together all the time, and I love him to death. He's a wonderful man. He's a funny man."
Obama also disclosed exactly what the former president had handed her: cough drops."That's the funny thing, because they were in the little White House box, and I was like, 'How long have you had these?' And he said, 'A long time, we got a lot of these!'"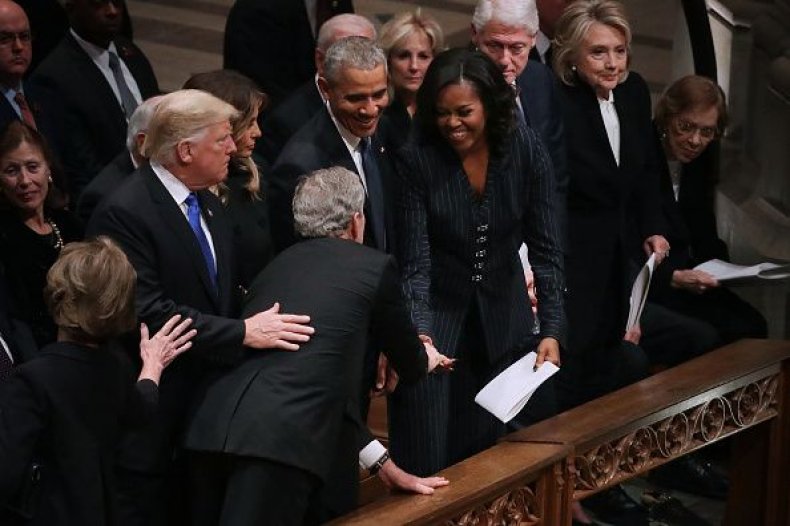 Family, friends, lawmakers and leaders gathered in Washington D.C. on Wednesday morning for the funeral services of the 41st president of the United States. George H.W. Bush passed away on Friday, November 30, at the age of 94. His death came less than eight months after the passing of his wife, Barbara, the Bush family matriarch.
"To his very last days, dad's life was instructive. He taught us how to grow with dignity, humor and kindness. And when the good lord finally called—how to meet him with courage and with the joy of the promise of what lies ahead," George W. Bush said in a eulogy for his father.
In an emotional moment, Bush broke down in tears at the end of his eulogy.
"Through our tears, let us know the blessings of knowing and loving you, a great and noble man. The best father a son or daughter could have," Bush said. "And in our grief, let us smile knowing that dad is hugging Robin and holding Mom's hand again."
Update: This story has been updated to include further comments from George W. Bush.