George W. Bush 'Chased a Lot of Pussy and Drank a Lot of Whiskey' in His Youth, He Says in a New Book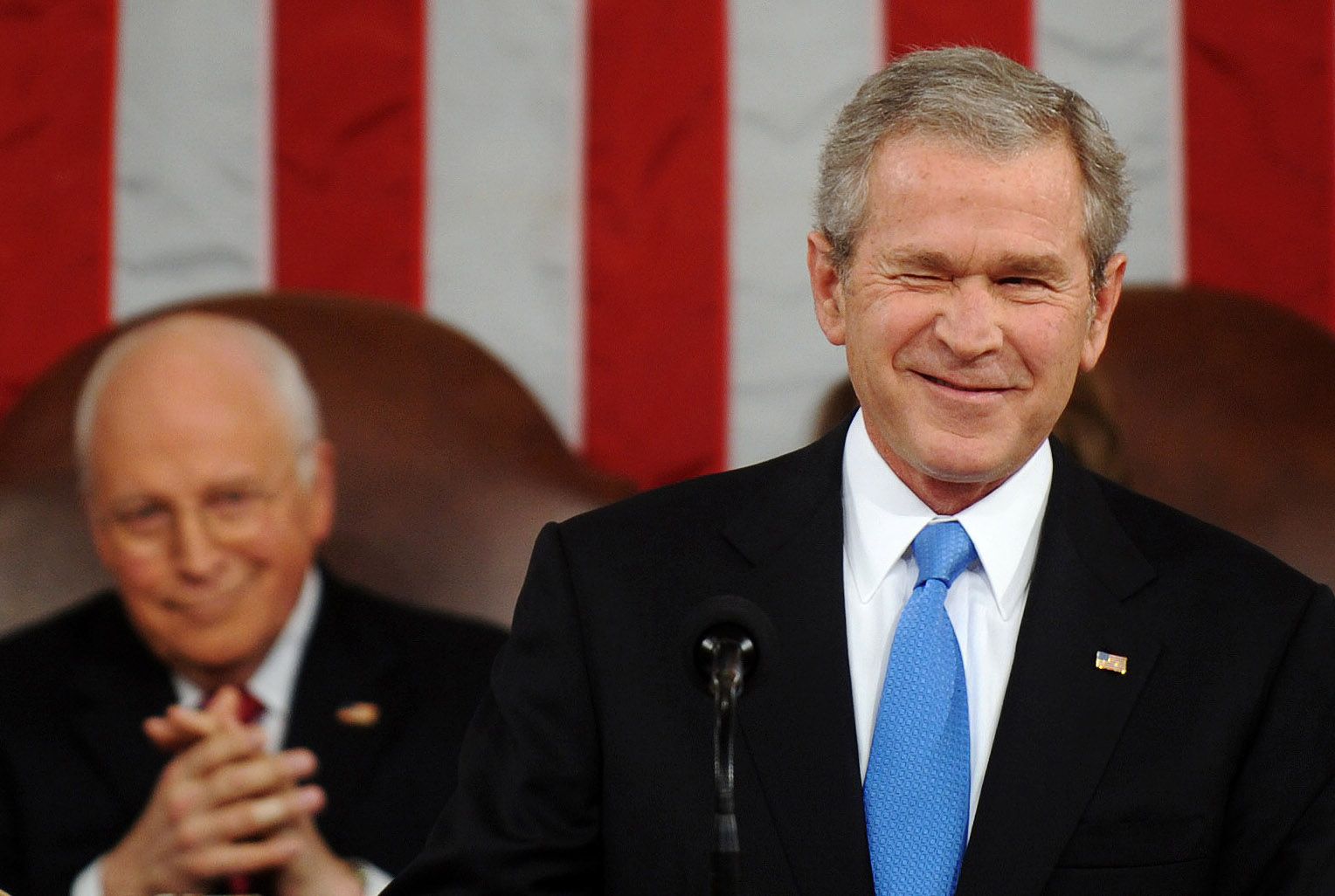 Former President George W. Bush Jr. "chased a lot of pussy and drank a lot of whiskey" in his youth, he reveals in a new book.
Stories from Dubya's late teens and early 20s are part of extensive candid and personal interviews with him and his president father, George H.W. Bush, in Mark Updegrove's new book The Last Republicans, which hits stands November 14. Newsweek obtained an early copy.
The man who became the 43rd president had long maintained, "When I was young and irresponsible, I was young and irresponsible," and Updegrove's book makes it clearer than ever what he meant.
On the book's very first page, Bush is seen in 2012, a cigar in hand, telling Updegrove that he "chased a lot of pussy and drank a lot of whiskey" in his late teens and early 20s.
The book paints a picture of W. as a boy who lived "in cowboy clothes" and remained true to himself even at Harvard Business School, where he wore a "National Guard flight jacket, beat-up Levi's and cowboy boots" while he chewed tobacco.
At Yale, he joined a notoriously heavy-drinking fraternity, Delta Kappa Epsilon, or DKE. He was the subject of a 1967 New York Times article about DKE's warm tradition of branding its pledges with a coat hanger, a story he dismissed, saying the wound was "only a cigarette burn." He was also arrested during college for "borrowing" a Christmas wreath from a New Haven store.
And he always liked his whiskey.
"I wasn't a knee-walking drunk," he told Updegrove. "But I liked to drink and have a good time."
His brother Jeb Bush called him "a little wild...but so was everybody else."
The young Bush also had a penchant for colorful language in those years, sometimes stepping on the nerves of his mother, Barbara Bush. "Take your clubs and just walk home!" the former first lady once shouted at him after he'd cursed one too many times at Houston Country Club.
Apart from talk of drinking and womanizing, the book is mired in politics. The elder Bush calls President Donald Trump a "blowhard" and adds that he did not "like" him. There's another bombshell: Neither of the last two Republican presidents ended up voting for the current one.
Updegrove has written four other books on the presidency and is a historian for ABC News. His latest book is a lengthy and deep look into the lives of the Bush father-son duo, based on exclusive interviews.