George W. Bush Confuses Ukraine With Iraq, Calls it 'Unjustified' Invasion
Former President George W. Bush spoke Wednesday night during an event at his own presidential center in Dallas, Texas. The 41st president compared Ukrainian president Volodymr Zelensky to former British leader Winston Churchill and he also had a speaking gaffe that somewhat compared himself to Russian President Vladimir Putin.
During his 10-minute speech at the Bush Library complex on the campus of Southern Methodist University, Bush referenced Putin and the evils of war—and the Russian attack on Ukraine. Bush made one behemoth mistake, though.
"The result is an absence of checks and balances in Russia, and the decision of one man to launch a wholly unjustified and brutal invasion of Iraq," Bush said before realizing his misstep, "I mean of Ukraine."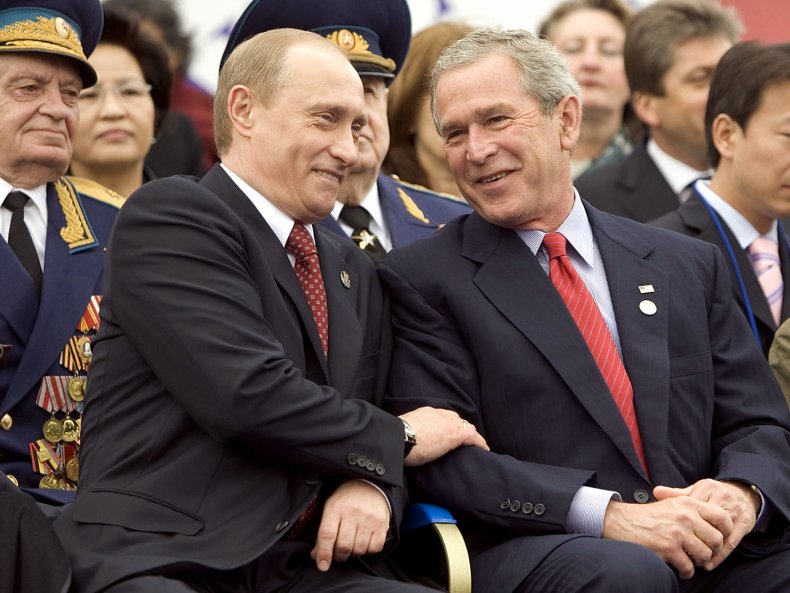 Bush was the president when the September 11, 2001 attacks on America happened. In the following years, Bush sent American forces to both Afghanistan and Iraq for lengthy wars. The former president eventually drew lots of criticism for the invasions.
The U.S. invaded Iraq in 2003, and the long war was often called "brutal" and "unjustified" by critics of Bush. During the U.S. involvement in Iraq, tens of thousands of Iraqi civilians were killed along with another 4,000 American troops, according to The Dallas Morning News, which first reported Bush's misspeak on Wednesday.
Bush on Wednesday night said "Russian elections are rigged" and political opponents are done away with.
"In contrast, Russian elections are rigged," the 75-year-old Bush said. "Political opponents are imprisoned or otherwise eliminated from participating in the electoral process."
Next, Bush went on to say the "unjustified and brutal invasion of Iraq" portion of his speech, in which the audience didn't laugh, cheer or jeer. Bush caught his own gaffe mid-step and then said, "I'm 75." That drew a few chuckles from the crowd.
Earlier in the evening, Bush called Zelensky "a cool little guy" of whom he also called "the Churchill of the 21st Century."
Other speakers at Wednesday night's event included former Secretary of State Condoleeza Rice, election officials from Arizona, Florida, and New Mexico and author Jon Meachem.
Much of the discussion Wednesday night focused on the January 6, 2021 insurrection at the U.S. Capitol and former President Donld Trump's refusal to accept the 2020 General Election results.
"I don't want to mention Voldemort," Meachem said. "But there's a reason we're sitting here—a reason we're sitting here. I decline to accept the premise of a self-interested assertion and declare there's some kind of systemic failure."
A little more than half a year ago when the nation reflected upon the 20th anniversary of the 9/11 attacks, Bush compared the January 6 riots to terrorists attacking this country.
"We have seen growing evidence that the dangers to our country can come not only across borders, but from violence that gathers within," Bush said that day. "There is little cultural overlap between violent extremists abroad and violent extremists at home. But in their disdain for pluralism, in their disregard for human life, in their determination to defile national symbols, they are children of the same foul spirit."