Former President George W. Bush paid tribute to the late Colin Powell Monday, calling his former secretary of state a "friend" and a "great man."
"Laura and I are deeply saddened by the death of Colin Powell," Bush said in a statement. "He was a great public servant, starting with his time as a soldier during Vietnam.
"Many Presidents relied on General Powell's counsel and experience," Bush continued. "He was National Security Adviser under President Reagan, Chairman of the Joint Chiefs of Staff under my father and President Clinton, and Secretary of State during my Administration. He was such a favorite of Presidents that he earned the Presidential Medal of Freedom—twice."
The 43rd president added, "He was highly respected at home and abroad. And most important, Colin was a family man and a friend. Laura and I send Alma [Powell] and their children our sincere condolences as they remember the life of a great man."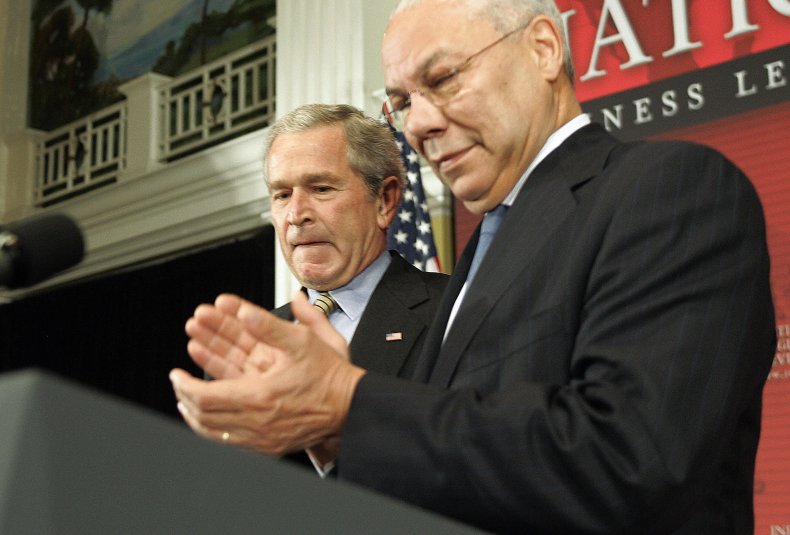 Powell served in the Army for 35 years, which included two tours of duty in the Vietnam War. In addition to being a national security adviser, he was the chairman of the Joint Chiefs from 1989 until 1993.
He stepped away from public service after his Joints Chiefs tenure before returning in 2001 to serve as secretary of state to Bush. That role ultimately resulted in one of his most memorable and controversial moments: a 76-minute speech at the United Nations on February 5, 2003, during which Powell made the case for a war against Iraq.
Two years later, Powell spoke to Barbara Walters about regretting the speech, saying it was personally "painful" for him and calling it a "blot" on his record.
Powell stepped down as secretary of state at the end of Bush's first term and maintained a low profile before endorsing Barack Obama for president in 2008. Though a longtime Republican, he endorsed Obama again in 2012. In 2020, he supported Joe Biden for president and spoke at the 2020 Democratic National Convention.
Following the assault on the U.S. Capitol on January 6, Powell announced he was no longer a member of the GOP. He told CNN on January 10, "I can no longer call myself a fellow Republican."
Though Powell endorsed Obama, Republican candidate Mitt Romney's opponent in the 2012 presidential election, the senator tweeted, "Today, the nation lost a man of undaunted courage and a champion of character. A statesman & trailblazer, devoted to America and the cause of liberty, Colin Powell's legacy of service & honor will long inspire. Ann & I offer our love & sincere condolences to Alma and his family."
Secretary of Defense Lloyd Austin spoke of his sadness regarding Powell's passing. Calling him a "mentor," Austin said Powell's death has left a "hole in my heart."
Powell's death was noted by prominent figures across the political spectrum, including tributes from Democratic Senator Amy Klobuchar and Republican Governor Greg Abbott of Texas.
The Reverend Al Sharpton noted that while he "disagreed on many issues" with Powell, he "always respected him and was proud of his achievements."