George W. Bush's Only 2021 Campaign Donations Were to Anti-Trump Republicans
Former President George W. Bush's only political campaign donations in 2021 were made to two Republicans that had backed the impeachment of former President Donald Trump, according to campaign finance reports made public Monday.
Toward the end of 2021, Bush donated to the re-election campaigns of Representative Liz Cheney (R-Wyo.) and Senator Lisa Murkowski (R-Alaska). Cheney was one of only 10 Republican representatives, and Murkowksi one of just seven senators, to vote "yes" on Trump's second impeachment.
Following the attack at the U.S. Capitol on January 6, Murkowski urged former President Trump to resign. "I want him out. He has caused enough damage," she told reporters, becoming the first GOP senator to call for Trump's resignation.
Cheney, meanwhile, continues to be another ardent critic of Trump. She is currently one of two Republicans who sit on the House Select Committee that is investigating the events of January 6.
Former President Bush gave a financial contribution of $5,800 to Cheney's campaign this past October, according to data from the Federal Election Commission (FEC). This marked the second time, according to the FEC, that the former president had donated to Cheney's campaign.
The Wyoming congresswoman is the daughter of Dick Cheney, who served as Bush's vice president during his eight years in office.
Meanwhile, Bush also donated $2,900 to Murkowski's primary re-election effort last October, the FEC showed. This was Bush's first donation to the Alaska senator's campaign.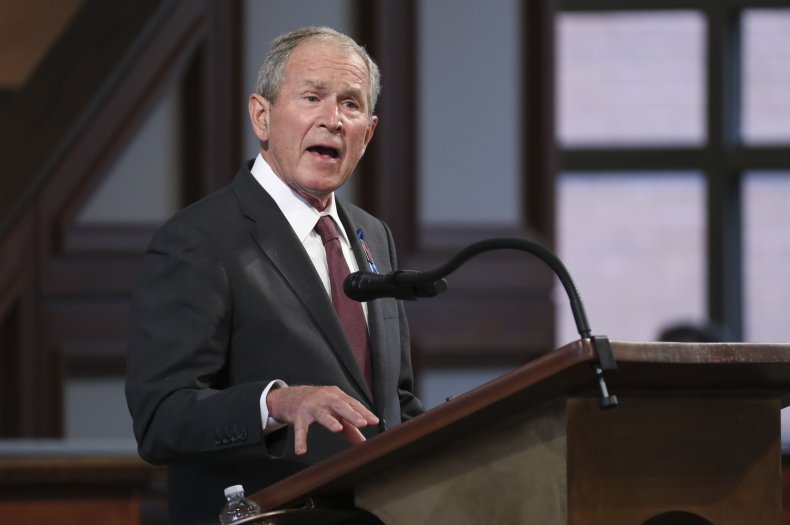 These contributions appear to be former President Bush's only financial donations to political campaigns in 2021—at least among FEC filings that have already been released.
2021 was not the first time Bush got his checkbook out for a Republican ally. FEC data shows he has made a number of donations to GOP campaigns in the last five years, including many running for office in his home state of Texas.
However, the fact that Bush donated to two of the most vocal anti-Trump Republicans may shed more light on how he feels about the 45th president's time in office.
Bush has stated on multiple occasions that he does not believe it serves the country well for a former president to criticize their successor. However, while he has rarely used Trump's name, he has used his platform at times to express his displeasure with that administration.
While giving a speech in Shanksville, Pennsylvania, this past September to mark the 20th anniversary of the 9/11 terrorist attacks, Bush stated that he was "proud to lead an amazing, resilient, united people. When it comes to the unity of America, those days seem distant from our own."
"A malign force seems at work in our common life that turns every disagreement into an argument, and every argument into a clash of cultures," Bush continued.
While Bush did not mention Trump by name, CNN editor-at-large Chris Cillizza stated that "if you have been alive and living on planet Earth for the last five or so years, you know exactly who Bush is talking about with those words."
Last April, during a rare television interview, Bush described the GOP as becoming "isolationist, protectionist and, to a certain extent, nativist."
When asked about the events of January 6, Bush stated that he was "not going to cast blame," but added that "it was a terrible moment in our history. And it's going to be a part of our history."
Newsweek has reached out to Bush's office for comment.