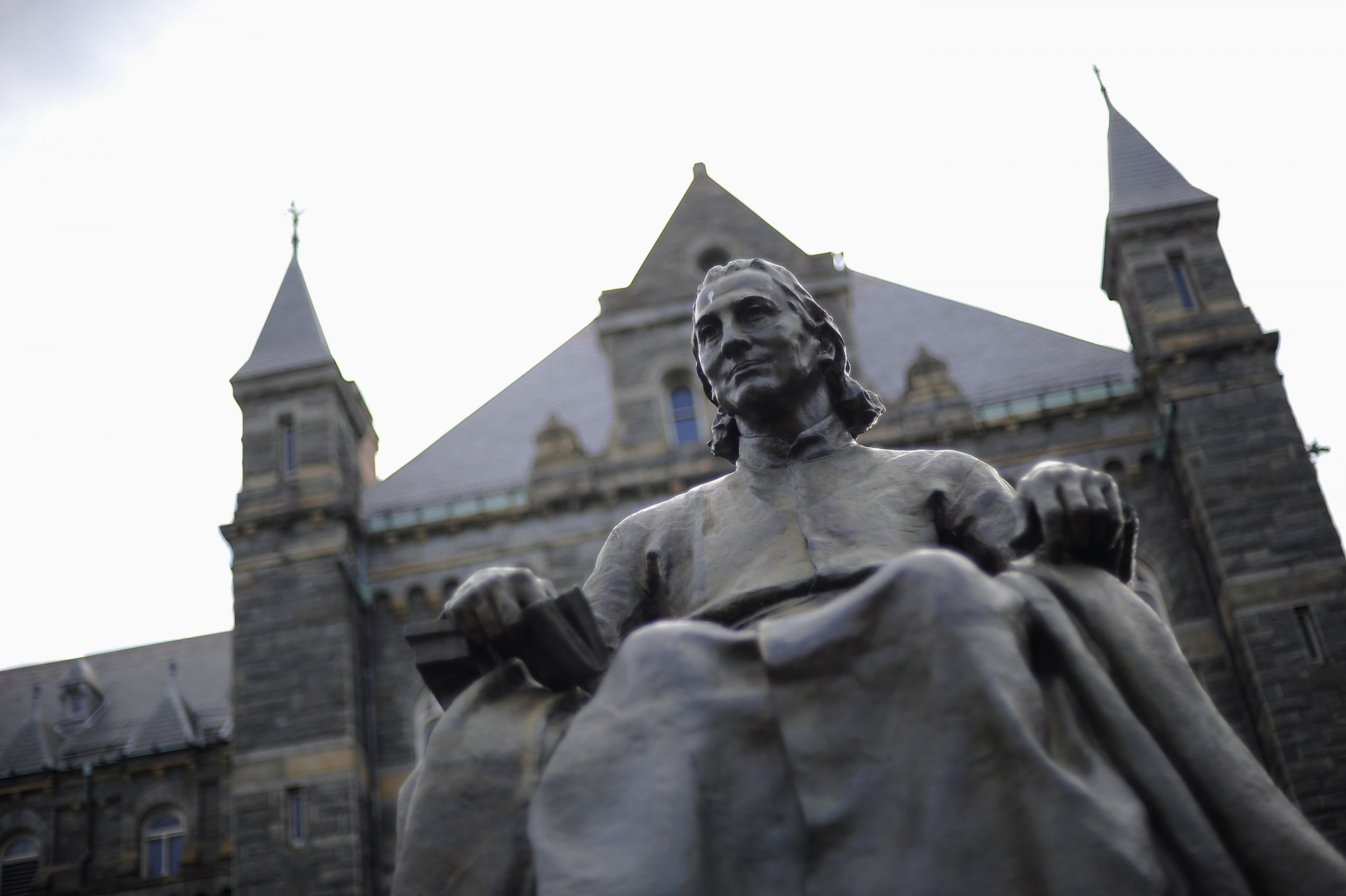 Georgetown University, on Thursday, said it is putting into effect several measures as it attempts to reconcile its slaveholding past. Those steps include establishing an on-campus institute for the study of slavery and offering preferential admissions treatment to the descendants of 272 enslaved people Georgetown sold in 1838 to pay off debts.
The Washington, D.C., school was one of several American universities called on last year to atone for their racial legacies, including Princeton University, where students challenged the use of Woodrow Wilson's name on campus, and Yale University, where the students called for the removal of John C. Calhoun as the namesake of a residential college. Princeton and Yale decided to keep the Wilson and Calhoun names.
Georgetown's announcement comes a year after its president, John DeGioia, formed a 16-member working group to evaluate the school's slaveholding legacy and form recommendations. That group released a 102-page final report on Thursday.
"I am grateful to the many members of our community who have thoughtfully and respectfully contributed their perspectives and shared their insights," DeGioia wrote in a preface to the report. "I look forward to continuing to work together in an intentional effort to engage these recommendations and move forward toward justice and truth."
David Collins, an associate professor of history at Georgetown and chairman of the working group, wrote an opinion piece for The New York Times this week in which he said: "I will not let the young Jesuits take pride in and inspiration from a select set of uplifting episodes without challenging them to grapple with our history's offenses as well."
Referring to the 272 slaves the university sold in 1838, Collins wrote, "Meticulous Jesuit record keeping unwittingly spares these victims the final indignity of forced anonymity. We know the people's names; when they were born, married and buried; whom they were sold with and whom they were separated from. We can trace their family connections, sometimes even to the present."
Those records could help the university make good on Thursday's promise to weigh admissions applications from descendants of those enslaved people in a similar way to applications from people with connections to the university, such as legacy students. The school will also establish an Institute for the Study of Slavery and Its Legacies, issue a formal apology for its slaveholding past and erect a public memorial to the enslaved people involved in the 1838 sale. All were measures recommended by the working group.
Georgetown will also rename two of its halls, one for an enslaved man named Isaac who was involved in the 1838 sale, and one for Anne Marie Becraft, an African-American educator. The university had given interim names to those halls, Freedom and Remembrance, last fall. The buildings were previously named for two Georgetown presidents who coordinated the 1838 sale.
Craig Steven Wilder, a professor of history at the Massachusetts Institute of Technology and author of Ebony and Ivy: Race, Slavery and the Troubled History of America's Universities, says Thursday's announcement represents an "important moment" in the history of universities and slavery. "Georgetown deserves some credit in really pushing further than any of its peer institutions," he says. Brown University had previously memorialized its slaveholding legacy and established a center on slavery and justice, he adds, but perhaps no schools has gone as far as Georgetown when it comes to the special admission status it will give to the descendants of enslaved people it once sold.
Wilder says Georgetown is likely behaving differently than other schools when it comes to racial issues because of its religious identity. "Because Georgetown is a Catholic institution," he says, its history with slavery "created a crisis in its Catholic identity that had to get resolved." Other universities, he continues, "had been able to escape that by treating the history of slavery on their campuses…as an intellectual problem that would be resolved by scholars, by publications and over time, rather than a moral problem that required that they actually respond."
Students at Georgetown are satisfied with Thursday's announcements, according to Enushe Khan, president of the student association. "This matters to students, and seeing these recommendations and seeing some action take place after the convening of the working group I think shows students that our university's committed to addressing and atoning for our past," she tells Newsweek. "With students, our biggest sticking point is holding the university accountable" to ensure it follows through with its measures.