Georgetown Could Revoke Grad's Degree As Mom Agrees to Plead Guilty in College Admission Scandal
Karen Littlefair faces prison time for her role in the college admission scandal and her actions could result in her son losing his degree from Georgetown University.
On Monday, prosecutors charged Littlefair with paying operation "Varsity Blues" mastermind Rick Singer and Mikaela Sanford, Singer's employee, about $9,000 to have someone take online courses for her son. The latest parent to be implicated in the scandal since the first indictment in March, she agreed to plead guilty on the same day she was charged and instead of facing 20 years in prison, prosecutors recommended four months.
"My client has taken the earliest opportunity to take responsibility for her conduct," Littlefair's attorney Kenneth Julian told Newsweek.
Littlefair's son, whose name was withheld from court documents, graduated from the prestigious private Washington, D.C., university in May 2018, partially because of the credits someone else earned, according to charging documents.
Littlefair's son has not been charged in the college admission scandal and there's nothing in the court documents relating to his mother that indicate he had knowledge about the fraudulent scheme.
He could still face ramifications though, potentially even losing his degree.
A Georgetown spokesperson told Newsweek they were unaware of the fraudulent scheme until it began investigating the situation after the March indictments. Two students who were enrolled at the university when their parents were indicted were dismissed from Georgetown in May and it's possible Littlefair's son could face consequences as well.
"When the University learns of a potential serious violation of the Honor System after a student has graduated, the Honor Council will investigate and adjudicate the case and may recommend sanctions up to and including the revocation of the student's degree," the spokesperson told Newsweek.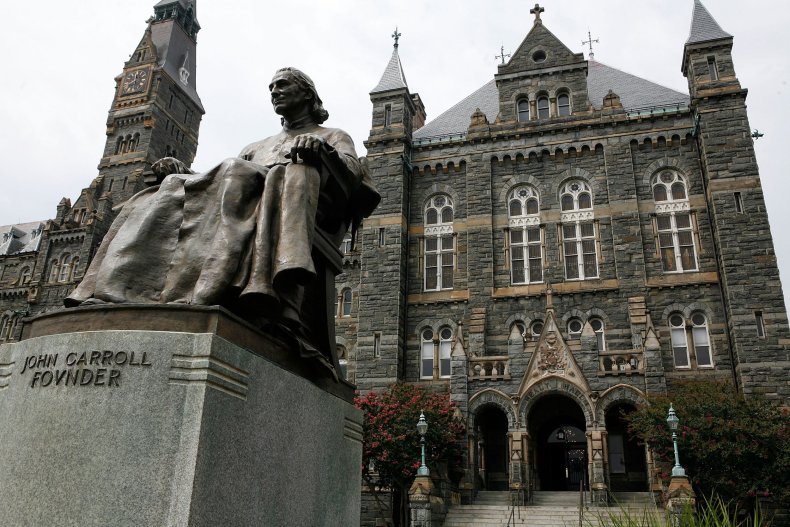 After the Honor Council conducts an investigation, if warranted, the executive board offers a sanction recommendation to the student's dean, according to Georgetown's website. The dean then determines if it's appropriate and should stand or if it's inappropriate and should be altered.
Georgetown's spokesperson declined to give Newsweek further details into the investigation, citing the Family Educational Rights and Privacy Act.
In 2017, an associate of Edge College & Career Network, a for-profit college counseling and preparation business, also known as the Key, took three online courses at Georgetown for Littlefair's son. The Key associate also took an online course in spring 2018 at Arizona State University, transferring credits to Georgetown.
One of Georgetown's courses required a video conference with the professor and Littlefair informed Sanford and the person taking the courses that her son would be out of the country. Since he couldn't be at the meeting, the Key associate said a "fellow male colleague" would stand in for Littlefair's son, according to court documents.
In exchange for the Key associate taking the courses for her son, Littlefiar paid $9,197, a small amount compared to payments made by other parents.
The college admission scandal prompted policy changes at Georgetown and the spokesperson told Newsweek they implemented or are in the process of implementing measures to prevent cheating in online courses. The university is also working on improving its online proctoring solutions and utilizing anti-plagiarism technologies.
Dozens of parents were charged in the college admission scandal and 13 have already learned their fate. Those who pleaded guilty were given prison sentences ranging from 14 days to six months. Actor Felicity Huffman, who was the first parent to be sentenced and received the lowest amount of prison time, completed her sentence in October, serving a total of 11 days.
Julian declined to comment if the sentences other parents received impacted Littlefair's decision to quickly agree to plead guilty.
Along with the recommendation of four months in prison, the government suggested Littlefair be ordered to pay a fine of $9,500 and be put on supervised release for one year.