Thousands in Georgetown County, South Carolina, Advised to Evacuate Ahead of Florence's Possibly 'Record' Flooding From Rivers
More than a week after Hurricane Florence made landfall, officials in South Carolina advised thousands of people to evacuate amid an imminent threat of river flooding.
With the river expected to bring possibly record flooding to Georgetown County, residents received a pre-recorded phone message alerting them about the threat on Saturday. The message explained that even areas that aren't predicted to flood are at risk because they could become isolated if access roadways flood.
"If you've received a message from your county emergency management office telling you to evacuate due to flooding…you need to do exactly that: leave," the South Carolina Emergency Management Division (SCEMD) tweeted.
In light of the evacuations, the SCEMD designated multiple shelters for both residents and their pets, which were set to open at 7 a.m. EDT on Monday. Ahead of the anticipated cresting of the Waccamaw River, the SCEMD advised residents who weren't ordered to leave to prepare to evacuate if needed, avoid flooded roads and limit unnecessary travel.
Georgetown County spokeswoman Jackie Broach-Akers told the Associated Press that up to 8,000 people were advised to evacuate before potentially "record" flooding of up to 10 feet. Flooding from four rivers in South Carolina were the primary concerns for the National Weather Service (NWS), sparking flood warnings for multiple counties.
Waccamaw River
The Waccamaw River was expected to crest on Wednesday and according to the NWS, it was already at 20.7 feet as of Monday morning. Forecasts predicted it would crest at 22 feet on Wednesday around 2 p.m. EDT. The previous record was 17.87 feet when Hurricane Matthew hit South Carolina in 2016.
The NWS explained that the Conway Marina and swamps will be flooded and residential properties and roads in the area will be affected. By Friday, the river is expected to decrease to 20.3 feet.
"The exact impacts along the Waccamaw, especially below Bucksport to the Georgetown area are unknown," the NWS said. "As a result, continue to listen to the advice of local emergency officials."
Little Pee Dee River
The Little Pee Dee River reached 17.21 feet on Friday, which surpassed the record set during Hurricane Matthew of 17.10 feet," according to the NWS. The river has since begun to drop and was observed to be at 15 feet on Monday morning. Despite the decrease in height, a flood warning was issued until further notice for Dillon County, Horry County and Marion County.
Pee Dee River at Pee Dee
On Friday, the Pee Dee River at Pee Dee crested at 31.83 feet, slightly under the record of 33.30 feet, which was set in September 1945. The river's height has continued to decrease and as of Monday morning was down to 27.94 feet.
Flooding from the river was expected to affect logging equipment and timberland fields, thereby disrupting logging operations.
Lynches River at Effingham
The Lynches River at Effingham crested on Saturday at 16.81 feet and had dropped to 14.6 feet by Monday morning. While only minor flooding is expected, the NWS included it in the flood warning issued for Florence County.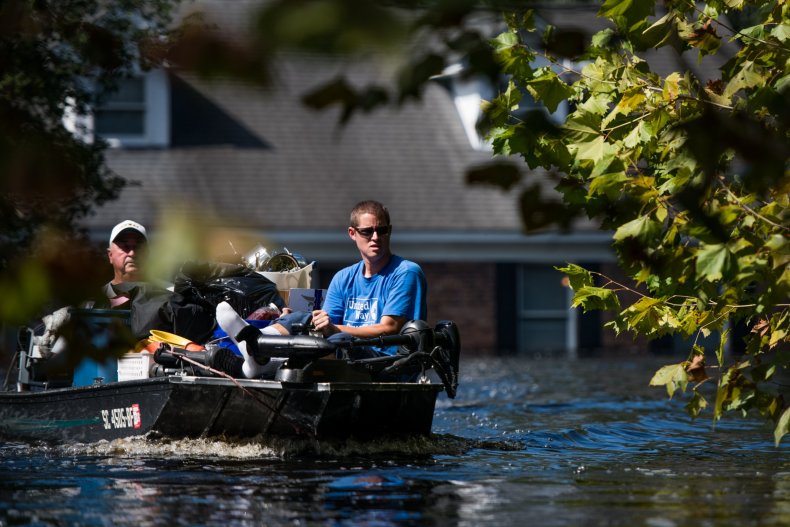 Over the weekend, residents began making preparations for the expected flooding, making hotel reservations and moving belongings to upper levels of their homes.
"You see it over in Conway and say, 'Oh my God, I'm so happy I don't live in an area like that,'" Robert Steuer, a Pawleys Island resident, told Myrtle Beach Online. "And here it is — I live in an area like that."
On Monday morning, the SCEMD tweeted a photo of a street that was flooded and said that now is the time to "put safety first above everything else." The SCEMD added that the most important thing to save is your life so if necessary, residents should abandon their homes and relocate themselves and their pets to a shelter.
"Catastrophic [flooding] is happening right now in the Pee Dee region," SCEMD tweeted. "[…] Now is not the time to be distracted by what roads may be open and what roads may be closed...we don't know and won't know until they flood."
Florence made landfall as a Category 1 hurricane and in the days since, has been downgraded to a tropical storm, then a tropical depression and finally to the post-tropical cyclone stage. Conditions brought to the East Coast caused the deaths of 43 people, including a 1-year-old who was ripped from his mother's arms and swept away in the floodwater.
President Donald Trump visited areas affected by the storm on Wednesday and pledged his administration's full support to the recovery efforts. Those whose homes suffered damage during the storm have been encouraged to file a claim with their insurance company and then register for disaster assistance with the Federal Emergency Management Agency.