Georgetown Fires Professor for Agonizing over Black Students' Grades | Opinion
Georgetown University Law Center fired an adjunct professor for expressing "angst" over the fact that her African-American students seemed to be getting lower grades than their white counterparts. Adjunct Professor Sandra Sellers was teaching a Zoom class with Adjunct Professor David Batson. When the class was over, and the students clicked off the Zoom, Sellers and Batson continued their conversation, unaware that it was being recorded and transmitted. Here is what Sellers said:
I hate to say this, I end up having this angst every semester that a lot of my lower ones are Blacks—happens almost every semester. And it's like, 'Oh, come on.' You know? You get some really good ones. But there are also usually some that are just plain at the bottom. It drives me crazy."
As Sellers spoke, Batson murmured "Mm-hmm," but did not challenge her remarks.
The dean of the law school, after receiving complaints from several students, declared Sellers's statements to be "abhorrent" and "reprehensible." He accused Batson of shirking his "bystander responsibility" by not speaking up. The school terminated its relations with Sellers, effective immediately. It also placed Batson on administrative leave and directed that he "have no further involvement with the course in which the incident arose." He then resigned.
Neither Sellers or Batson were accused of saying anything that was untrue or doing anything discriminatory with regard to grading their Black students. It was the video alone that cost them their jobs.
During my 50 years at Harvard, I have overheard many conversations among faculty that mirror the angst that Sellers expressed. I have heard this angst expressed by professors of every racial, religious and ethnic background. It is a common subject for discussion in faculty lunchrooms and meetings all around the country. The issue that Sellers and Batson were privately discussing is a real and serious one that must be addressed by all law schools, and indeed other institutions of higher learning. It should not become a verboten topic of conversation. But Georgetown Law School has not only denied its faculty and students the right to discuss the subject; it has also denied them the right to remain silent while such a discussion is occurring.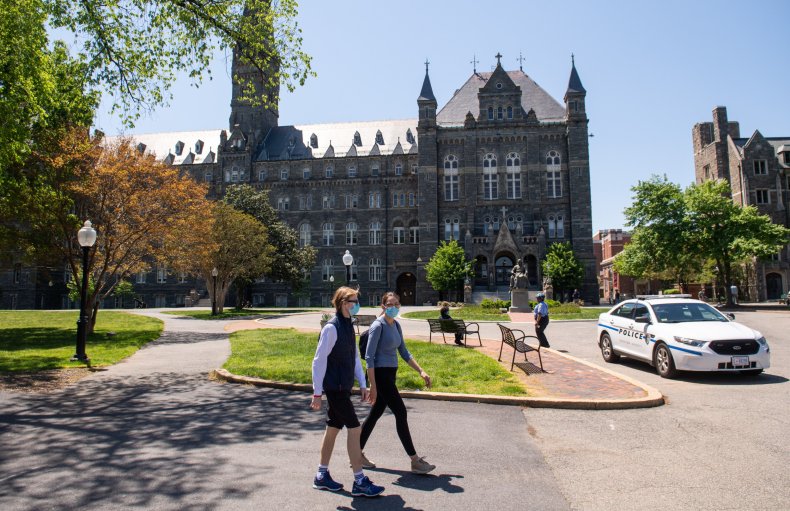 By punishing both the speaker and the person who remained silent, the dean of Georgetown's law school sent a chilling message: if you are to participate in any discussion regarding grades and race, you must express the politically correct view of the matter. Silence is not an option.
But what the politically correct view actually is remains unclear. Must you say that African-American students in fact do as well in law school as their white counterparts? What if that is not, in fact, true? Can you say that African-American students don't do as well, but that the cause for this disparity is racial prejudice? What if you don't believe that? What is your obligation if a colleague expresses her honestly felt angst? Must you quickly interject your disagreement with her views? The message sent by Dean William Treanor is that it is best not to participate in any such conversation, and if a colleague's comment catches you by surprise, you should walk away or turn off the Zoom call, thereby not expressing agreement or disagreement with the content.
In my view, neither professor said or did anything wrong. But even if they did, they had the academic freedom to express their heartfelt views or to remain silent in the face of a colleague expressing them.
The chilling effect on freedom of expression and freedom of belief was perhaps best reflected by the abject apologies issued by both participants in the conversation. Sellers said she was deeply sorry for the "hurtful and misdirected remarks," and confessed to having done "irreparable harm" for which she was "truly sorry." After admitting her shortcomings, she said it was her "responsibility to do all I can to correct this."
Batson confessed to having "missed the chance to respond in a more direct manner to address the inappropriate content of those remarks," and sincerely apologize for his silence.
What is happening on many university campuses is reminiscent of the mind control that has long been practiced in totalitarian societies.
Those of us who strongly believe in academic freedom, freedom of thought and expression and true diversity of ideas must fight back against the groupthink now being imposed by university administrators, at the demand of students and others who seek to censor certain ideas. Firing professors for expressing deeply felt angst and honestly believed positions on complex matters is simply un-American. Georgetown is better than that, and must do better for the sake of all Americans who have the right to hear all points of view on divisive issues.
Follow Alan Dershowitz on Twitter @AlanDersh and on Facebook @AlanMDershowitz. His new podcast, The Dershow, can be found on Spotify, YouTube and iTunes.
The views expressed in this article are the writer's own.