Georgia Activist Charged With Money Laundering, GoFundMe to Refund Donations to His BLM Group
Federal authorities arrested an Atlanta-based actor and activist on wire fraud and money laundering charges Friday, after an investigation suggested he purchased $200,000 worth of personal items with money donated to a Black Lives Matter fundraising organization.
The Federal Bureau of Investigations (FBI) identified the man as 32-year-old Tyree Conyers-Page, also known as Sir Maejor Page, in a news release detailing his arrest and charges against him.
Page, who operates an Instagram page using his alias, "Sir Maejor," often posts content related to social justice and the BLM movement. According to the FBI, he established a non-profit organization called "Black Lives Matter of Greater Atlanta" (BLMGA) in 2018, and opened a bank account under the same title. Page was reportedly the account's sole signatory.
The FBI's news release noted that BLMGA solicited donations through social media and GoFundMe, which similarly referred to the organization as a non-profit entity. Its investigation, prompted by a complaint filed with the FBI's National Threat Operations Center in April, showed Page's organization received more than $450,000 in donations between June and August, as demonstrations against racism and police violence erupted across the U.S.
Page reportedly said donations would be used to support efforts seeking justice for George Floyd, a Black man who died in Minneapolis police custody, in private social media messages sent in June. However, the FBI is alleging he "repeatedly used a debit card linked to [the BLMGA bank account]" to purchase a home security system, furniture, clothing, accessories, entertainment and food throughout the summer.
In August, Page allegedly purchased two pieces of real estate, a residence and vacant lot, in Toledo, Ohio, with $112,000 in funds from the BLMGA account. Earlier in September, he allegedly transferred money from the organization's bank account to another personal one and used it to purchase a pistol and two rifles.
"Numerous videos and livestream videos were posted to Page's personal social media pages showing himself in what appeared to be newly purchased clothing, hotel rooms, and office space in Atlanta," the FBI said in its news release regarding the investigation and arrest. "Several audio statements are made by Page in the videos boasting about the money he has, his tailored suits, his nice cufflinks and '$150 dollar ties,' and boasting about 'my room way up at the top...at the top top...they put the bottom feeders on these floors....'"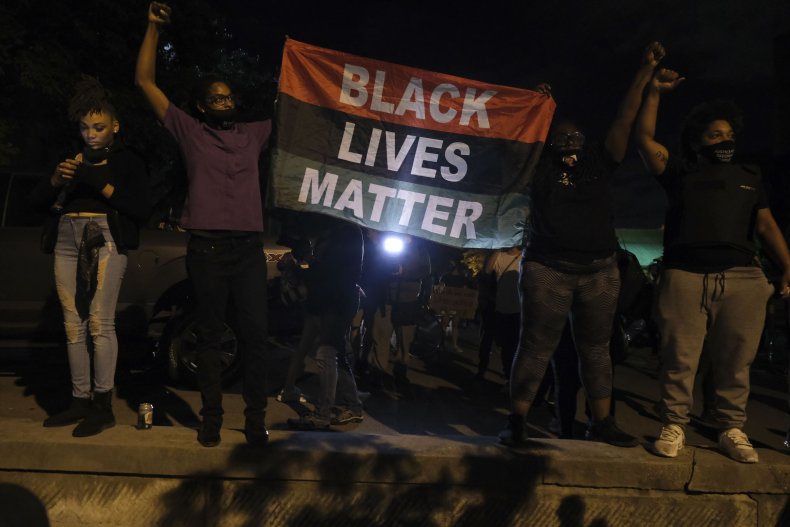 GoFundMe confirmed it will provide refunds to individuals who donated to BLMGA through its fundraising platform, and campaigns associated with Page's organization were removed from the site, as well as partner site PayPal. Page is prohibited from creating fundraising campaigns using GoFundMe in the future, and the platform "has taken action to ensure" no one can launch a new campaign for BLMGA.
"I can confirm that we removed the fundraisers associated with Tyree Conyers-Page and the Black Lives Matter of Greater Atlanta organization, which collectively raised $13,154. He has also been banned from using the GoFundMe platform for any future campaigns. If any donor would like to request a refund, we will process it for them," a GoFundMe spokesperson said in a statement sent to Newsweek on Sunday. Individuals who donated to BLMGA using GoFundMe can request refunds through the platform's website.
This story was updated at 4:32 p.m. ET to reflect GoFundMe's confirmed statement regarding its response to allegations against Page and BLMGA.