Georgia Anti-Abortion 'Heartbeat Bill' Could Have a $9.52 Billion Negative Economic Impact, Passes House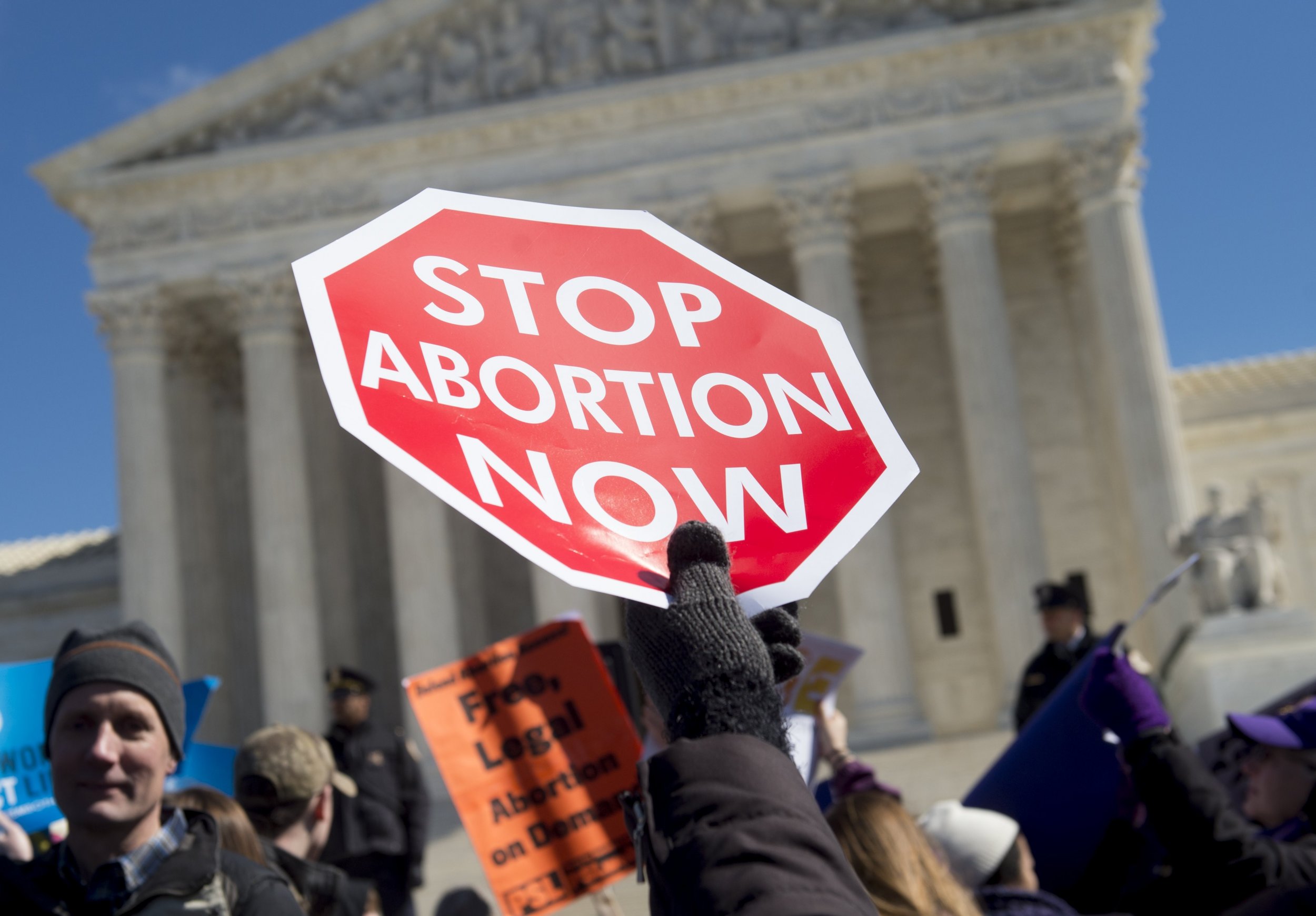 An abortion bill in Georgia passed the House of Representatives on Friday and is headed to Governor Brian Kemp's desk. The bill sparked a fierce debate about the health implications of restricted abortion access, and if signed into law, it could also be harmful to the state's economy.
House Bill 481 defines a fetus as viable when a fetal heartbeat can be detected, which can happen as early as five and a half weeks—making it one of the strictest abortion laws in the country.
"We keep talking about six weeks pregnant. You know what that means?" Georgia State Senator Jen Jordan said during a hearing. "That means that maybe the woman is about one to two weeks late after an expected menstrual period."
After a fetal heartbeat is detected, a woman cannot have an abortion unless her pregnancy is diagnosed as medically futile or is necessary to avert death or serious irreversible harm to the mother. A woman who was raped or became pregnant as a result of incest may also have an abortion after a fetal heartbeat is detected, as long as an official police report has been filed.
"It's clear that's the intent of it. It's a race to the U.S. Supreme Court, with all of these conservative states to be the one that gets Roe overturned," Jordan previously told Newsweek. "I think they're trying to be as outrageous as they possibly can, and they've definitely done it here."
Along with tightening restrictions on abortions, the bill also allows taxpayers to claim any unborn children with a fetal heartbeat on their state income tax returns. Representative Ed Setzler, the bill's sponsor, estimated that the ability to deduct unborn children would cost the state between $10 million and $20 million in lost revenue.
Revenue from taxes isn't the only financial hit the state could take if the anti-abortion legislation is signed into law.
The Writers Guilds of America East and West characterized the legislation as a "draconian, anti-choice measure" that would create an "inhospitable place" for people in the film and television industry to work. The organization speculated that if signed into law, it would be the reason productions decided not to film in Georgia.
"The cost would be most deeply felt by the residents of Georgia—including those who directly work in the film and television industry, and those who benefit from the many millions of dollars it pours into the local economy," the union said.
Just how many millions of dollars could Georgia miss out on if Hollywood decides to stop bringing film and television projects to the Peach State? According to the Georgia Department of Economic Development, in fiscal year 2018 the 455 film and television productions that were filmed in Georgia generated $2.7 billion in direct spending in the state, yielding a total economic impact of $9.5 billion. The Georgia Department of Economic Development declined to comment to Newsweek because the legislation was pending.
"We are very fortunate to have state leadership that understands the vital role that the entertainment industry plays in Georgia's economic prosperity," Georgia Department of Economic Development Commissioner Pat Wilson said in August. "The film industry creates jobs across almost every profession. In addition to camera, lighting and audio, film companies hire Georgians with skills in a myriad of support services, including construction, catering, transportation, accounting and payroll, and postproduction."
The filming of Black Panther alone contributed $83.9 million in local economic activity, and created more than 3,100 jobs equaling $26.5 million in wages, according to the Motion Picture Association of America (MPAA).
Ant-Man and the Wasp generated over $63 million in economic activity, and paid wages to 2,000 local workers. To produce a film, the crew needs food to eat, places to sleep, supplies to build sets, and countless other items, many of which, the MPAA said, were purchases benefiting Georgia's economy, including:
More than $15.7 million spent on local rentals and purchases for set decoration, production and other supplies
More than $4.4 million spent on lodging
More than $4.4 million spent on transportation, including truck and car rentals
More than $4.1 on hardware and lumber supplies
More than $1.3 million spent on local catering and other food items for the cast and crew
More than $589,000 spent on local wardrobe, including dry cleaning
At this time, no major film or production union has said with any certainty that a boycott would occur if Georgia passed the anti-abortion bill. However, 50 actors, including Alec Baldwin, Mia Farrow, Rosie O'Donnell and Alyssa Milano, signed a joint letter stating that they wouldn't continue to make projects in Georgia if HB 481 becomes law.
"We can't imagine being elected officials who had to say to their constituents, 'I enacted a law that was so evil, it chased billions of dollars out of our state's economy," the letter stated. "It's not the most effective campaign slogan, but rest assured we'll make it yours should it come to pass."
The bill passed in Georgia's Senate had 34 votes in favor to 18 votes against; after passing in the House, it is now headed to the governor to possibly be signed into law. Given Governor Brian Kemp's previous praise of the bill, it's likely he will sign it.
"The State Senate affirmed Georgia's commitment to life and the rights of the innocent unborn," Kemp said after the Senate passed the bill. "I applaud the members who supported the heartbeat bill's passage for protecting the vulnerable."
After the bill passed the House, Kemp said the legislature's "bold action reaffirms our priorities and who we are as a state." He thanked lawmakers for their leadership and applauded their "undeniable courage."
"Georgia values life," Kemp said. "We stand up for the innocent and speak for those who cannot speak for themselves."
This article has been updated to include Governor Kemp's statement.