Georgia Begins Investigating Allegations of Paying College Football Players
The University of Georgia has become aware of a well-known high school football coach in its state making claims that Georgia and the University of Alabama paid football recruits hundreds of thousands of dollars to play for them.
A video of Valdosta (Ga.) High Coach Rush Propst surfaced over the weekend of the coach making those allegations. The source originated from former Valdosta Touchdown Club director Michael "Nub" Nelson, who recorded Propst making these claims in May of 2020. How it leaked to the worldwide web is beyond Nelson, though.
"I really don't know," Nelson told the Atlanta Journal-Constitution after the story began leaking Monday. "I had the clips made and I guess that's how it got out. I only gave (the audio file) to two people, one who has access to Georgia and one who has access to Alabama."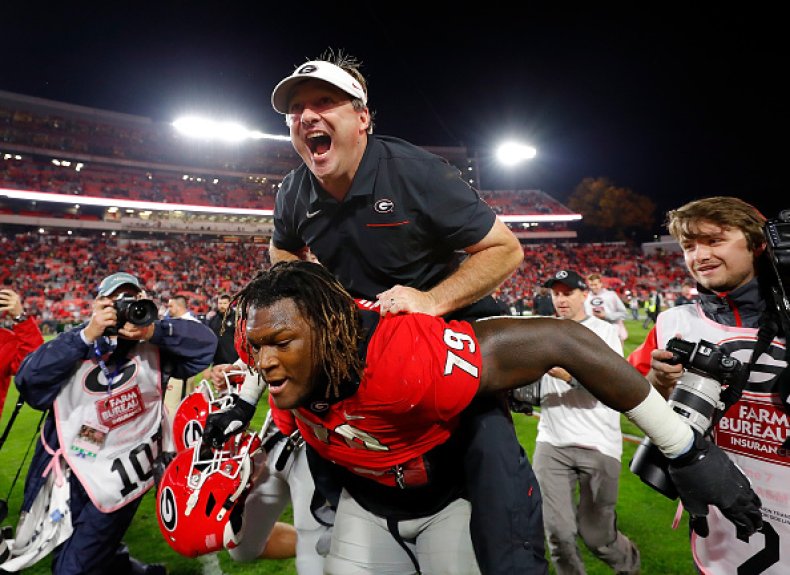 Nelson said he has already been interviewed by compliance officials at Georgia.
"They called and asked a bunch of questions," Nelson said. "They asked me not to discuss it, so I don't want to say too much."
Here's the audio from that meeting.
Nelson acknowledged that he'll probably get similar queries from Alabama compliance officials.
The audio recordings indicate Propst telling Nelson that Alabama and Georgia routinely pay prominent football players between $90,000 and $100,000 to play for them, which is a violation of NCAA rules for amateurism.
The Valdosta coach went on to say that former Georgia running back Nick Chubb was given three installments of $60,000 apiece to come back for his senior year with the Bulldogs in 2017.
Nelson turned over the files to Georgia, mostly believing nothing will surface from the claims because of Propst's "credibility."
"I don't think they're in trouble because of who said this," Nelson said. "That man's credibility is zero and they'll put this out in no time. I'd be surprised if the NCAA spends more than a minute on it."
Propst is a former head coach at Hoover High in Alabama. The team was featured on MTV's Two-A-Days in the mid-2000s.
Propst later became the head coach at Colquitt County High in Georgia, and he was eventually suspended for violating five standards for the Georgia Code of Ethics for Educators. He allegedly gave pills to his players on multiple occasions, including "out of his pocket, in the office area, at halftime and at his truck," The Moultrie Observer reported.
He was also investigated for insubordination, owing nearly $301,000 in federal taxes and $143,000 in state taxes, interfering with the hiring of his school's principal, trying to charge a personal hotel stay to the school district and interfering in another sport.
There has also been a rift between Nelson and Propst ever since Propst became the coach at Valdosta. Nelson alleges that Propst told him they needed to pay players to attend Valdosta, and that he needed to reach into the Touchdown Club's coffers to make that happen, according to the Journal-Constitution.
Some of that money included a $2,500-per-month stipend to quarterback Jake Garcia, who transferred from California. That was for the star player's room and food, according to a 64-page sworn affidavit by Nelson, who claims Propst also sought an extra $850 per month for Amari Jones, another transfer quarterback.
Nelson was fired by the Touchdown Club's board of directors last month, but Nelson doesn't believe it had anything to do with paying its players.
"I didn't think our board would get behind something like that," Nelson said. "They were trying to shut me up."