Georgia Bills Seek to Reduce Secretary of State's Election Board Power
Georgia's State Legislature has introduced a series of new election bills that are aiming to transfer power from the secretary of state's office and county boards of elections over to lawmakers.
Among these proposals is a piece of sweeping legislation that would create a new chairman of the State Election Board to be appointed by lawmakers. Currently, the secretary of state, an elected official, serves as the chairperson.
House Bill 531, which has already been passed by the House by a vote of 97-72, would also turn the secretary of state from a voting member of the board to a nonvoting member.
The package is seeking to restrict voter access on a number of fronts such as requiring photo ID for absentee voting, limiting the time in which voter can request absentee ballots, narrowing the locations of ballot drop boxes and reducing early voting hours.
The changes would be an unprecedented shift for Georgia, where there has been no-excuse absentee voting for the last 15 years.
The push from the Republican-controlled legislature to reduce the power of Secretary of State Brad Raffensperger comes after Democratic upset wins in both the January Senate runoffs and the November election.
While Raffensperger has continued to defend the security of Georgia's elections, his fellow Republicans have attacked the secretary of state for his refusal to overturn the results of the election that declared President Joe Biden the winner of a historically red state.
Raffensperger has positioned himself in opposition to former president Donald Trump for seeking to illagitimize the elections in his state. Last month, he opened up a probe into the former president in connection to a phone call between the two in which Trump asked Raffensperger to "find" enough votes to overturn his loss in Georgia.
"All I want to do is this: I just want to find 11,780 votes," Trump is quoted telling the secretary of state.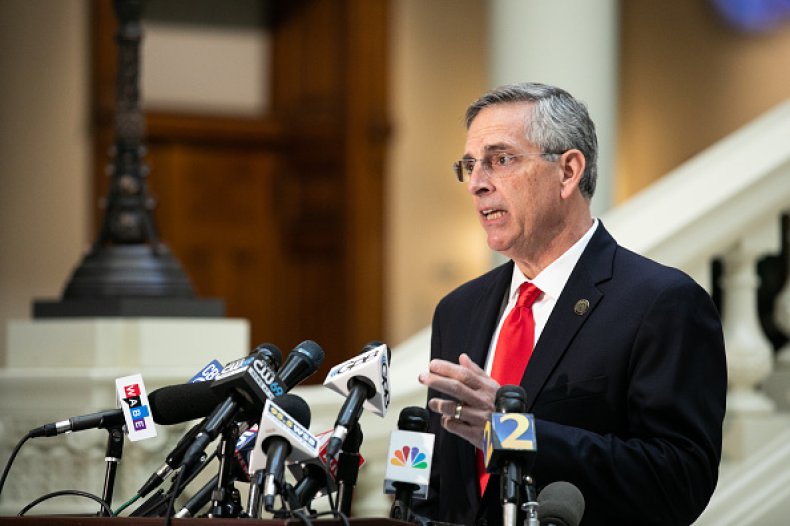 Following unsubstantiated claims of widespread voter fraud, Georgia Republicans have introduced legislation that they say would restore the public's confidence in the state's election process.
"House Bill 531 is designed to begin to bring back the confidence of our voters back into our election system," Republican Representative Barry Fleming, the chief sponsor of the bill, said.
Another measure that has been cleared by the State Senate, and for which a similar proposal is pending the the House, would give the State Election Board the power to replace local elections officials with new leaders if they don't meet performance measures.
In order to for these bills to move forward, they will need to pass either the House or Senate by the Monday Crossover Day deadline.
Newsweek reached out to Raffensperger's office for comment but did not hear back before publication.