Georgia Candidates Spent 14 Times More on TV Ads Over Few Weeks than UK Prime Minister Did for Entire Campaign
U.S. spending on political campaign advertising dwarfs that of any other nation, with spending on Georgia's upcoming Senate runoffs already reaching unprecedented levels after one month.
Between November 5 and December 4, spending on advertising for the two Senate contests exceeded $315 million, according to advertising tracking firm Adimpact. Money spent on advertising during all stages of the election, including leading up the November 3 election that saw no candidates receiving a majority of votes, totaled $516.8 million.
In comparison, the U.K.'s Conservative party, headed by Prime Minister Boris Johnson, spent roughly £16 million, or about $21.4 million USD, on its entire 2019 general election campaign, according to The Independent. Canadian Prime Minister Justin Trudeau's Liberal party spent around $26.2 million CAD, or $20.5 million USD, during its 2019 campaign. Unlike the U.S., both countries have caps on the amount of money political campaigns are allowed to spend.
Not including the Georgia runoffs, advertising spending in the U.S. during the 2019-2020 election cycle reached a staggering $8.5 billion, with 9.3 million television ads being bought for races throughout the country.
The total spent is greater than the gross domestic product (GDP) of at least 49 countries, exceeding the combined GDP of the bottom 15 countries, according to United Nations data compiled by Worldometer.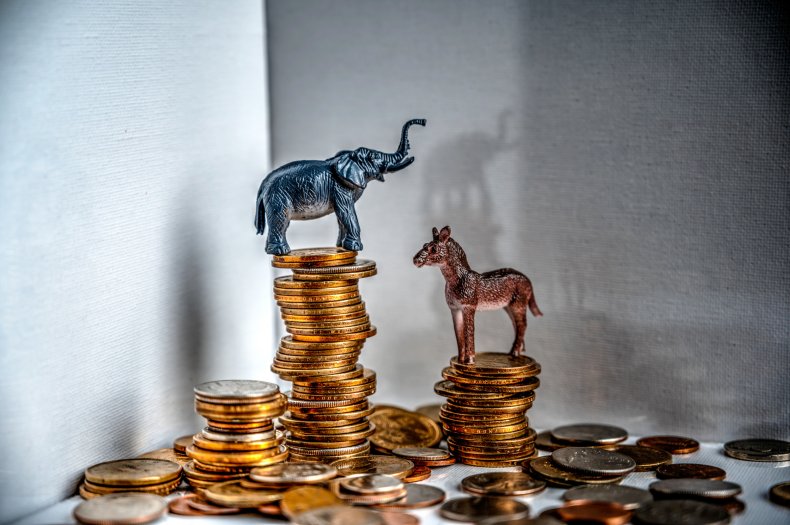 Although spending large amounts of money on advertising is common in U.S. politics, the amount being spent on the Georgia runoff races is likely especially high because the outcome will determine which party controls the Senate.
If either of the races is won by incumbent GOP Senators David Perdue and Kelly Loeffler, Republicans will maintain control of the upper chamber despite remaining in the minority in the House and losing the White House.
Dual wins by Democratic challengers Jon Ossoff and Raphael Warnock would result in the Senate being split 50-50, but Democrats would take control for the first time since 2014 due to Vice President-elect Kamala Harris holding the power to break any ties.
The $86.6 million in advertising already spent by the Ossoff campaign makes it the most expensive in Senate history, eclipsing the record that had recently been set during Democratic candidate Jaime Harrison's unsuccessful attempt to unseat GOP Senator Lindsey Graham of South Carolina.
"While the GOP's billionaire mega-donors are dumping tens of millions of dollars into Mitch McConnell's super PAC network to try to buy these seats, Democrats are counting on small-dollar grassroots donors to support our candidates and help them fight back," Democratic Senatorial Campaign Committee spokesperson Shea Necheles said in a statement to Newsweek.
Newsweek reached out to the National Republican Senatorial Committee for comment.
Polling suggests that both of the high-stakes races, set to take place January 5, could be decided by razor-thin margins. A RealClearPolitics average shows Warnock with a slim advantage over Loeffler of 0.5 percent as of Friday, while Perdue is ahead of Ossoff by an even smaller margin of 0.2 percent.