Georgia City Becomes the Latest to Reinstate Mask Mandate Amid COVID Case Increase
Savannah, Georgia, has reinstated a mandate that people wear masks in public as Chatham County saw a "steep and alarming rise" in COVID-19 infections, the Associated Press reported.
Savannah Mayor Van Johnson announced during a news conference Monday that everyone would be required to don a mask when they are inside with people not in their immediate family circle.
The mandate doesn't apply to schools and colleges, Johnson said. However, he urged the institutions to enact similar measures to curtail county infection rates that nearly tripled in the past two weeks, the Associated Press reported.
Transmission rates in Chatham County are as high as they were in March after the Department of Public Health documented a surge in cases at the end of last week. Additionally, new infections are about nine times higher than they were at the end of June, and cases throughout the entire state are nearly five times higher from the end of last month, per the Associated Press.
For more reporting from the Associated Press, see below.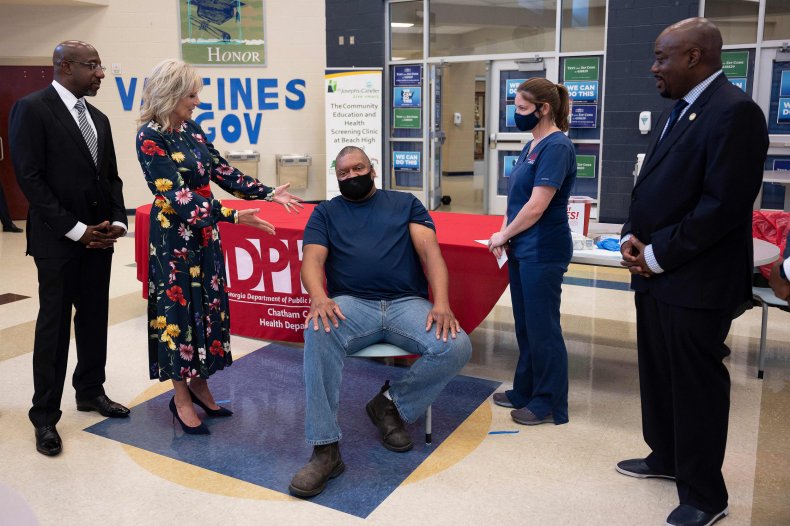 Some 60 leading medical and health industry groups are calling for health care employers to require their workers to get COVID-19 vaccines as the more aggressive delta variant spreads across the nation, and some communities report troubling increases in hospitalizations among unvaccinated people.
The groups include the American Medical Association, the American Academy of Nursing, the American Public Health Association and, for the first time, a nursing home industry group. LeadingAge, which represents nonprofit nursing homes and eldercare facilities, had previously advocated educating nursing home employees about the benefits of getting their shots.
"Unfortunately, many health care and long-term care personnel remain unvaccinated," the groups said in a statement. "We stand with the growing number of experts and institutions that support the requirement for universal vaccination of health workers."
In Massachusetts, Provincetown officials approved an indoor mask mandate during an emergency joint meeting on Sunday in an effort to fight an outbreak in the vacation haven at the tip of Cape Cod.
Officials say the new cases stem from a busy Fourth of July weekend. The cluster has grown to more than 550 cases, including some caused by the more infectious delta variant. Of the new cases, about 70 percent were fully vaccinated and most had no or only mild symptoms. Only three have required hospitalization.
Outside of the U.S., enforcing France's new virus pass could prove a logistical challenge for restaurants and other venues, but managers and diners hope it helps avoid another dreaded lockdown.
At the helm of La Brigade, a pocket-sized steak house in Paris' hip Oberkampf district, Noémi Arevalo can't imagine having to struggle through another weeks-long closure.
"We prefer having to work with rules and be stricter with our customers than having to close and not being able to work," she told the Associated Press from behind her counter.
France's parliament approved a law early Monday requiring special virus passes for all restaurants and domestic travel, and mandating vaccinations for health workers. To get the pass, people must be fully vaccinated, have a negative virus test or prove they recently recovered from COVID-19.
The government's measures have prompted protests and political tensions. President Emmanuel Macron and his government say they're needed to protect vulnerable populations and hospitals as infections rebound.