Owing to a "significant increase in COVID related deaths," one Georgia county will be adding more morgue space, WSB-TV reported.
The new 10-foot by 10-foot cooler will be installed at Wellstar West Georgia Hospital in Troup County, which is southwest of Atlanta. It will be capable of holding up to 15 additional bodies and will be a permanent addition to the hospital.
The installation is expected to be completed in 12 weeks and will be paid for with funds from the Coronavirus Aid, Relief, and Economic Security (CARES) Act.
Officials in Troup County said that up to this point, they have had to utilize privately operated morgue facilities at places likes funeral homes and hospital morgues in neighboring counties to keep up with the recent tide of COVID-19 deaths.
Troup County is classified as having a high rate of community transmission, according to the CDC. Around 230 county residents have died from COVID-19 since the start of the pandemic out of the population of roughly 70,000. The county has seen 227 new reported cases in the past week and 81 new hospital admissions.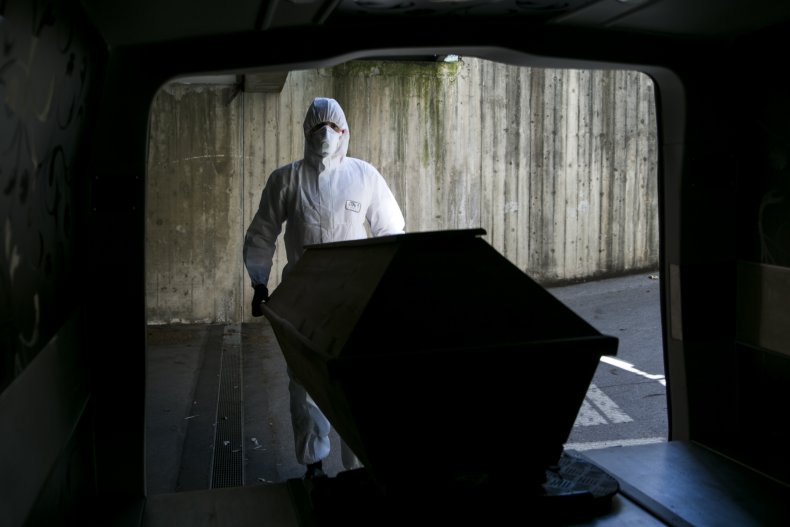 Erin Hackley, a coroner for Troup County, said that she initially noted the county's need for higher morgue capacities back in 2020 when she first ran for the position.
"As a Coroner's Office candidate in 2020, I identified the need for a larger, more accessible morgue within Troup County," Hackley said in an official statement. "At that time, it was not clear how urgent that need would become just a short time later. Not only during this pandemic, but also in the planning of future mass casualty and disaster events."
Newsweek has reached out to Troup County for more information on this story.
The CDC notes that Georgia has seen over 43,000 new COVID-19 cases in the week. That is roughly 410 cases per 100,000 residents. Georgia has seen 54 percent of residents get at least one vaccine shot, with 44 percent being fully vaccinated, according to The New York Times. This is notably lower than the nationwide rates of 64 percent with one does and 54 percent fully vaccinated.
Morgue capacity has been a recurring issue for medical facilities across the whole of the COVID-19 pandemic. In July 2020, Hinds County, Mississippi, was forced to bring in refrigerated trucks to store dead bodies, as the county somehow lacked any sort of morgue. Hinds County is notably the home of Jackson, the capital of Mississippi.
More recently, a refrigerated trailer was brought in to store bodies at Brevard County, Florida's largest hospital. The state has been called by many the epicenter of the recent resurgence of COVID-19 due to the Delta variant, regularly leading the nation in cases week-to-week, besting much larger states like Texas and California.