Georgia County Says MLB All-Star Game Would've Brought $100M and Help Post-COVID
Tourism officials in Georgia's Cobb County lamented Major League Baseball's (MLB) recent decision to relocate the summer's All-Star Game, which was originally set to take place at Truist Park in Atlanta.
Holly Quinlan, president and chief operating officer at Cobb Travel and Tourism—a local bureau focused on drawing visitors to the county encompassing Atlanta—estimated that the jurisdiction would have reaped significant profits as a result of the annual sporting event, and projected a loss of roughly $100 million now that MLB plans to take its business elsewhere.
Quinlan, who referenced the "estimated lost economic impact" tied to the All-Star game's relocation in a statement acquired by CNN over the weekend, additionally underscored the ways in which the event would have benefited Cobb County's hospitality industry in comments to the news outlet. Restaurants, hotels and small businesses across the U.S. have confronted serious economic challenges throughout the coronavirus pandemic.
"This event would have directly impacted our county and the state, as visitors spend their dollars on local accommodations, transportation, entertainment and recreation, food as well as retail throughout the county," added Quinlan in remarks delivered at a press conference last week, where Cobb County Commission Chairwoman Lisa Cupid also appeared.
"This would have been a big boost to Cobb businesses and help with recovery efforts after the COVID-19 pandemic," Quinlan continued.
Cupid similarly acknowledged her disappointment over MLB's relocation announcement, released prior to the news briefing on Friday, although the local leader told reporters that she recognized the league's reasoning was legitimate.
"I certainly understand," she said, referencing the professional baseball league's motive for moving its All-Star game out of Georgia.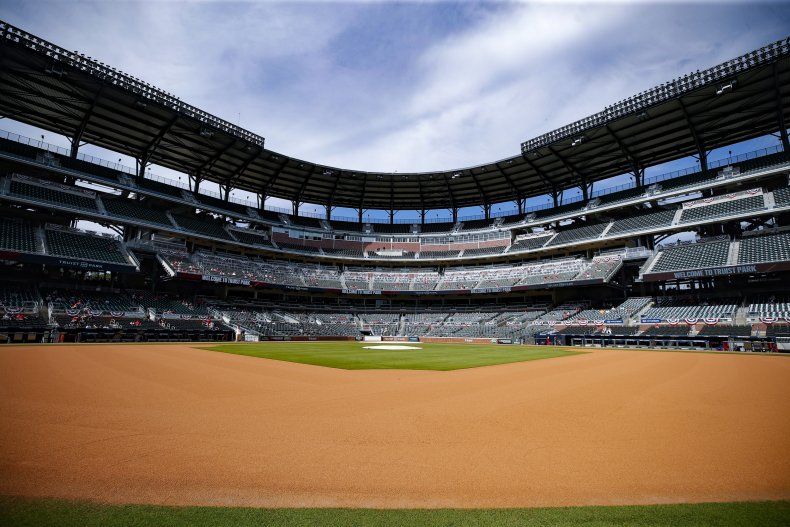 The organization, joining a handful of other companies, shared its decision as a gesture of opposition against Georgia's new voting laws, which Republican Governor Brian Kemp signed into law at the end of March. The legislation imposes heightened identification requirements for absentee voters, limits access to ballot drop boxes, prevents poll workers from offering water or food to hopeful voters waiting in queues, and gives state authorities more influence over local election proceedings.
Critics have denounced the legislation as an example of voter suppression that will disproportionately affect low-income communities and communities of color.
MLB Commissioner Rob Manfred said relocating the organization's All-Star Game, and annual draft, was "the best way to demonstrate our values as a sport" in a statement confirming the decision. Several large corporations, including Delta Airlines, ViacomCBS, Coca-Cola and the United States Postal Service, have also spoken out against the new voting restrictions in Georgia.
Newsweek reached out to the Cobb County Travel and Tourism Bureau for further comment, but did not receive a reply in time for publication.