Georgia County Suspends Early Voting As Tropical Storm Zeta Knocks Out Power to All 6 Locations
Early voting was halted in Douglas County, Georgia Thursday as the state experienced power outages while Tropical Storm Zeta moved across the area.
The news was first reported by WSB-TV reporter Justin Gray. In a tweet, Gray noted that Georgia Secretary of State Brad Raffenspeger said all six early voting locations in Douglas County were offline due to the outages.
"Due to weather, Douglas County Board of Elections and Advance Voting will be closed today, Thursday, October 29," said a message later posted to the county's website. "We will reopen on Friday, October 30."
Friday is the last day for early voting in Georgia.
"We don't see there will be an overall impact to voting at this time," Raffensperger told the Atlanta Journal-Constitution. "We still have early voting for the balance of today and tomorrow and obviously the full election on Tuesday."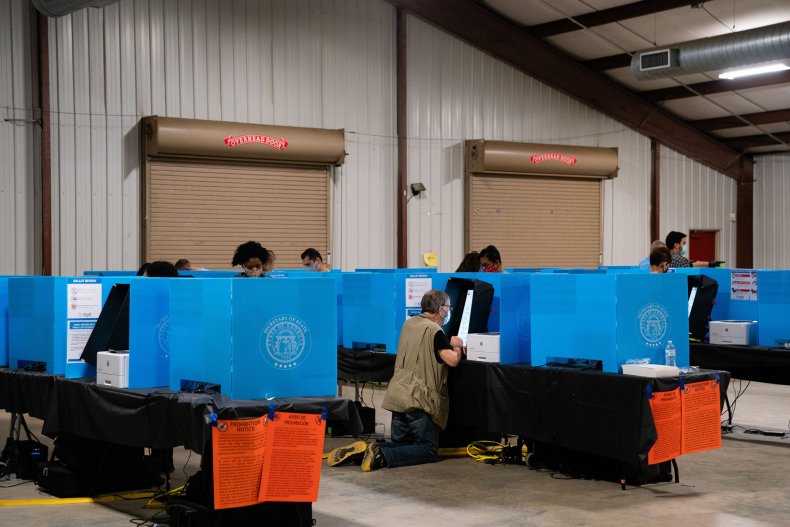 Over 980,000 Georgians experienced power outages as Tropical Storm Zeta swept across the state. The storm was downgraded from hurricane status after it made landfall Wednesday on the southeastern coast of Lousiana near Port Fourchon.
Zeta is forecast to bring heavy rainfall and dangerous wind gusts of 45mph to 70mph to Alabama, Mississippi and Georgia. "Wind gusts could be especially severe in the Southern Appalachian Mountains," the National Hurricane Center (NHC) warned.
"Through today, heavy rainfall is expected near and in advance of Zeta from portions of the central Appalachians, Mid-Atlantic and lower to middle Ohio Valley. This rainfall may lead to flash, urban, small stream and isolated minor river flooding," the NHC continued.
Raffensperger told the AJC that he asked Georgia Power, one of the largest power providers in the state, to prioritize restoring power in areas with polling places so voting can resume.
Raffensperger added that counties may choose to extend early voting hours on Thursday. Polls will be closed over the weekend and Monday ahead of Election Day.
The outages come as Georgia sees a significant increase in early voter turnout compared to 2016. According to the U.S. Elections Project, the state has seen a 32 percent increase in early voter turnout compared to 2016 and a 72 percent increase in overall turnout through 12 p.m. on October 29.
A recent survey conducted by the New York Times and Sienna College found that 77 percent of likely Georgia voters plan to cast ballots in-person ahead of the general election. Of the 759 responses collected, 45 percent said they intended to vote in-person during Georgia's designated early voting period, while 32 percent said they would vote in-person on Election Day.
Raffensperger and Douglas County didn't respond to Newsweek's request for comment in time for publication.