Georgia County that Flipped for Clinton in 2016 Could Flip the State for Biden
As Georgia becomes an unlikely battleground in this year's presidential election, all eyes are on one suburban area just outside Atlanta: Gwinnett County.
Once a Republican stronghold, Gwinnett County went for conservatives John McCain and Mitt Romney by near-double-digit margins in 2008 and 2012. But Democrat Hillary Clinton won the county by more than 5 points four years ago, marking the beginning of what might be a blue wave.
That trend, lawmakers and activists say, is likely to continue in 2020.
"The general consensus in Gwinnett County is that it is inevitably going to turn blue this year," said Beth Moore, a Democratic state representative who flipped a Gwinnett-based district two years ago. "That's going to be true not just for the presidential election but for countywide offices and many of the local legislative races."
Republican Fran Millar, who served in the Georgia General Assembly for more than 20 years and represented portions of Gwinnett County, counts himself among the "blue wave casualties" of conservative candidates. He won re-election easily in 2016 with 56 percent of the vote. Two years later, he lost with just 46 percent of the vote.
"I don't think it's any better," Millar said. "I think you are going to see Gwinnett County continue to go Democratic."
He added that "Republicans have got to broaden their base" if they want to find any success in the area.
Elliott Brack, the editor and publisher of the GwinnettForum, said the local Republican Party "seems to have given up." He noted that they haven't even fielded candidates in every local race. His website, which provides online community commentary, has spoken to 128 candidates running for local and statewide office in Georgia. Brack plans to release his endorsements for the races at the end of the week.
"This year it would not surprise me to see every Republican losing," Brack said.
He plans to support the Joe Biden-Kamala Harris ticket on November 3. He said the area seems to have more Biden supporters than Donald Trump supporters.
The shift in Gwinnett's political lean is largely due to the drastic demographic changes the area has experienced over the past two decades. The county, which is the second-largest in Georgia, has flipped from a majority white population to a majority non-white population. The U.S. Census Bureau estimated in 2019 that the population in the county is 30 percent African American, 22 percent Hispanic and 12 percent Asian.
Another aspect driving Democrats to success is generational change, said State Representative Samuel Park. Park said the average age of his district, which includes the city of Lawrenceville, is 36.
Park was the first openly gay man ever elected to the Georgia General Assembly. The son of Korean immigrants and the only Asian-American representative in Georgia's House of Representatives, Park has been tapped to serve on the leadership council for its Georgia Asian Americans and Pacific Islanders for Biden-Harris group.
"A lot of folks are surprised when they hear that an openly gay, Korean-American millennial was elected from a state like Georgia," Park said. "But I'm quite representative of the state and its changing demographics. I was born and raised here, and I think we're just coming into our own."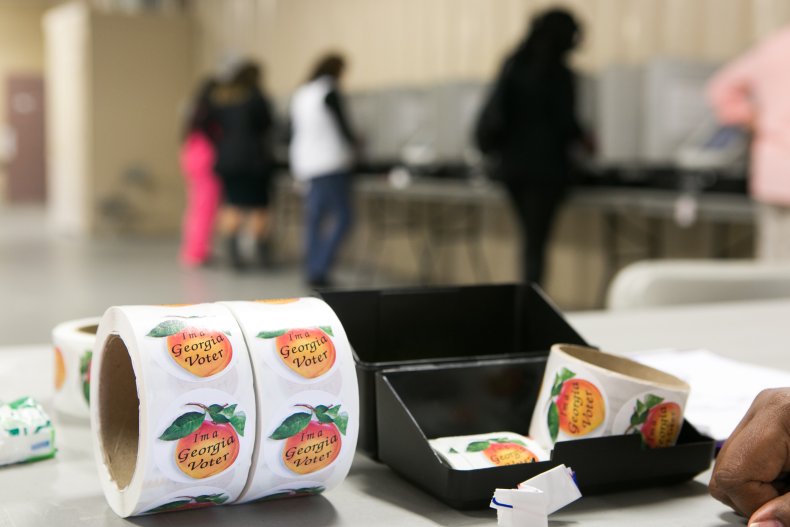 While Gwinnett County voted for Clinton four years ago, the state as a whole went for Donald Trump by 5 points. But experts say the county could be a deciding factor in how Georgia's 10 electoral votes will be doled out in 2020. Polls today show the race nearly tied. FiveThirtyEight polling averages show Biden ahead in the state by less than 1 percent.
National political correspondent Jonathan Martin of The New York Times said in a tweet that it might be possible for Biden to win Georgia—a feat that hasn't happened to a Democratic presidential candidate since 1992—if he can capture 60 percent of the vote in Gwinnett.
Gwinnett County's important role in the election was also highlighted in a Monmouth University poll conducted over the summer. The survey labeled Gwinnett as one of the state's swing counties, and projected it could help move the state toward Biden.
Andra Gillespie, a political scientist at Emory University, said she expects robust if not record-breaking turnout in Gwinnett County and throughout the state. Turnout for the presidential primaries this year shattered records despite the threat of the coronavirus pandemic. If Trump wins Georgia this year, Gillespie said he will win by a smaller margin than he did in 2016.
"We are really the vanguard for change," said Everton Blair Jr., a Gwinnett County school board member.
Blair Jr., who grew up going to school in the district he now serves, has witnessed firsthand Gwinnett County's diversification and political shift. But he said he's never seen this level of engagement.
"Trump galvanized Democrats with the direction in which he was taking the country," he said.
He added that residents of both parties are "reaching out to their elected officials, they are telling them exactly what they think, and that can only be good for democracy overall. But it's also energy that I have never seen before."