Georgia, on Cusp of COVID Surge, Grapples With Long Voting Lines, Delays
As Georgia faces the risk of a potential new COVID-19 surge, several early voting locations in the state reported delays this week that required voters to wait in line for hours to cast their ballots.
On Friday, Georgia health officials reported 1,701 new COVID-19 cases, bringing the state's total case count to 337,850. The additional new cases marked the state's largest single-day increase in new confirmed infections since mid-September, according to data compiled by the Georgia Department of Public Health.
Local public health experts warned The Ledger-Examiner last month that though the state's pandemic outlook was improving at the time, they had concerns about the possibility of a new surge. Public health expert Dr. Amber Schmidtke told WXIA-TV earlier this week that there is "already enough momentum for the disease in our community to change very quickly back upwards."
According to Johns Hopkins University researchers, the state had a 6.2 percent seven-day average of positive tests by Saturday, meaning it does not meet the World Health Organization's (WHO) recommended testing rate for reopening of 5 percent or lower.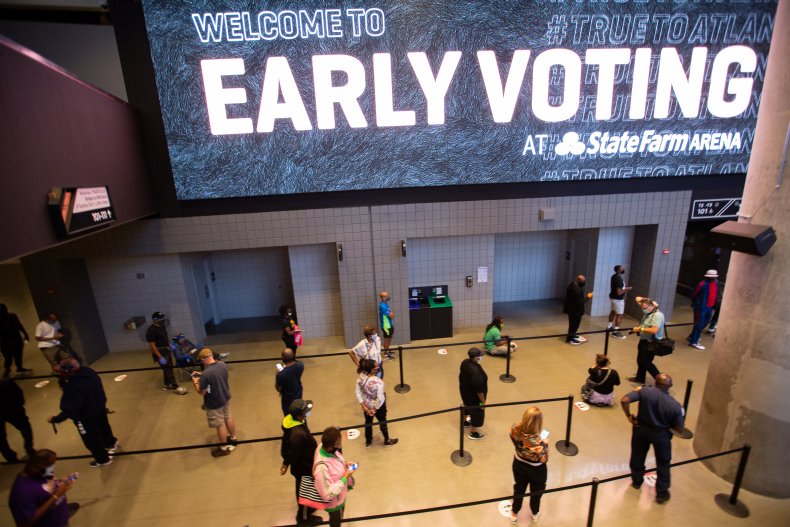 Schmidtke's comments about a potential new rise in cases in Georgia were made in reference to the risks that come with people gathering together, which is expected to occur more often as the U.S. enters the holiday season and temperatures drop—pushing people inside where the risk of transmission is higher. However, the long lines reported at voting locations throughout Georgia indicate that people are spending more time around large groups of people than they might otherwise in order to cast their ballots.
According to Centers for Disease Control and Prevention (CDC) recommendations for election operations during the pandemic, voters are encouraged to avoid large crowds when they must vote in person, and election officials are encouraged to "minimize lines as much as possible."
"The more an individual interacts with others, and the longer that interaction, the higher the risk of COVID-19 spread," the CDC's recommendations said, adding that expanded voting options—which includes early voting—are encouraged to avoid the "larger crowds" and "longer wait times" that are frequently seen on Election Day.
Voters experienced delays throughout the state's first week of early voting as election officials reported technology issues with voter check-in systems, according to the Atlanta Journal-Constitution. Some voters waited in line for hours to cast their ballots, a predicament exacerbated by record numbers of voters turning out early.
Georgia Secretary of State Brad Raffensperger said in a news release that more than 1.3 million ballots had already been cast statewide by Friday night. The number marks a 134 percent increase in voter turnout compared with this same time in 2016, according to Raffensperger's office.
Anticipating delays due to the pandemic and expected increases in voter turnout, state election officials encouraged voters to cast their ballots by mail when possible. For those who prefer to vote in person, officials have encouraged them to wear masks, practice good hygiene, and observe social distancing while at the polls. While some of the state's local leaders have imposed face covering requirements, Georgia does not have a statewide mask mandate.
Newsweek reached out to the Georgia Department of Public Health for comment, but did not receive a response in time for publication.