Man Wearing 'Be a Good Human' Shirt Accused of $100,000 Jewelry Theft
A suspect was caught on camera stealing items worth $100,000 from a jewelry workshop last Friday—while wearing a sweatshirt emblazoned with "Be a Good Human."
Police in DeKalb County, Georgia, told media outlet WSB-TV2 that the man had stolen rings and earrings from a boutique supplier called Ringcrush. Store owner Bailey Lehrer said the suspect used a rock to break a window before plundering the warehouse of thousands of products.
"It's really sad," Lehrer told Fox5, appealing for the public's help in catching the jewelry thief by releasing surveillance footage to the press. "Probably, he's going to take it to a pawn shop, they're going to turn it away, and he's going to put [the stolen goods] in the trash can."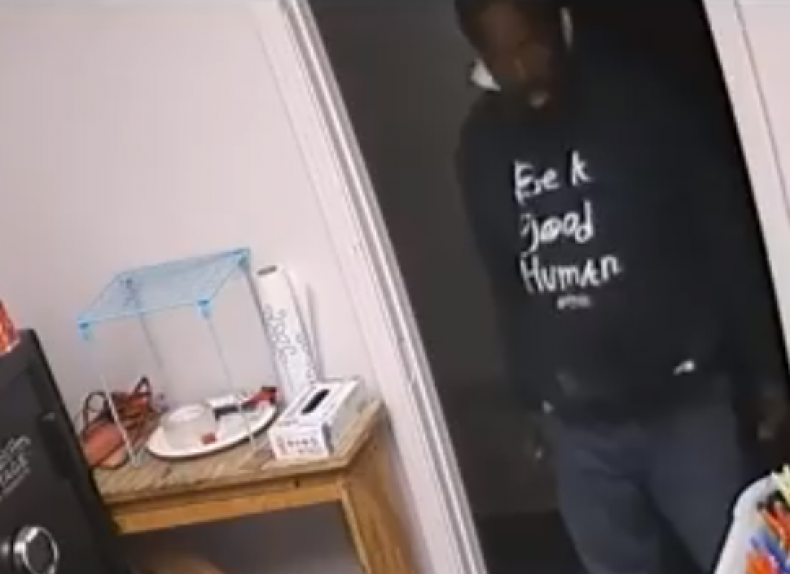 On social media, Lehrer has described the man as the "poopertrator" because he appeared to also take advantage of other facilities in the building during his hour-long theft. "Not only did he steal jewelry, he also made quite a mess in the bathroom," she told WSB-TV2. "He's going to do this to another small business. This guy. This is definitely not his first rodeo."
The suspect was seen in the footage trying on rings before leaving the premises with multiple bags. Some handmade rings took weeks to produce, but the items were insured, 11Alive reported, noting that detectives had since been able to retrieve fingerprints from the scene.
Yesterday, the Ringcrush Facebook page confirmed news of the break-in to its customers. The business—specializing in gemstones—sells via its website and a storefront on Etsy.
"The thief made off with quite a bit of jewelry, but our artists are working very hard to remake the pieces that were stolen and we're rushing to get back on our feet," it said.
"We are hoping that this affects the timely delivery of your orders as little as possible, but we promise we will reach out to you if your order will be delayed. We're most grateful that everyone is OK. We appreciate your patience and support for the Ringcrush family!"
In a later post, the store's social media account asked anyone with information to contact Chamblee Police at (770) 986-5005 or crimestoppers at 404-577-TIPS (8477). Police officials told Fox5 the robbery had occurred at around 9 p.m. on Good Friday.
"This weekend has been very emotional for everyone at Ringcrush, and we have been doing our best to make lemonade out of lemons and keep spirits high," the store's Facebook update said.
Man Wearing 'Be a Good Human' Shirt Accused of $100,000 Jewelry Theft | U.S.