Georgia Democrat Jon Ossoff Says Trump is Right About $2000 Stimulus Checks
Georgia Democratic Senate candidate Jon Ossoff on Tuesday said that President Donald Trump was right to ask congress to pass a second stimulus package that included $2,000 direct payments to Americans.
While appearing on CNN Tonight with Don Lemon, Ossoff was asked about Trump's decision to upend the stimulus package that was passed by Congress on Monday. The bill, which was worth $900 billion, included direct payments to eligible Americans worth $600, half the amount for the stimulus checks issued via the Coronavirus Aid, Relief and Economic Security (CARES) Act in March.
"I don't know where President Trump has been for the last eight months, while his allies in the U.S. Senate have been blocking this relief," Ossoff said. "President Trump is, as ever, erratic and all over the place, but on this point, tonight, he's right. $600 is a joke. They should send $2,000 checks to the American people right now because people are hurting."
Ossoff went on to criticize Georgia Republican incumbent Senator David Perdue, who he will face in the state's Senate runoff election on January 5.
"And David Perdue, my opponent, who opposed even the first round of $1,200 checks — imagine that, imagine a sitting U.S. senator, who was profiting from the pandemic buying medical and vaccine stocks, opposed even the first single round of $1,200 checks, has obstructed direct relief for the last eight months," Ossoff said. "And now decided he wanted to cut it down to $600 when people can barely feed their families through no fault of their own. Congress should pass $2,000 checks."
Newsweek reached out to Perdue for comment but did not receive a response in time for publication.
Ossoff's comments come shortly after Trump called the COVID-19 relief bill passed in Congress a "disgrace," and demanded larger direct payments to eligible Americans.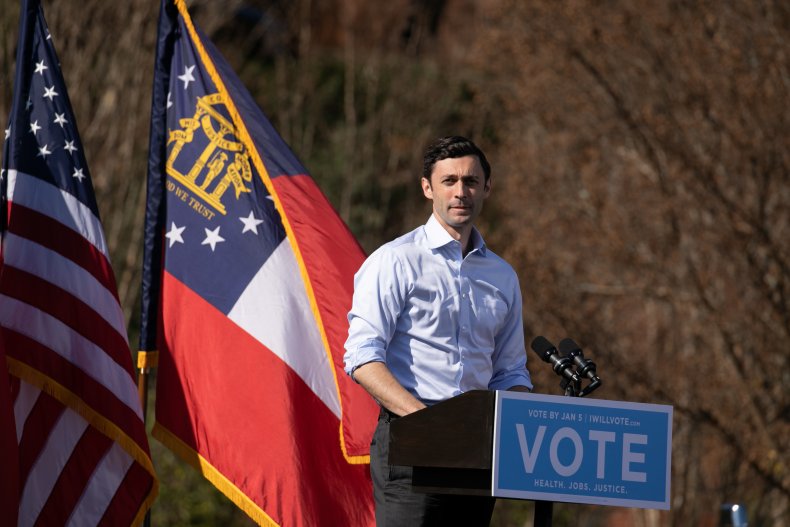 "The $900 billion package provides hardworking taxpayers with only $600 each in relief payments and not enough money is given to small businesses," Trump said. "I am asking Congress to amend this bill and increase the ridiculously low $600 to $2,000 or $4,000 for a couple."
He continued, "I am also asking Congress to immediately get rid of the wasteful and unnecessary items from this legislation and to send me a suitable bill or else the next administration will have to deliver a COVID relief package and maybe that administration will be me."
While Ossoff said that he agreed with Trump on the $2,000 direct checks, this is not the first time he has criticized the stimulus package passed in Congress.
"It's been 8 months. $600? Really?," Ossoff wrote in a tweet on Monday.
"After 8 months of obstruction Senator Perdue and Senate Republicans insisted on cutting direct relief checks for Georgia families in half. $600 won't cover the rent or the bills that have piled up over their months of inaction," Ossoff wrote in a subsequent tweet. "We deserve better."
Newsweek reached out to Ossoff and the White House for comment but did not receive a response in time for publication.