Georgia Democrat Ossoff Says 'Disgraced' Trump Will Only Bring COVID to State
Georgia Democratic Senate candidate Jon Ossoff criticized "disgraced" President Donald Trump on Monday, suggesting that he will only bring COVID-19 to the state.
While appearing on MSNBC's Politics Nation, Ossoff said, "With respect to President Trump, I mean, is he bringing stimulus for families? Is he bringing relief for small businesses? Or is he just going to come down here and spread COVID-19?"
According to the Georgia Department of Health, there are currently over 420,000 confirmed cases of the new coronavirus as well as at least 8,778 deaths. Case counts and deaths in Georgia and across the U.S. are expected to increase following Thanksgiving.
He continued, "This is a disgraced president, whose failed in his re-election bid; and he may rile up some supporters for my opponents, but you can rest assured he's also going to intensify the enthusiasm of Democratic voters here in Georgia to come out and make a statement continuing to reject his failed policies and his divisive and hateful politics."
Ossoff said he will "look forward" to the opportunity to campaign alongside President-elect Joe Biden and Vice President-elect Kamala Harris, but noted that they "of course need to be focused on the transition, so we can finally have some effective government in this country."
Ossoff will face incumbent Republican Senator David Perdue in Georgia's U.S. Senate runoff election. On Sunday, Ossoff said that if Senate Majority Leader Mitch McConnell retains control in the Senate, Biden's administration will face "partisan trench warfare."
"We all know what's going to happen if McConnell holds the Senate. He will try to do to Biden and Harris just like he tried to do to President Obama. It will be paralysis, partisan trench warfare, obstructionism as the eye can see at a moment of crisis when we need strong action," Ossoff said while speaking to CNN's State of the Union.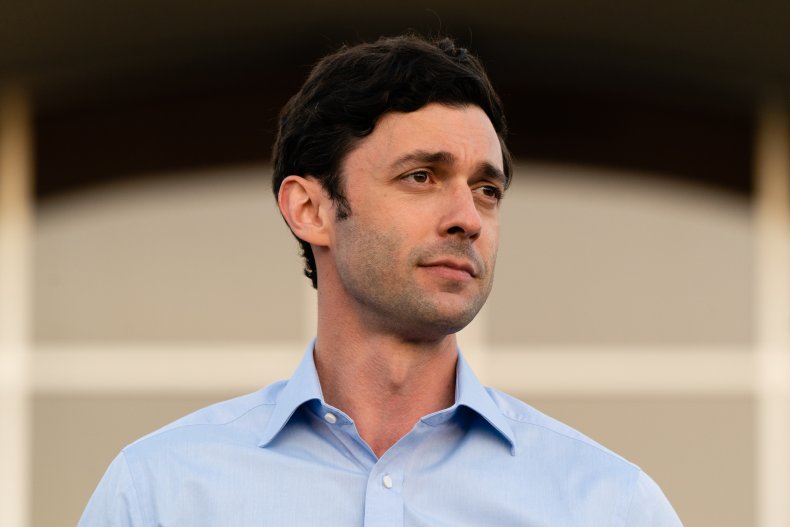 Polls have shown the runoff race nearly tied between the two candidates.
A poll conducted by InsiderAdvantage/FOX5 Atlanta, found both Ossoff and Perdue receiving 49 percent of support from the poll's respondents. This poll surveyed 800 likely voters in Georgia on November 16 and reported a margin of error of plus or minus 3.5 percentage points.
In addition to the race between Ossoff and Perdue, a second race between Republican incumbent Senator Kelly Loeffler and Democratic candidate Reverend Raphael Warnock, will also take place on January 5.
Newsweek reached out to Ossoff and Trump's campaigns for comment but did not receive a response in time for publication.
Correction 12/1/20, 4:10 a.m. ET: This article was updated to correct the spelling of Jon Ossoff.