Georgia Democrat Ossoff Holds Advantage With Independent Voters: Exit Polls
Independent voters are slightly favoring Democratic U.S. Senate candidate Jon Ossoff over Georgia's incumbent Republican Sen. David Perdue in Tuesday night's runoff election, according to an exit poll.
Independent voters were closely divided between Ossoff and Perdue, but Democrats had a slight advantage among the group, according to a preliminary CNN exit poll.
The poll was conducted for the National Elections poll, a group of media outlets including CNN, by Edison Research. Researchers gathered data by surveying 5,260 Georgia voters who cast ballots in person on election day or during early voting, along with conducting telephone interviews with some other early voters and those who cast mail-in ballots.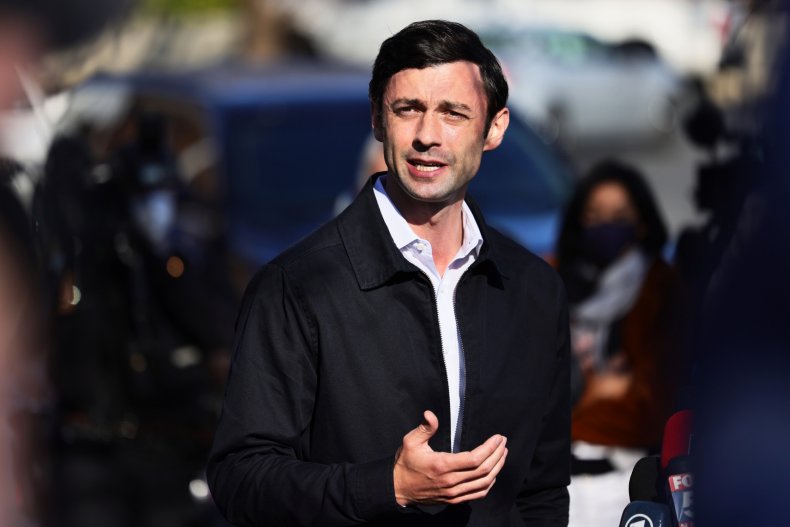 Ossoff and Perdue are taking part in the runoff because neither candidate achieved 50 percent in November's election, although Perdue had around 88,000 more votes than Ossoff after all the ballots were counted. Polling conducted prior to the runoff suggested that the candidates were essentially deadlocked heading into Tuesday.
Experts have cautioned that exit polls are particularly prone to issues of accuracy, with preliminary polling data even more likely to be less than accurate. The COVID-19 pandemic has also changed the manner in which exit polls are conducted, since a smaller portion of the voters are available to be interviewed in person on Election Day.
Newsweek reached out to Ossoff and Perdue's campaigns for comment.
A close race was also expected heading into Georgia's other Senate runoff. Polls showed incumbent Republican Kelly Loeffler running closely behind Democratic challenger Raphael Warnock. Unlike the race between Perdue and Ossoff, the contest is a special election, with Loeffler defending the seat she was appointed to by GOP Governor Brian Kemp in December 2019.
The outcome of the two elections will determine which party controls the Senate. If Democrats win both seats, the upper chamber would be split 50-50 but Vice President-elect Kamala Harris would have the ability to break ties, giving Democrats control. Republicans only need to win one of the two seats to retain control.
Republicans have expressed concern that President Donald Trump's continued unsubstantiated claims that the presidential election was rife with widespread voter fraud could undermine GOP chances in Georgia. Some pro-Trump figures, such as attorney Lin Wood, have suggested that Trump supporters should boycott the runoffs in protest of the president's loss in the state, which was certified after three separate counts of the vote and multiple audits overseen by Republican state election officials and Kemp.
Tuesday's exit poll suggested that Georgia voters had confidence that the runoffs would be conducted fairly and that their votes would be counted accurately. However, a large difference in confidence existed depending on party. While just over half of Republicans believed that the election would be fair, around 90 percent of Democrats said the same. A 70 percent majority of Independents agreed.