Georgia Democrats Are Seeing the Glimmer of a Blue Future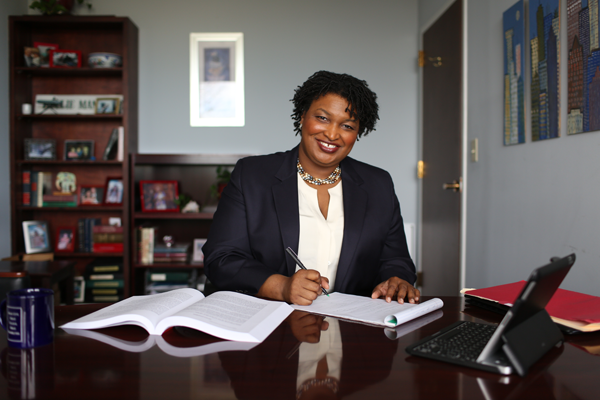 ATLANTA—Stacey Abrams walked up to the microphone and looked out at the crowd below her.
"I'm not sure why we're here. Can anybody tell me why we're here today?" she asked. "Are we here to vote?"
"Yes," the crowd replied back enthusiastically.
"Are we here to vote?" she asked again.
"Yes" came the response, a little louder this time.
"Are we here to vote?" she asked a third time.
"Yes" the crowd roared back.
It was eight days before the midterm elections, and Democrats held a get-out-the-vote concert at the South DeKalb mall just outside Atlanta, where an early-voting site was set up across the parking lot. On stage, Representative Abrams, the Democratic minority leader in the state House, stood several feet above the hundreds of mostly African-American men, women and children looking back at her.
The rally and concert, on behalf of Democratic Senate candidate Michelle Nunn, showed the Democrats' strategy in what has become a surprisingly close contest this year: registering and turning out minority voters.
Abrams, 40, is known as rising star in Georgia politics. She was elected to the state House in 2006, and four years later her caucus elected her minority leader. But her precipitous rise coincided with the equally fast decline of Democrats in Georgia.
Once the party of conservative Southern whites, Democrats hung on to power longer in Georgia than in many other former Confederate states. But in 2002, a Republican won the governor's office for the first time in more than a century, and in 2004 Republicans took full control of the state legislature for the first time since Reconstruction.
In 2011, when Abrams became minority leader, eight of her colleagues left the Democratic Party for the Republicans—older, white, conservative Democrats switching parties just as their constituents had over the past several decades. They left Abrams in a tough spot but with a clear agenda: keep the small Democratic caucus relevant while rebuilding the party so it can take back control of the state legislature by 2020.
In the legislature, Abrams felt that the Democratic leadership, which used to be in the majority, could do more to maximize its influence while out of power, while also laying the groundwork to regain the majority. So Abrams decided to seek the minority leader position.
"My basic pitch was, I've been a minority for a very long time, and I'm very good at it," she told Newsweek last week over a breakfast of eggs and grits at the Thumbs Up Diner in Atlanta. "I understand how a minority has to navigate because you're not going to win every battle. In fact, your job is to lose well."
Her favorite compliment, she says, was an Atlanta Journal-Constitution article that credited her with keeping her down-on-their-luck minority caucus "strangely relevant."
Abrams is optimistic about her party's chances over the next several years because, she says, Republicans in 2011 drew the boundaries of state House districts to give themselves a supermajority of 124 seats. But in order to get that many seats, the GOP was left with many of the districts not safely Republican, leaving open the door to Democratic gains as the number of Democratic minority voters increases.
"I think we'll actually be able to take the majority back by 2020, because in order to draw so many seats in such a diverse state you had to draw thinner margins, which meant that instead of giving yourself a seat that was 60 percent Republican, you gave yourself a seat that was only 55 percent Republican or 58 percent Republican," Abrams explained. It's an ambitious agenda, given that her caucus is currently outnumbered 119 to 60. Whether it comes about or not, it's clear that George is becoming bluer year by year.
But the main work of rebuilding the Democratic Party in Georgia comes in registering what Democrats believe are the 800,000 Democratic-leaning but unregistered potential voters in the state—largely the result of swelling minority communities. Between 2000 and 2010, 80 percent of those who moved to Georgia were nonwhite, a trend Abrams and her fellow Democrats believe will continue. Abrams is one of the Democrats pushing to capitalize on the state's shifting demographics.
In 2013, she started the New Georgia Project, a group that became one of the Democrats' main voter registration efforts in 2014. Abrams's group registered 86,000 new, mostly minority voters this year. Other third-party groups, like the Atlanta Urban League and the NAACP, along with the efforts of black clergy members, helped registered tens of thousands more.
"Voting is about saying to Georgia that this is not the old Georgia, this is not the past Georgia, this is a new Georgia," Abrams told the crowd at the South DeKalb mall. "If you think back to a year ago, how many of you thought that we'd be having a competitive race in the state of Georgia in 2014? But what we found was that people can't anticipate the future, but we can sure make it."
The first test of the Democrats' comeback plan in Georgia comes today, in the state's close races for the open U.S. Senate seat of retiring Republican Saxby Chambliss, and in the race for governor, in which incumbent Republican Nathan Deal is trying to fend off Democratic state Senator Jason Carter, grandson of President Jimmy Carter. Republicans are favored to win both, but only by a whisker.
The Senate race in particular is a sign of the Democrats' growing strength in the state, hastened this year by the work of Abrams and her fellow Democrats. The last several polls have Republican David Perdue slightly ahead of Democrat Michelle Nunn, daughter of former Georgia senator Sam Nunn, but only by a few points. If neither nominee gets 50 percent of the vote, the race will go to a January runoff.
"Nobody thought this year was going to be competitive in January. And so if the Democrats end up losing by only three or four points, that is a victory for them," said Todd Rehm, a Republican strategist in Georgia and the editor of GaPundit.com. "The success of making it competitive is going to have many parents, many people who can take credit for parts of it, and she's certainly among the top five or 10 architects of that."
Even a near miss gives Georgia Democrats hard numbers to take to the national party, to the next Democratic presidential campaign (likely Hillary Clinton's), as well as to super PACs to urge investment from outside the state to hasten Democrats' gains in Georgia. Whether or not Georgia trends blue—and how quickly—largely depends on whether the 2016 campaigns and outside groups decide to invest in the state as a battleground.
"It is clear to me that Hillary Clinton and the folks who support her think that Georgia is going to be in play in 2016 at the presidential level," Rehm said. Democrats agree.
"I think Georgia is a battleground state as of today," Abrams said. "I think the fact that the [National Republican Senatorial Committee] is spending millions of dollars to hold a Republican Senate seat in a midterm election in Georgia means that we're a battleground state. The question becomes just how hard they want to battle on the ground here."
"Going forward, it is my hope that more organizations will contribute resources and their time in our efforts to turn Georgia blue," said Atlanta-based Democratic strategist Tharon Johnson. "We must match the efforts and participation of states like Florida, Virginia, and North Carolina," other Southern states transformed from red to purple thanks to Democrats' investment and registration efforts.
Abrams is one of a handful of Democrats who is hastening the party's comeback, and her work hasn't gone unnoticed. In 2012, she won Harvard University's John F. Kennedy New Frontier Award for leaders under the age of 40. In 2014, EMILY's List, which supports pro-choice, Democratic women candidates, recognized Abrams with its first Rising Star award.
"She is a blend of competence, intelligence and detail orientation," said Rehm, the Republican strategist. "She is an extraordinarily intelligent woman."
Abrams comes from a poor family in southern Mississippi, but her parents instilled in their six children the importance of education to get ahead. Abrams went to college in Atlanta, earned a master's degree in public affairs and then went to law school at Yale. She has worked as a tax attorney and deputy city attorney for Atlanta and now helps run a financial services firm. In what is left of her spare time, she is a successful author of romance novels under the pen name Selena Montgomery.
In the short term, Abrams is locked in a battle with local and state officials over the New Georgia Project's voter registration effort. Abrams's group claims that about 40,000 registration forms it turned in never made it onto the voter rolls. The group tried to get a judge to force the Georgia secretary of state, Republican Brian Kemp, and a handful of counties to process the missing applications, but the judge ruled against them. The secretary of state's office denies that any forms haven't been processed.
"The claim that there are 40,000 missing or unprocessed voter registration applications is absolutely false," Kemp said in a statement, according to The Hill newspaper. "The counties have processed all of the voter registration applications that they received for the general election."
Georgians who try to vote but aren't on the rolls can cast a provisional ballot. Those voters then have three days to return to election officials with proof of whatever information (residency or citizenship, for example) the system was missing—a very short window to obtain something like a birth certificate. If the races come down to a handful of ballots and a large number of provisional ballots are cast today, lawsuits could be in the works.
But after the elections are over—whether that's on November 4 or after a January runoff—Abrams's next step is to continue the voter registration effort and build what she called "civic capacity" among communities that are not currently engaged in politics.
"My goal is to ensure that the House caucus is in a position to take the majority," Abrams said. "But I also want to do more. There are other jobs I want. And so I just want to make sure the timing is right and I'm the right person for it."