Georgia Democrats Abandon Rally Due to Concerns About 'Large Militia Presence'
Democrats in Georgia were forced to abandon a rally scheduled to take place over the weekend due to a local "militia" presence linked to a visit by President Donald Trump.
The Floyd County Democratic Party opted to hold Sunday's gathering, which had been set to take place in the city of Rome, via a virtual Zoom meeting instead.
Chairwoman Ruth Demeter said in a statement the move was taken at the recommendation of the Democratic Party of Georgia and out of an "abundance of concern for the health and safety of our citizens."
"We have been informed that a large militia presence is expected in Rome today due to Trump's visit," she said. "Additionally, we are not able to secure police presence for our event because of the airport rally."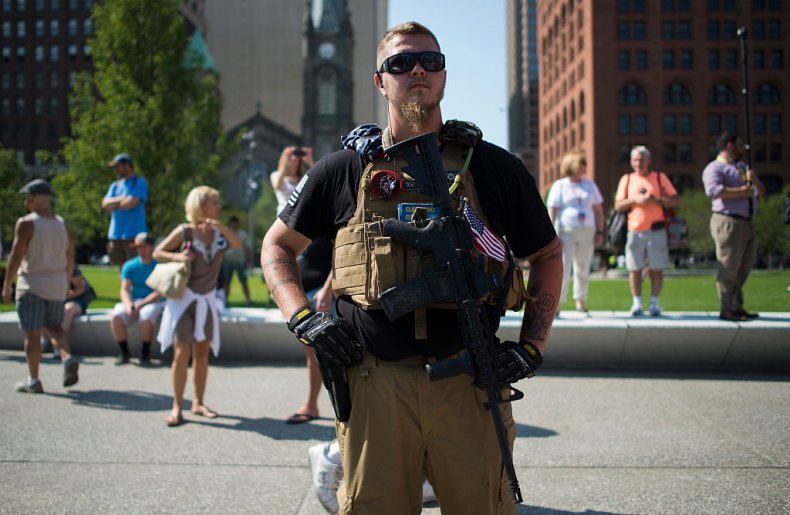 But Demeter pledged the party would "continue to work for democracy" despite the sudden change of plans and also used her statement to urge supporters to ensure they cast their ballot in time for the upcoming November 3 election.
"On behalf of the Floyd County Democratic Party, I promise you we will continue to work for democracy—we just won't be standing outside city hall this afternoon to do it," she said.
"Stay safe and continue practicing COVID-19 prevention protocols. Exercise your democratic rights. If you have an absentee ballot, be sure to deliver it personally to a dropbox in your county before the end of election day."
Demeter's comments came just hours before Trump's appearance in Rome, where the president continued his push to rally supporters and get them to the polls ahead of the election.
Addressing the crowd at the city's Richard B. Russell Airport on Sunday evening, Trump pledged his Republican Party would "win this state again" in the upcoming vote.
"Two days from now, can you believe it? Two days. We're going to win this state again," he said.
Taking aim at the economic credentials of his Democratic challenger, Joe Biden, Trump continued: "This election is a choice between a depression and a boom."
Recent opinion polls suggest Biden is on course to defeat Trump, whose shock 2016 victory saw him sweep aside former Secretary of State Hillary Clinton.
National polling currently shows Biden, former Vice President under Barack Obama, with a more than 8 percent lead over his rival.
But in Georgia, which has 16 electoral college votes, the president and Biden are almost neck-and-neck, according to FiveThirtyEight's poll tracker.
Trump, who carried the state in the 2016 election with more than 50 percent of the popular vote, enjoys the support of slightly more than 47 percent of voters this time around, according to the data collated by FiveThirtyEight. Biden is meanwhile backed by just over 48 percent of the electorate.