Georgia Dems Say Marjorie Taylor Greene's Ads Backing Herschel Walker Violate Ethics Rules
Georgia Democrats filed an ethics complaint Wednesday alleging GOP Senate candidate Herschel Walker violated campaign finance laws by benefiting from Facebook advertisements posted by U.S. Representative Marjorie Taylor Greene.
The complaint filed with the Federal Election Commission (FEC) condemns a series of three advertisements by the Georgia congresswoman in September and October promoting Walker's candidacy. The grievance states that the ads amounted to approximately $3,000 of value in "excessive and unreported in-kind [non-monetary] contributions."
Despite being non-monetary, in-kind contributions do count toward the contributor's total election limit.
"Because the advertisements expressly advocate for Herschel Walker's candidacy, to the extent they were coordinated with Walker or his campaign, they constitute in-kind contributions to the Walker campaign," the complaint continued, calling Greene's actions a "blatant disregard of [FEC] rules and federal law."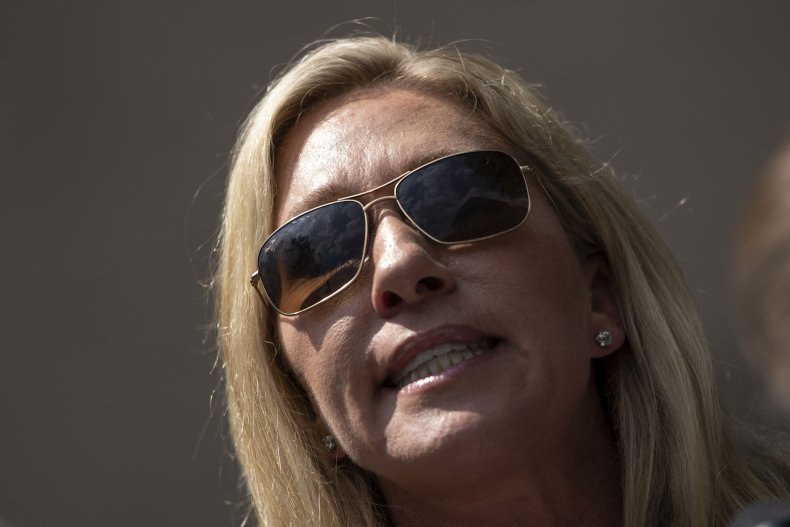 Walker, the GOP frontrunner, is running for the seat currently held by Senator Raphael Warnock (D-Ga.), who won a runoff election in January to help tip the U.S. Senate in the Democrats' favor.
A former college football and NFL star, Walker has been endorsed by both Greene and former President Donald Trump.
The complaint also stated that the contribution was potentially Walker's second finance violation since his campaign began over the summer. Toward the end of August, OpenSecrets.com detailed that Walker had "deep financial ties" to both Greene and the former president.
The financial ties reportedly stemmed from a Walker-backed super PAC that was part of a separate complaint involving Greene.
In a statement from Walker's campaign, a spokesperson called the complaint a "desperate and false attack by Democrats," adding that its aim was to "file a frivolous complaint, send press release, lose on the merits, rinse and repeat."
The Democrats' strategy appears to include efforts to associate Walker with Greene, who has become one of the most controversial members of Congress in recent history.
Greene has, among other things, backed up the former president's uncorroborated claims of widespread voter fraud, and has promoted conspiracy theories related to QAnon and the 9/11 attacks. She has also previously linked COVID lockdowns to the treatment of Jews during the Holocaust, though she later backtracked on this statement.
The U.S. House of Representatives removed Greene from all committee roles in February as a result of some of these actions.
A new report Wednesday from CNN stated that Greene had recently invested up to $50,000 in Trump's new social media platform, TRUTH.
In a statement to Newsweek, Greene's office rebuffed the ethics complaint, saying,"This is just another attempt from Democrats to smear and attack the strongest America First Republicans who are the biggest threats to their Communist agenda. Instead of winning on the issues, Democrats can only hurl fake attacks. The fake news media should start investigating Stacey Abrams and the Democrats' ballot harvesting schemes."