Educators in Georgia are speaking out against a Republican state representative who requested information from various public college and university officials about whether or not students were being taught that white people are privileged and oppressive.
"The frustration is grounded in the basic idea of the free pursuit of inquiry and political independence of higher education as defined in the phrase academic freedom," University of North Georgia's Dr. Matthew Boedy told Newsweek on Friday.
According to the Atlanta Journal-Constitution, Representative Emory Dunahoo, who is white, sent a series of questions to school leaders last week, including: "Are any classes within the Georgia public school system or the University System of Georgia teaching students who identify as white, male, heterosexual, or Christian are intrinsically privileged and oppressive, which is defined as 'malicious or unjust' and 'wrong'?"
Boedy said such probes further the federal agency ban on conducting racial sensitivity training related to white privilege and critical race theory (CRT) that former President Donald Trump issued last year.
"A state legislator asking questions about what we teach echoes the anti-CRT order from Trump which attacked CRT as anti-American," he said in an email. "Whether one agrees with all of the CRT or not, to be labeled anti-American because of what one teaches is the key to the frustration and fear of a lot of faculty."
Blaming school curriculums for the Black Lives Matter protests that swept the nation last summer, the Trump administration also created a commission last year to fight interpretations of history that the former president claimed were un-American. The commission was dissolved by President Joe Biden on his first day in office.
Boedy said he's not alone in his frustrations that such an interference could put professors at risk of wider criticism from political groups that are not well-versed in academia.
"Many of my colleagues have emailed me this week outraged and in fear of this request from the state legislator," Boedy wrote in an email.
"It certainty aims at specific disciplines and could aim at particular professors. And being on the Turning Point USA professor watchlist, I know what having your name connected to attacks mean," he added. "I think our administrations support us and know that many of the topics asked about are part of required, accredited curriculum. But political interference in education is never a good idea."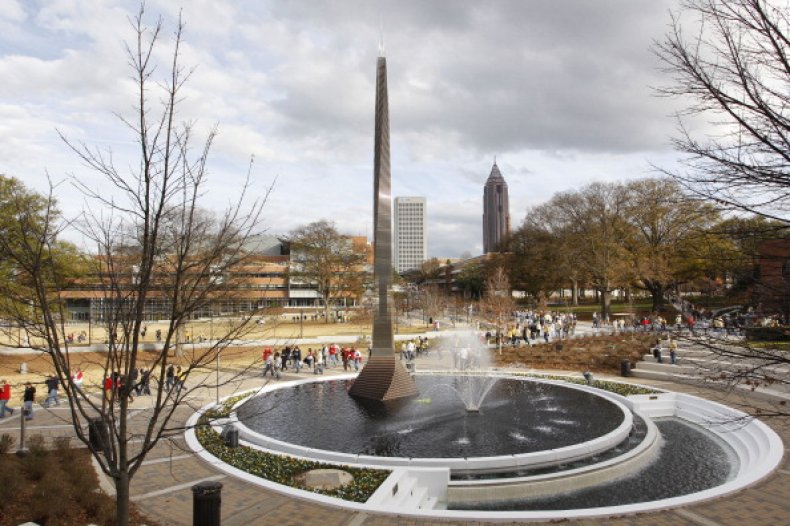 University System of Georgia spokesman Aaron Diamant confirmed to AJC that the legislator approached its chancellor, Steve Wrigley, after a legislative hearing.
"We shared the questions with our campus presidents and provosts to gather the information requested by the lawmaker," Diamant said. "We are a state agency and are always responsive to the elected representatives of the people of Georgia."
At the request of the legislator, the system forwarded a list of questions to their colleges and universities, asking anyone with further information to forward details to Wrigley.
Dunahoo also asked if any classes within the state's schools are "teaching students that possessing certain characteristics inherently designates them as either being 'privileged' or oppressed," as well as if these classes teach students "what constitutes 'privilege' and 'oppression'."
"At the end of the day, it comes down to the freedom to teach and research (a.k.a., publish) without fear of losing a job or being targeted," Boedy said. "Legislative oversight is great and all public institutions need that. But when it comes to curriculum and the freedom to pursue reasoned lines of thought and profess certain values as an expert in a field— none of that should mean one has to be a target."
Georgia lawmakers are not the only ones reckoning with what white privilege is and how race is taught in classrooms.
Lawmakers in Arkansas are also debating two bills that would bar their schools from teaching certain courses or hosting events related to race. One specially targets the use of public school funds to teach The 1619 Project curriculum, which is based on a special issue of The New York Times magazine that "challenges us to reframe U.S. history by marking the year when the first enslaved Africans arrived on Virginia soil as our nation's foundational date."
The American Association of University Professors (AAUP) released a statement on Friday, commenting on the Arkansas bill, and another similar one being introduced in Idaho.
AAUP Chairman John McNay said the goal of such legislation "thwart[s] antiracist progress by suppressing teaching and learning about the role of racism in the history of the United States," and "constitute an inappropriate attempt to transfer responsibility for the evaluation of a curriculum and subject matter from educators to legislators."
"As educators we understand that knowledge of the past exists to serve the needs of the living," McNay said in the statement. "As more groups gain access to higher education, they bring more demands for the expansion of expert knowledge. The pursuit of knowledge is surely enriched by these new challenges."
Newsweek reached out to Dunahoo for comment, but did not hear back before publication.