Georgia Election Worker in Hiding After Threats Over Debunked Viral Video Appearing to Show Him Throwing Away Ballot
An election worker from the State Farm Arena in Fulton County is now in hiding after a viral video falsely accused him of throwing away what was allegedly a ballot, but in reality, an instruction sheet.
"The release of the video and its caption led viewers to believe the worker was agitated which resulted in the worker crumbling and disposing the ballot," Elections Supervisor Rick Barron told a bipartisan group of observers on Friday.
"However, one thing that you need to know is that those ballots are 8½ by 19 inches long. At no time did you see him extract anything from the envelope and that crumbled piece of paper, they were instructions and it was a smaller piece of paper," he added.
Barron said the county, Georgia's largest and the one with the highest number of provisional ballots, is now reviewing if it needs to provide protection for the worker.
"He is having to leave his house and go stay with friends," Barron said. "He's afraid to drive his car because the information about his car, about his license plate are out there."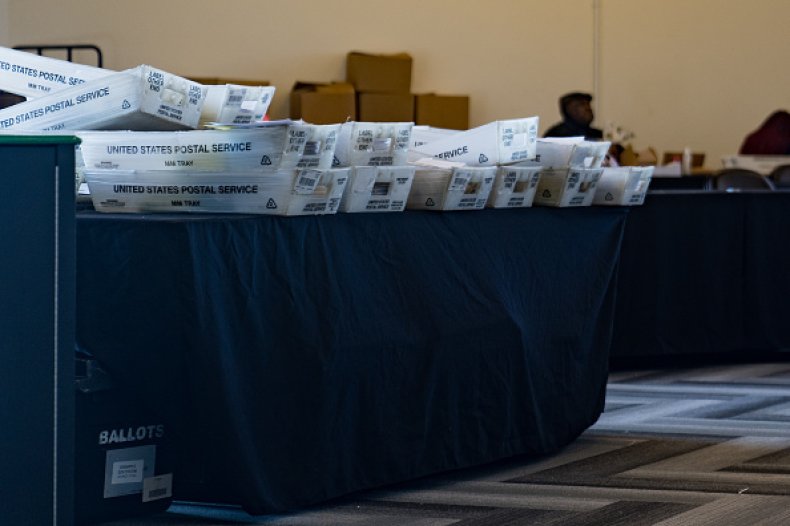 Fulton County, where Atlanta is located, is heading into the final stages of counting. Barron said the final number should be available by Saturday morning.
The county emerged as one to watch as its ballots have given Democratic nominee Joe Biden the lead in Georgia by over 4,000 votes as of 9:28 p.m. ET.
There were issues counting absentee ballots at the State Farm Arena earlier this week as well, after a water pipe burst led to a four-hour delay on Election Day.
Deputy Secretary of State Jordan Fuchs said on Tuesday that the burst "had no impact on ballots—not a single ballot was damaged," but "there was a brief delay in tabulating absentee ballots while the repairs were being conducted."
During the Friday evening press conference, Barron addressed rumors that there was voter fraud in Fulton County. Republican officials, like Georgia GOP chair David Shafer, claimed that observers were told to go home but ballots continued to be counted.
"Nobody was kicked out. I verified that," Barron said.
"At one point there was an indication by my staff that they would stop for the night. I told them to keep going until at least one in the morning, which is when they stopped over there," he added. "But at no time were observers told to leave."
Newsweek reached out to Fulton County's elections department for comment but did not hear back before publication.