Georgia Election Worker on Viral Video That Falsely Accused Him of Destroying Ballot: 'These Are the Things That Put People in Danger'
A Georgia election worker speaks out after being falsely accused of destroying a ballot in a viral video shared to social media last month.
Throughout election week, Lawrence Sloan was responsible for processing absentee ballots with a team at the State Farm Arena in Fulton County. There were observers from both parties, members of the media and security cameras around him during the ballot-counting process.
Footage from November 4 showed Sloan slamming papers on the table, clearly frustrated, and then crumbling a piece of paper during his 18-hour shift that day. A few days later, the clip was shared on social media and quickly spread, accusing him of illegally destroying a ballot.
"These are the things that destroy people's lives — put people in danger," he told Atlanta's WSB-TV reporter Nicole Carr. "These are real people. And I'm talking like it didn't happen to me. It did happen to me."
Sloan explained that he was seated at a ballot envelope cutting machine—used for separating the outer envelope from the inner envelope—and the paper he can be seen crumbling was the instructions sheet, which the voter had mistakenly returned in the ballot.
He noted that a ballot—unlike the paper he was crumbling—would've been 8 1/2 by 19 inches long.
"The process you're watching me do that—I am separating your identity from your vote," he told WSB-TV. "That's why there's a white envelope inside with no markings on it, except for 'This is a vote.' That's what we put on there. The instructions are on the ballot you fill out inside of there ."
"There's instructions on every level of it," Sloan said, mentioning that nothing else should accompany the ballot in the envelope. "People do not follow instructions."
By November 5, the viral video was shared by both of President Donald Trump's sons and the chairman of Georgia's Republican Party, David Shafer, despite Twitter flagging the video as misleading election information. The president also referenced the false accusation in a tweet about election fraud.
Elections supervisor Rick Barron told reporters on November 6 that he and elections investigators reviewed the video of Sloan and confirmed that the crumpled paper wasn't a ballot.
"At no time did you see him extract anything from the envelope and that crumbled piece of paper, they were instructions and it was a smaller piece of paper," said Barron.
Barron explained that Sloan—who was unnamed at the time—was in hiding and having to stay with friends. He revealed that his license plate information was released online, as well as his name, address and his family's personal information.
Sloan had to change his appearance since the video went viral, now with his beard shaved off and his black hair dyed blonde.
He told the TV station that the flood of misinformation online is a massive problem, contributing to spreading lies that can lead to cyber and even physical threats.
"In a noisy room you can't tell who's talking... what's going on," Sloan told WSB-TV. "And now you're confused because you're just going to start making decisions based on how you feel rather than based on what the facts are. And your feelings change every 20 minutes."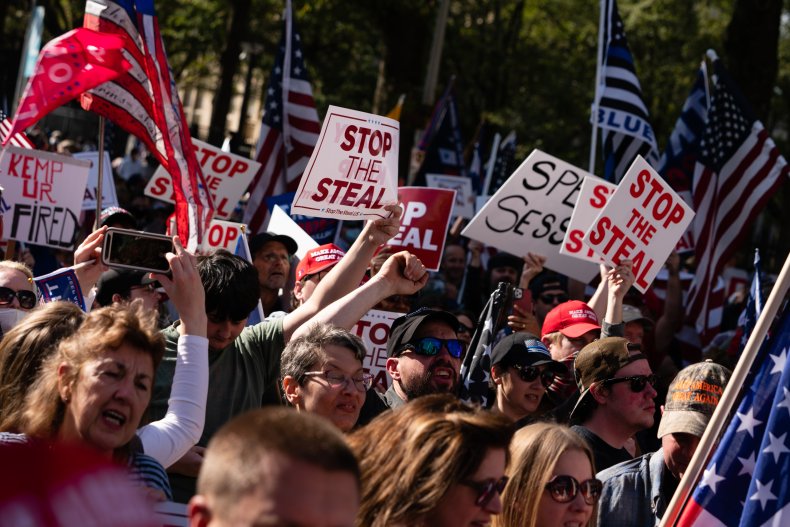 Just a month from the critical Senate runoffs, Georgia has become the target of serious election misinformation. On Thursday, claims surfaced that a surveillance video, originally shared by the Trump campaign at a Georgia Senate hearing this week, shows a "mysterious suitcase" full of ballots being rolled out from under a table at the State Farm Arena on the night of the election.
Georgia's secretary of state office, after an investigation, explained that these were normal containers used during the process of scanning ballots. The video presented no evidence of wrongdoing, nor did it showed that any fake ballots were taken out from these containers.
As Trump continues to stoke false claims that Georgia's election is riddled with fraud, several instances like Sloan's have made their way onto social media. Georgia election official Gabriel Sterling told reporters this week that these false allegations "have gone too far" in light of reports of harassment and death threats.
"Someone's going to get hurt, someone's going to get shot, someone's going to get killed," Sterling said Tuesday afternoon. "It's not right."
He mentioned a 20-year-old contractor for Dominion Voting Systems who has received numerous death threats and recently found a noose outside of his Georgia home along with social media posts saying he should be "hung for treason."
Trucks flying Trump flags and "Stop the Steal" merchandise protested outside of Secretary of State Brad Raffensperger's private residence last week and his wife has reportedly received explicit threats.
"It has to stop," Sterling added. "Mr. President, you have not condemned these actions or this language. Senators, you have not condemned this language or these actions. This has to stop. We need you to step up. And if you take a position of leadership, show some."
Sloan said that people should pause and analyze information before making a decision on it, noting that "it's hard for people to parse" content, according to WSB-TV.
"We gotta pause...We have a lot of problems to solve," Sloan continued. "I just turned 36 on the 22nd, and I think about what the world is going to be like in 30 years. And I'm not hopeful for it."