Two elections workers in Georgia's most populous county have been fired for allegedly shredding voter registration documents illegally, the elections director for Fulton County announced Monday.
Georgia Secretary of State Brad Raffensperger issued a press release about the workers' firings that said his office is investigating the allegations. The release said an estimated 300 election-related documents for Georgia's municipal elections were allegedly shredded. Election-related documents for primary or general elections are required to be kept in Georgia for at least 24 months following the election in question, according to Raffensperger's office.
The documents that were allegedly shredded were received over the last few weeks, Fulton County Registration and Elections Director Richard Barron said in a news release.
The workers, who were not publicly identified, were thought to have checked out the voter materials to process them but were suspected of shredding some of the documents instead. Some of their co-workers noticed the alleged activity and reported it to their supervisors on October 8. The two workers accused of shredding the documents were subsequently fired, county elections officials said.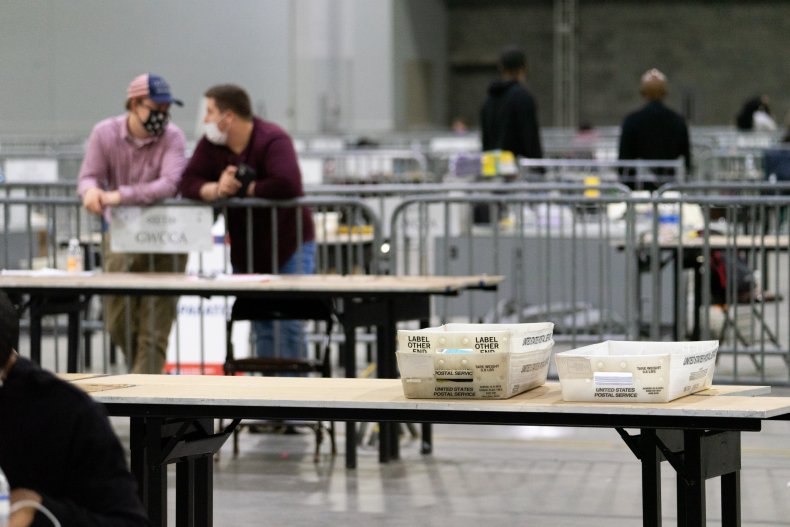 Fulton County Commission Chairman Robb Pitts reported the alleged document shredding to Fulton County District Attorney Fani Willis, while Barron reported the incident to the Office of Investigations within Raffensperger's office, according to county officials.
"Elections are the most important function of our government," Pitts said in Fulton County's release. "We have committed to transparency and integrity."
Raffensperger said Monday his office is investigating the alleged document shredding. He also called upon the U.S. Department of Justice to investigate Fulton County's elections division, citing "decades" of problems and "failures" during the 2020 election cycle. A review of the county's election procedures Raffensperger ordered after last fall's elections did not find evidence of fraud but did identify "significant mismanagement issues," Raffensperger's office said.
"After 20 years of documented failure in Fulton County elections, Georgians are tired of waiting to see what the next embarrassing revelation will be," Raffensperger said. "The Department of Justice needs to take a long look at what Fulton County is doing and how their leadership disenfranchises Fulton voters through incompetence and malfeasance."
Voters in his state "are sick of Fulton County's failures," he added.
The state's municipal elections are scheduled to take place on November 2, but early voting in Fulton County will begin on Tuesday. The county's voter registration deadline has already passed, but local election officials said voters who are not yet registered may cast provisional ballots. Individuals with questions about their voter registration status were encouraged to contact the county's Department of Registration & Elections.
Newsweek reached out to the U.S. Department of Justice for comment but did not hear back before publication