Georgia to Execute Former Sailor For Murder and Mutilation of Shipmate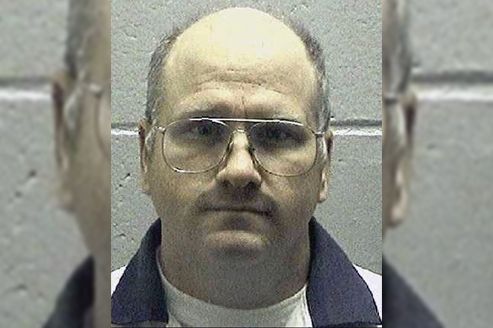 Georgia is slated to execute a former sailor on Wednesday for the murder and dismemberment of a fellow shipmate 24 years ago.
Travis Hittson was a 21-year-old Navy crewman stationed in Pensacola, Florida, in 1992. In April of that year, Hittson, sailor Conway Utterbeck and Edward Vollmer, Hittson's leading petty officer, drove to the home of Vollmer's family in Warner Robins, Georgia, for the weekend while his parents were away.
The three men spent most of Saturday hanging out at the house. That evening, Hittson and Vollmer ventured out to some bars while Utterbeck stayed home. On their drive back to the house, Vollmer told Hittson that Utterbeck planned to kill them both and that they should "get" him first. During the death penalty phase of Hittson's case, he tried to show that Vollmer had planned the murder and manipulated him into carrying it out.
The two men returned from their night of drinking to find Utterbeck sleeping on a recliner. Vollmer put on a bulletproof vest and grabbed two guns from his car and gave Hittson an aluminum baseball bat, according to court filings. Prosecutors say that under Vollmer's direction, Hittson hit Utterbeck in the head multiple times with a bat, then dragged him to the kitchen where Vollmer was waiting. Vollmer then stepped on Utterbeck's hands and Hittson shot him in the head as he pleaded for his life, according to prosecutors.
Nearly two hours later, after getting something to eat at a nearby Waffle House, prosecutors say Vollmer suggested that they dispose of Utterbeck's body. Hittson told investigators that the men used a hacksaw to cut off Utterbeck's hands, head and feet. Hittson became sick after he had severed one of Vollmer's hands and started on his head, according to prosecutors, so Vollmer completed the dismemberment.
An autopsy later showed that Vollmer had skinned part of Utterbeck's arm, chest, buttocks and penis with a knife and pliers. His testicles and rectum were completely removed. Hittson denied participating in this portion of the mutilation, but stated that he hadn't seen Vollmer do it either.
After the maiming, prosecutors said, the men packed Utterbeck's remains into garbage bags and buried his torso in Houston County and his extremities in Pensacola. They then cleaned up Vollmer's parents' home. Loggers found Utterbeck's torso in June 1992, nearly two months after the murder.
Investigators questioned many of Utterbeck's fellow sailors after he disappeared. During Hittson's questioning, he eventually implicated himself and Vollmer in the crime, and told investigators where the remainder of Utterbeck's body was buried. Both men were arrested.
Hittson's current attorneys argue that their client had a troubled childhood, characterized by emotional and physical abuse. His turbulent past, low IQ and severe alcohol problems all made him susceptible to suggestion, they argue, while Vollmer was violent and excelled at manipulation.
Prosecutors allowed Vollmer to plead guilty in exchange for a life sentence with the possibility of parole, which he accepted. He was denied parole in 1999 and again in 2015. His case will be reconsidered again in 2020, the Associated Press reported.
Hittson was convicted in February 1993 of malice murder, aggravated assault, possession of a firearm during the commission of a crime and theft by taking. The court sentenced him to death for the malice murder conviction.
His attorneys submitted a plea for clemency to the State Board of Pardons and Paroles, which was denied.
"The community of men who served alongside both Mr. Hittson and Conway Utterbeck in the Navy believe that Travis Hittson is deserving of mercy, as do others, including jurors who were charged with determining Mr. Hittson's punishment," the filing said. "Mr. Hittson's lower rank, gullibility, alcoholism and desperation for approval made him peculiarly vulnerable to Edward Vollmer who, by all accounts, exercised an unnatural dominance and control over Mr. Hittson."
Hittson declined to request a last meal, according to the Georgia Department of Corrections. If his death sentence is carried out, the 45-year-old would be Georgia's second execution of 2016. The first was 72-year-old Brandon Astor Jones, the oldest person Georgia has ever executed.