Georgia, First to Reopen, Reports Over 1,600 Students and Teaching Staff in Quarantine and Record COVID Deaths
Georgia, one of the first states to reopen, is now struggling to control the coronavirus as students return to school and the state's death toll hits record highs.
On Tuesday, Georgia's Department of Public Health reported 135 deaths, the state's highest daily death toll since the pandemic began in March. Prior to this week's record-breaking figure, the highest daily death toll was on May 21 when the virus claimed the lives of 90 Georgians.
With more than 21,000 people hospitalized, death rates aren't looking to drop off anytime soon. The state added another 109 deaths on Wednesday and 83 deaths on Thursday.
Schools in the state began reopening last week, some of the first in the country to do so. After photos of maskless students in crowded hallways and large groups went viral, a number of outbreaks forced students and teaching staff to quarantine for two weeks before returning to campus.
In Cherokee County School District alone,1,625 students and 44 teachers are quarantining due to potential exposure to COVID-19, according to the district's case counter.
Another outbreak at North Paulding High School forced the school to shutter this week for cleaning as school officials tried to come up with a new plan to mitigate future infections. Students will be returning to campus next week on an alternating schedule so that only half of the school's population will be present on a given day.
Despite the repercussions of resuming in-person classes, Governor Brian Kemp said that the reopening of schools in the state were going "well."
"There's definitely going to be issues when you open anything. We saw that when we opened businesses. We're seeing that when we opened schools," Kemp said during a Monday news conference. "Quite honestly, this week went real well other than a couple of virtual photos."
Kemp has been fairly lenient when it has come to issuing executive orders in response to the global health crisis. Georgia was one of the last states to implement a stay-at-home order and one of the first to reopen businesses.
Kemp announced the reopening of certain businesses at the end of April, despite no evidence of the downward trend checkpoint that the White House Coronavirus Task Force had recommended.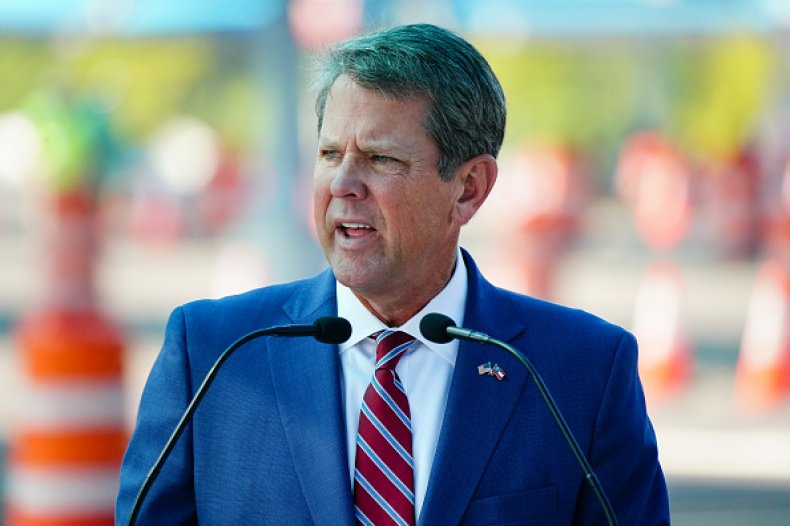 The governor has also been adamantly against issuing a mask order, even going so far as prohibiting local and city officials from mandating face coverings.
After Atlanta Mayor Keisha Lance Bottom required masks in the city's public spaces, Kemp sued the mayor and city council. On Thursday, he dropped the lawsuit.
"Given this stalemate in negotiations, we will address this very issue in the next Executive Order," Kemp said in a news release.
The governor's current executive order, which extended the state's existing COVID-19 safety measures, expires on Saturday.
Newsweek reached out to Kemp for comment, but did not hear back before publication.
As of Thursday, August 13, Georgia has reported a total of 228,668 confirmed cases and 4,538 deaths, according to the state's department of health.