A local fisherman has tied the Georgia state record for the largest ever shoal bass.
The angler, Clark Wheeler, reeled in the 24.5-inch bass in April 2022 at the Flint River near Warwick, with it weighing in at 8 pounds, 5 ounces. Fishing became the second most popular hobby during the pandemic with 44 million hobbyists, according to Climate Adaptation Science Centers.
On July 13, the Georgia Department of Natural Resources Wildlife Resources Division (WRD) announced that his gargantuan catch had officially tied for the top spot in the state.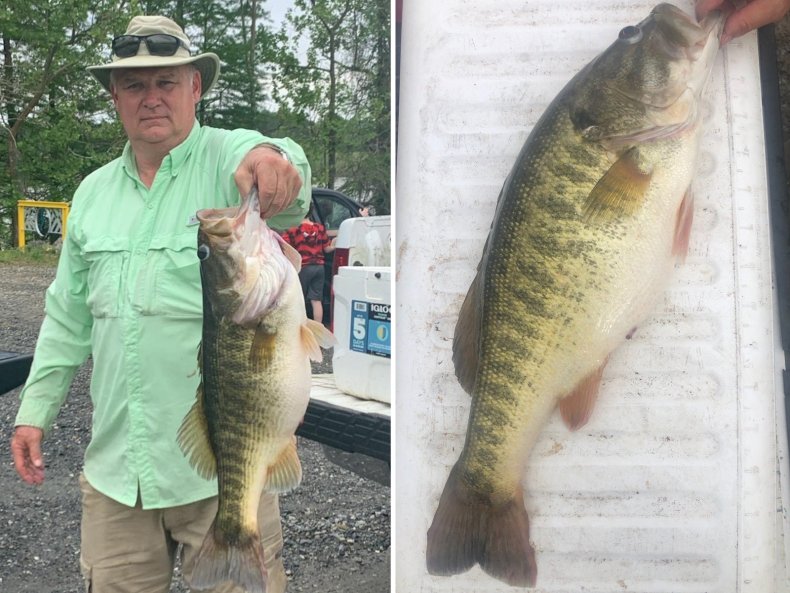 Shoal bass are native to the Chattahoochee and Flint River basins and are hugely popular sports fish. The average adult can grow to anywhere between 12–24 inches and is usually found around current breaks near flowing water. It was considered a subspecies of red-eye bass until 1999 when it was eventually recognized as a distinct species, according to Fly Fish Georgia, a website for anglers.
However, in other rivers throughout its native range, the shoal bass is less common, mostly due to competition with other species.
In the Apalachicola and Chipola Rivers, non-native spotted bass have recently increased in population size, outcompeting the shoal bass and causing a decrease in numbers. This effect is exacerbated by the unique spawning requirements of the species, with river damming and removal of limestone shoals also reducing the reproductive yield of the fish, according to the International Union for Conservation of Nature's (IUCN) Red List of Threatened Species.
In the Chipola River in particular, pollution and siltation have significantly degraded their habitat. Shoal bass are now classified as "near threatened" by the IUCN Red list, as of 2012.
While, in the Flint River, anglers are encouraged to catch and release, there is no official enforcement of this. Additionally, fishers are urged to keep any spotted bass they have caught in order to reduce the potential for it to compete with or hybridize with the shoal bass. In other rivers where the populations are more degraded, such as the Apalachicola River in Florida, however, the shoal bass catch and release rule is more strict, according to Florida Fish and Wildlife.
"We were thrilled to hear that another shoal bass of this size was caught and proud to recognize Mr. Wheeler's catch as a state record tie," said Scott Robinson, Chief of Fisheries for the Wildlife Resources Division, in a statement. "Five new state records in the past year proves just how amazing Georgia's fishing opportunities really are.
"I hope news of these state records fires you up and encourages you to plan your next fishing trip. Let's get outdoors and Go Fish Georgia!"
With such an abundance of interest in the hobby, it's not the first time a fish—or fisherman—has made the news.
A gargantuan white sturgeon that is over 10 feet long and estimated to be at least 100 years old has been caught by novice fishermen in British Columbia.
The sturgeon put up a big fight: it took two hours to wrestle it into the boat, with videos showing the beast leaping out of the water, revealing its true size.
Out in California, the dropping water levels in Oroville also affect a hatchery of endangered Chinook salmon. According to CNN, the Department of Water Resources is attempting to prevent fish deaths by inserting temporary chilling units to cool water down at one of the fish hatcheries.
And a Texan caught a 200-pound alligator snapping turtle with jaws that have a bite force of 1000 lbs, more than enough to cut off a human finger.