Georgia Fisherman Finds Van Submerged in a Lake With Body of Missing Man Inside
A Georgia fisherman has found the body of a missing person inside a van in a lake.
Jason Millen was fishing for bass at Lake Lanier, a reservoir in northern Georgia on Sunday, when he spotted something shining beneath the surface of the water. Millen realized it was a van, he told WSB-TV2 Atlanta. The vehicle was in a cove at the bottom of the lake, about 20 yards off shore, and in around 15ft of water. At the time, the lake's water was low meaning the vehicle was revealed.
Millen contacted the authorities to report a submerged vehicle at around 4:15 p.m., 11 Alive.com reported.
The body is thought to be that of Van Dobbs, who went missing in June, according to Forsyth County Sheriff's Office. The 56-year-old was last seen driving from his home on Old Keith Bridge Road in a silver 2002 Dodge Caravan.
The remains were sent to the Georgia Bureau of Investigation, which will perform an autopsy. The authorities do not think the death was caused by foul play.
Recalling the incident over the weekend, Millen told WSB-TV2 Atlanta: "[I] approached with my boat and was actually right over the top of it and noticed it was a van. Yeah, it was pretty eerie."
There was crack in the car's windshield. Millen said it appeared as if a motorboat blade had sliced through the glass.
"Later learned that somebody was in there. It spooked me all week, to be honest," Millen said.
"One of my worst fears is seeing a drowning victim or something out there and then to come across something like that, it's crazy," he said.
Dobbs is believed to have driven from a dirt road near the shore into the water, according to WSB-TV2 Atlanta.
After he disappeared in June, the authorities renewed the search for Dobbs in August, according to 11 Alive. The operation involved the aviation unit of Georgia State Patrol and the Georgia Department of Natural Resources, as well as the sheriff's office. The authorities carried out aerial and marine searches near the lake in an attempt to find Dobbs.
Millen said: "A friend of the family did reach out to me and wanted to thank me for finding this closure to the family. Since june 5 is when this man has been missing I can only imagine how hard that's been on them."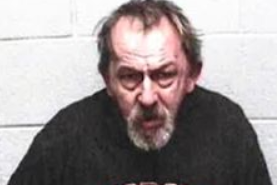 A photo released by Forsyth County Sheriff's Office of missing man Van Dobbs.
Forsyth County Sheriff's Office
Georgia Fisherman Finds Van Submerged in a Lake With Body of Missing Man Inside | News