As Georgia prepares to conclude its statewide recount this week, top Republican election officials in the Peach State are increasingly sick and tired of the baseless and false claims about widespread voter fraud that seek to sow doubt in the democratic process and overturn the results.
Such allegations and conspiracies continue to be parroted by fellow Republicans, Trump campaign officials and even President Donald Trump himself.
"It's like playing a game of whack-a-mole," said Gabriel Sterling (R), the voting systems manager for the Secretary of State's office, during a Monday press conference. "Every time we knock down one, there's a new crazier one."
Sterling went on to note that a hand audit "proved no votes were switched" and derided conspiracy theories about their voting tabulation systems.
"The ridiculous things claimed in some of these lawsuits are just that: they're insanities, fever dreams, made-up internet cabals," he continued. "However many words I can use to say how crazy some of these things are, nothing was shipped overseas, no votes were switched. That in and of itself should have been enough to make people understand that."
Georgia Secretary of State Brad Raffensperger (R) offered similarly fierce and pointed criticism of the unfounded assertions made by those attempting to alter the outcome that found Joe Biden to be the winner of the presidential election. The state certified its results on Nov. 20, but the recount that was demanded by the Trump campaign is expected to be completed late Wednesday night.
Prior to certifying its results, Georgia also conducted a hand audit, which found no widespread irregularities and confirmed Biden's win. The ongoing recount will mark the third time that Georgia's ballots are tallied.
"The truth matters, especially around election administration," Raffensperger told reporters.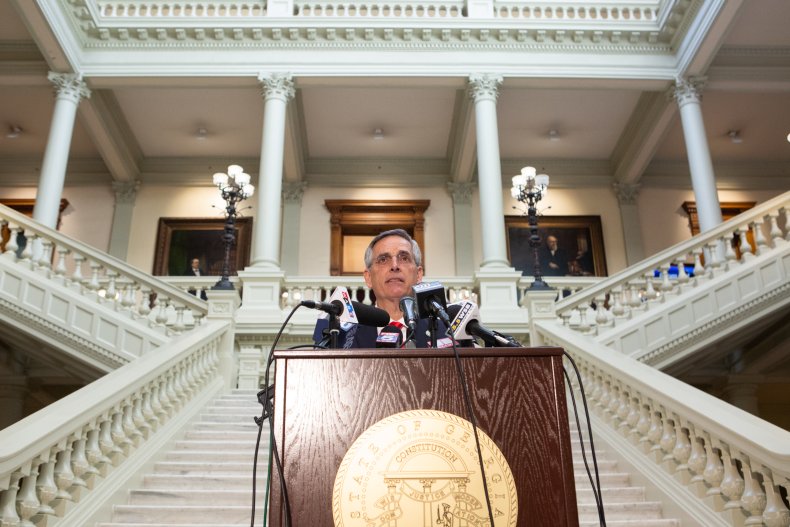 "Everyone in Georgia will be able to have even more confidence in the results of our elections, despite the massive amounts of misinformation that is being spread by dishonest actors," he continued. "There are those who are exploiting the emotions of many Trump supporters with fantastic claims, half-truths, misinformation and, frankly, they're misleading the president as well, apparently."
The pushback from Georgia's top election officials came in the wake of Trump spending the Thanksgiving holiday sowing further doubt in America's democratic process and falsely claiming that he was the true victor. The president went so far as to question Monday morning in a tweet why Georgia Gov. Brian Kemp (R)—"the hapless Governor of Georgia," as Trump labeled him—won't "use his emergency powers, which can be easily done, to overrule" Raffensperger's authority over the recount.
Kemp's office said such a suggestion is prohibited under Georgia law, adding in a statement that Raffensperger, who is an elected official, "has oversight over elections that cannot be overridden by executive order."
Raffensperger said they're currently investigating over 250 allegations of election wrongdoing with 23 investigators, such as the claim that absentee ballots outnumbered the amount of absentee envelopes in Gwinnett County.
The baseless fraud claims coming from Trump and those within his orbit appear to have backfired against Republicans. The GOP is dependent on the president's supporters to turn out for a January 5 runoff election for both of Georgia's Senate races. But the rhetoric about a "rigged" election has given rise to a boycott movement among some Trump backers, threatening Republicans' ability to win the seats and maintain control of the upper chamber.
Raffensperger warned against anyone who suggests to sit out of any upcoming runoff elections.
"Upholding the law matters, truth matters and your vote matters," Raffensperger said. "Anyone telling you to boycott an election is not on your side. Your vote, your right to vote is sacred. Don't let someone con you out of that."
The secretary of state added that they're probing an effort by some third-party, Democratic-aligned groups to temporarily register out-of-state residents so that they can participate in the Senate elections.
Also addressed at the press conference was speculation about a Dominion Voting Systems server crash on Sunday in Fulton County that spawned right-wing conspiracy theories about an effort by Raffensperger to have the systems' data wiped.
Sterling said the crash resulted from Fulton County election officials not following proper instructions and called it "a lie" to suggest the servers were ordered to be wiped. He blamed Fulton officials for fueling "rampant speculation" by not immediately and publicly addressing the matter.
A judge late Sunday ordered for the servers' data to be preserved.