Georgia GOP Governor Kemp's Approval Rating Drops After Extending COVID-19 Restrictions
Georgia Governor Brian Kemp's approval rating reportedly dropped after the Republican ordered that public health restrictions be extended due to the continued spread of COVID-19, according to the results of a new poll.
Kemp's order extending the restrictions—which include limits on gatherings and social distancing standards for businesses—went into effect on Monday and will continue through the end of the month. Cases of the virus in Georgia exceeded 391,000, including over 9,000 deaths, as of Tuesday, according to The COVID Tracking Project.
A poll released Tuesday by InsiderAdvantage/Fox5 Atlanta found that Kemp's approval rating was 37 percent among 800 likely voters, while 44 percent disapproved of the governor and 19 percent were undecided. The poll was conducted on Monday, with a margin of error of 3.5 percent. According to Fox 5, the figure represented a significant drop from the last poll that was taken.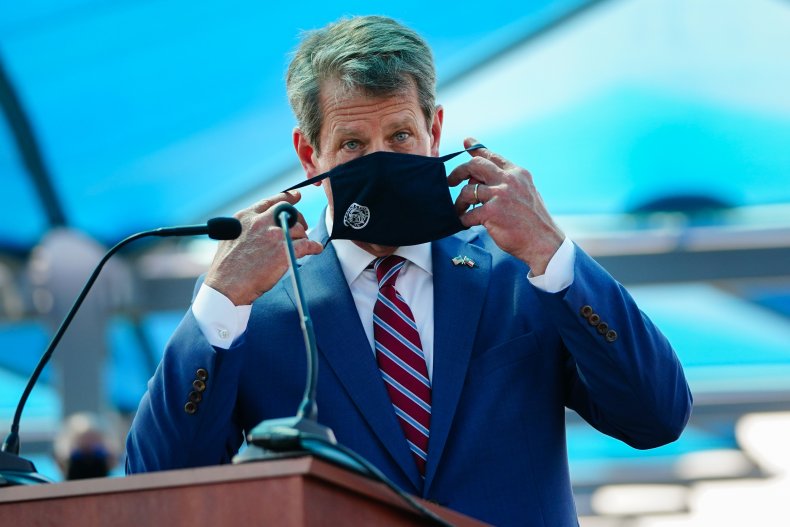 The poll also found that two Georgia runoff elections that will determine control of the U.S. Senate are currently deadlocked. Incumbent Republican Sen. David Perdue and Democratic challenger Jon Ossoff were tied at 49 percent each, while in the other race 49 percent favored Democratic challenger Raphael Warnock and 48 percent supported GOP Sen. Kelly Loeffler.
Kemp's COVID-19 restrictions do not include provisions that have become particularly partisan amid the pandemic, such as mandating the universal wearing of masks. However, the governor has also been under fire from President Donald Trump, who has continued to refuse to admit that he lost the presidential election to President-elect Joe Biden.
The president has made evidence-free claims that massive voter fraud was used against him in several key states that Biden won, including in Republican-controlled Georgia. Although Kemp would not have any authority to invalidate the legally cast votes that separate Trump and Biden, the president's anger over the matter may have had an impact on the governor's rating in the poll.
"The current war between Trump supporters and Governor Brian Kemp over Kemp's lack of vocal response to perceived election issues is not only impacting Kemp's approval ratings, but the Republican voter intensity and interest in the Senate runoff as of now," InsiderAdvantage Chairman Matt Towery said in a statement. "Donald Trump is uniquely popular with a vast majority of Georgia Republicans and it will require Trump to fire up the GOP voters."
Despite a lack of any evidence, Trump recently suggested that Kemp was involved in an unlikely conspiracy designed to "cheat" him out of the presidency by assisting Biden in winning the state with the help Georgia Secretary of State Brad Raffensperger, a fellow Republican.
"Georgia Secretary of State, a so-called Republican (RINO), won't let the people checking the ballots see the signatures for fraud," Trump wrote, repeating a false claim in a Friday tweet that was flagged by Twitter. "Why? Without this the whole process is very unfair and close to meaningless. Everyone knows that we won the state. Where is @BrianKempGA?"
"What are they trying to hide. They know, and so does everyone else," Trump later tweeted. "EXPOSE THE CRIME!"
Georgia's hand recount of the presidential election is expected to be completed on Wednesday. Since Biden holds an Electoral College advantage of 306 votes to 232 for Trump and 270 votes are needed to win, the president would need to overturn the will of voters in multiple states to reverse the outcome of the election. His continued efforts, including dozens of lawsuits that have been quickly dismissed, have so far fallen far short.
Newsweek reached out to Kemp's office for comment.