Georgia GOP Governor Says He Understands Trump's Frustration, But Maintains He's Following State Laws
Georgia Republican Governor Brian Kemp said he sympathized with President Donald Trump's frustrations over the election results in the state, but also maintained that he was "legally bound" to formalize the certification.
"I understand why he's frustrated. He's a fighter," Kemp said in an interview with the Atlanta Journal-Constitution published on Friday, prior to him certifying the electors."But at the end of the day, I've got to follow the laws of the constitution of this state and that's exactly what I'm doing."
"State law requires us to formalize the certification that the Secretary of State delivered earlier today," he added. "I'm legally bound to take this step."
On Friday morning, Republican Secretary of State Brad Raffensperger told reporters that President-elect Joe Biden had won the state of Georgia by over 12,000 votes after the state's 159 counties affirmed the results by a hand count of more than 5 million ballots cast.
Since the hand tally once again confirmed a leading margin below 0.5 percent, the Trump campaign has two business days to request another recount.
Kemp vocalized his frustrations in a Friday press conference shortly after Raffensperger officially certified Biden's win. The Republican governor hasn't publicly defended the state's election process after it suffered several attacks from Republicans alleging voter fraud.
He mentioned that votes had been discovered during the audit in Floyd, Fayette, Walton and Douglas counties that weren't originally tallied. Although these votes had no effect on the outcome of the election, Kemp called the audit "simply unacceptable." While Biden won Douglas County, Trump led in Floyd, Fayette and Walton.
"The secretary of state oversaw a complete audit, which revealed significant errors made in several counties, including Floyd, Fayette, Douglas and Walton," Kemp said. "It is important for Georgians to know that the vast majority of local election workers did their job well under unprecedented circumstances."
"However," he continued, "it's quite honestly hard to believe that during the audit thousands of uncounted ballots were found weeks after a razor thin outcome in a presidential election."
The hand count showed some slight differences from the machine tally, but no individual county showed a variation in margin larger than 0.73 percent and the variation in margin in 103 of 159 counties was less than 0.05%, according to the Associated Press.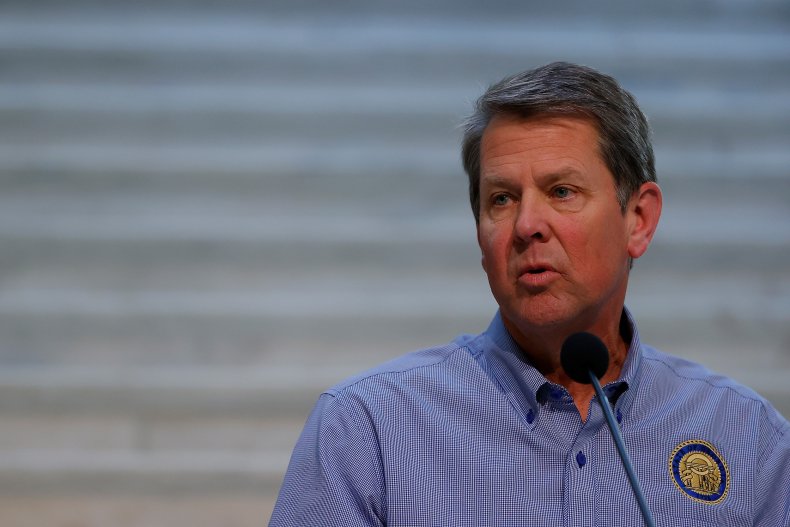 He also expressed concern that the audit didn't look at the signatures on the absentee ballot applications or absentee ballot envelopes, calling on Raffensperger to "consider addressing these concerns" and demanded that he get a "sample of audit of signatures on absentee ballot envelopes and compare those to the signatures on applications and on file that the secretary of state's office."
"As a former Secretary of State, [Kemp] is the first to know and confirm that a signature is matched twice prior to an absentee ballot being counted," Deputy Secretary of State Jordan Fuchs said in a Friday statement to the Associated Press.
Raffensperger's office added that the signatures on absentee ballot applications and envelopes are required to be checked when they're received and the audit only ensures that the voting machines counted the ballots correctly.
Republican lawmakers—including Georgia Senators David Perdue and Kelly Loeffler, who are facing hotly contested Senate runoff races in January—have blasted Raffensperger for "mismanaging" the election. Raffensperger said Friday that he plans to increase trust in election results by proposing legislative changes, including requiring photo ID for absentee ballots; adding stricter possibilities for challenges to addresses; and allowing state officials to intervene in counties with systemic problems in administering elections.
"Like other Republicans, I'm disappointed our candidate didn't win Georgia's electoral vote. Close elections sow distrust. People feel their side was cheated," he said.
But the state's Republican governor hasn't been exempt from attacks by the GOP, and especially not from Trump's tweets. On Friday, the president accused Kemp and Raffensperger of refusing to let his campaign look at the signatures on the ballots, alleging without evidence that they would prove a Republican victory.
"The Governor of Georgia, and Secretary of State, refuse to let us look at signatures which would expose hundreds of thousands of illegal ballots, and give the Republican Party and me, David Perdue, and perhaps Kelly Loeffler, a BIG VICTORY," Trump tweeted. "Why won't they do it, and why are they so fast to certify a meaningless tally?"
When asked by the Journal-Constitution about the message he had for Trump supporters who refused to accept his state's election result, Kemp assured them that Georgia "is not a blue state" ahead of the January runoffs.
"First of all, I'd tell them I am following the law. That's what I told them I'd do when I took my oath," Kemp said. "I'm frustrated with the outcome, but we've got to focus on the firewall in the U.S. Senate and voting Sens. David Perdue and Kelly Loeffler back to Washington to stop the drastic measures Democrats have embraced over the years."
"It is literally the one check we have left in the checks and balances in our country," he added. "I think we can send the strong message that Georgia is not a blue state."
Biden is the first Democratic presidential candidate to win the state of Georgia since 1992.