Georgia GOP Lawmakers Demand Removal of Coca-Cola Products From Office Amid Election Law Spat
Some Republicans lawmakers in Georgia sent a letter Saturday to Kevin Perry, president of the Georgia Beverage Association, demanding that all Coca-Cola products be removed from their office suites "immediately"—after the corporation came out against sweeping GOP-backed legislation that reformed the state's elections.
In their letter to Perry, eight members of the Georgia House Representatives—Victor Anderson, Clint Crowe, Matt Barton, Jason Ridley, Lauren McDonald III, Stan Gunter, Dewayne Hill and Marcus Wiedower—complained about Coca-Cola giving in to "cancel culture" before saying that they no longer wanted the company's products in their offices.
"Given Coke's choice to cave to the pressure of an out of control cancel culture, we respectfully request all Coca-Cola Company products to be removed from our office suite immediately. Should Coke chose to read the bill, share its true intentions and accept their role in the dissemination of mistruths, we would welcome a conversation to rebuild a working relationship," the eight Republican lawmakers wrote.
A spokesperson for Coca-Cola told Newsweek that the company is happy to continue dialogue with lawmakers in the southern state.
"We welcome the opportunity to continue meeting with any Georgia lawmakers who are interested in a productive dialogue about our concerns regarding the recently enacted election laws in our home state," the spokesperson said.
Democrats, activists and a number of business leaders have condemned the Georgia election reforms, saying that the changes significantly restrict access to voting. The Republican effort to change Georgia's election laws came after the traditionally conservative state flipped blue for President Joe Biden in the November election and again for Democratic Senators Raphael Warnock and Jon Ossoff in January runoffs. GOP lawmakers have used former President Donald Trump's groundless claims of widespread voter fraud to justify the bill.
The new Georgia law gives voters less time to request absentee ballots; implements strict voter ID requirements; makes it illegal for election officials to mail out absentee ballot applications; reduces the number of ballot drop boxes; and makes it a crime to hand out food or water to voters waiting in line to cast their ballots, among a number of other substantial changes. Republicans defend the law, arguing that it makes it easier to vote while ensuring elections are more secure. However, there is no evidence to back claims of widespread fraud or to show that the 2020 election in Georgia was not secure.
Democrats and President Joe Biden have condemned the voting changes in Georgia, describing the legislation as the "new Jim Crow." Activists and Democratic lawmakers view the bill as targeting communities of color, which historically have faced racist efforts to suppress their votes.
James Quincey, chairman and CEO, the Coca-Cola Company, released a statement on Thursday strongly criticizing the new Georgia legislation.
"Voting is a foundational right in America, and we have long championed efforts to make it easier to vote," Quincey said. "We want to be crystal clear and state unambiguously that we are disappointed in the outcome of the Georgia voting legislation."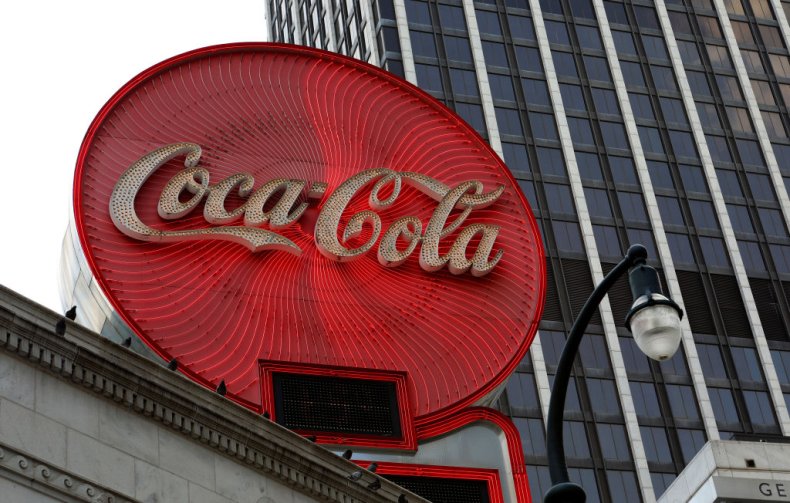 Delta Airlines, JPMorgan Chase, ViacomCBS, Citigroup, Cisco, UPS, Merck and Major League Baseball have all come out against Georgia's election changes in addition to Coca-Cola. Major League Baseball (MLB) has decided to nix its plan to host the 2021 All-Star Game and 2021 draft in Atlanta in response to the controversial law.
In response, Trump and Republicans have urged Americans to boycott Coca-Cola and other companies that have criticized the Georgia law. That effort comes as Republicans are simultaneously complaining repeatedly about so-called "cancel culture," in which products or individuals are condemned or boycotted for viewpoints or actions that others disagree with.
"Don't go back to their products until they relent. We can play the game better than them," Trump said in a Saturday statement.
This article has been updated with comment from a Coca-Cola spokesperson.