Georgia GOP Secretary of State Says Trump's Attacks on Him Were 'Clear Retaliation' for Not Taking Sides in Election
President Donald Trump and various GOP senators have publicly denounced Georgia Secretary of State Brad Raffensperger after he defended his state's voting process. Raffensperger, a Republican, told ProPublica that the constant jabs on his job performance were "clear retaliation" for previously refusing to endorse Trump.
"They thought Georgia was a layup shot Republican win. It is not the job of the secretary of state's office to deliver a win—it is the sole responsibility of the Georgia Republican Party to get out the vote and get its voters to the polls," Raffensperger said. "That is not the job of the secretary of state's office."
In January, Raffensperger declined to serve as honorary co-chair of the Trump campaign in Georgia and later rejected GOP requests to publicly show support for Trump, ProPublica reports. He noted that, if he were to take sides while overseeing an election, it could potentially be seen as a conflict of interest, especially when most secretaries of states in the country tend to remain neutral for this reason.
"It is our standard practice not to endorse any candidate," wrote Deputy Secretary of State Jordan Fuchs in an email to Robert Kirkland, a senior adviser for the Trump campaign, at the request of Raffensperger, according to ProPublica. "This policy is not directed at any specific candidate, but all candidates, as the Secretary oversees elections and the implementation of new voting machines here in Georgia."
In an ardent push for Raffensperger to endorse Trump, the secretary of state also reported that Kirkland stormed into a meeting uninvited to demand that he publicly support the campaign.
Trump has repeatedly attacked Raffensperger on Twitter after baselessly questioning Georgia's election results.
"Georgia Secretary of State, a so-called Republican (RINO), won't let the people checking the ballots see the signatures for fraud. Why?" the president tweeted on November 13. "Without this the whole process is very unfair and close to meaningless. Everyone knows that we won the state. Where is @BrianKempGA?"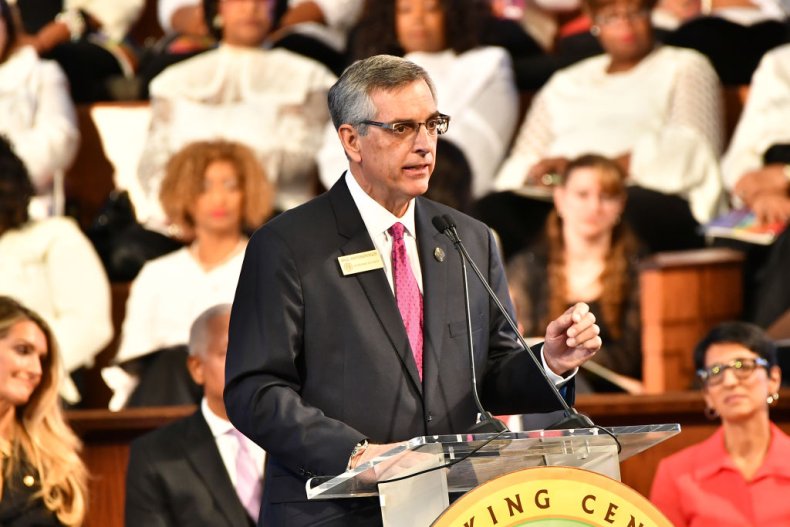 Raffensperger told The Washington Post on Monday that he had spoken to GOP Sen. Lindsey Graham, who questioned him about the signature-matching law in the state and whether political bias influenced poll workers from accepting or throwing out ballots. Graham also reportedly asked if Raffensperger had the power to toss out ballots.
Raffensperger told CNN's Wolf Blitzer on Monday that Graham, who has repeatedly questioned the validity of legally cast ballots, pressured him to reverse the results of Georgia's election.
"He asked if the ballots could be matched back to the voters," Raffensperger said. "I got the sense it implied that then you could throw those [out]…if you look at the counties with the highest frequent error of signatures. So that's the impression that I got."
"It was just an implication that of, 'Look hard and see how many ballots you could throw out,'" he added later.
Trump narrowly lost Georgia, a traditionally conservative state, by 14,000 votes in the initial count. Raffensperger ordered a hand recount last week of nearly 5 million votes with a deadline for counties by 11:59 p.m. on Wednesday in order to certify state election results by Friday.
Raffensperger said in a news conference last week that all allegations of voter fraud and election irregularities will be investigated, but there is no evidence to suggest that widespread voter fraud occurred and would subsequently change the result.
Last week, Georgia GOP Sens. David Perdue and Kelly Loeffler—both Trump supporters who face a runoff election against Democrats Jon Ossoff and Raphael Warnock, respectively, in January—called on Raffensperger to resign in a joint statement, calling the state's election results an "embarrassment." But Raffensperger has continuously defended the integrity of the state's election process and stated that that voter fraud didn't occur at a broad enough scale.
"Was there illegal voting? I am sure there was. And my office is investigating all of it. Does it rise to the numbers or margin necessary to change the outcome to where President Trump is given Georgia's electoral votes? That is unlikely," he said in a statement responding to Loeffler and Perdue.
Georgia congressional representatives also signed a letter to Raffensperger last week criticizing supposed irregularities in the election process.
On Monday, Rep. Doug Collins, who recently conceded a bid for the Senate seat against Loeffler, tweeted: "In a year of political division in Georgia, few things have unified Republicans and Democrats—one of them is Brad Raffensperger's incompetence as Secretary of State."
"If Trump and Collins were concerned about voter fraud, they would have proposed and passed legislation to fix it," Raffensperger told ProPublica, adding, "They did nothing, absolutely nothing."
Newsweek reached out to the Trump campaign for comment but did not receive a response in time for publication.