Georgia GOP Seeking to Remove Automatic Voter Registration, No Excuse Absentee Voting
Georgia Republicans are looking to tighten up voting laws after record voter turnout flipped the state blue in last November's general election.
A new "election confidence" report, calling for sweeping restrictions on voting, was approved by the Georgia Republican Party's Executive Committee this week. The measures being introduced in the GOP-controlled Legislature include efforts to ban automatic voter registration and to eliminate no excuse absentee voting. They also want to remove drop boxes for returning absentee ballots.
"The 2020 election revealed dramatic weaknesses in Georgia's system for conducting elections, and as a result, public confidence in the integrity of that system has been shattered," the report says.
In the 10-page report, the state GOP repeated unsubstantiated claims made by former President Donald Trump and his allies alleging that the election results were illegitimate because of widespread voter fraud—a claim Republican Secretary of State Brad Raffensperger disputed multiple times.
In November, Georgia voted for a Democratic president for the first time in nearly 30 years. Two months later, the GOP lost both Senate seats in narrow runoff elections and gave up control of the upper chamber to the Democrats.
A full hand audit of more than 5 million votes and a machine recount only reaffirmed Biden's victory, which was largely attributed to the efforts of voting rights activist Stacey Abrams and her organization, Fair Fight.
"An unlawfully cast vote cancels out a lawful vote and suppresses a lawful voter as thoroughly as if that voter was physically barred from the polls," Georgia Republican Party Chairman David Shafer said in a statement. "Every legal vote should be counted and every illegal vote rejected. All votes should be counted in the open and in accordance with the law."
The report also calls for third-party groups, such as the American Civil Liberties Union, to be barred from observing elections, leaving only partisan monitors to watch the election process and challenge ballots.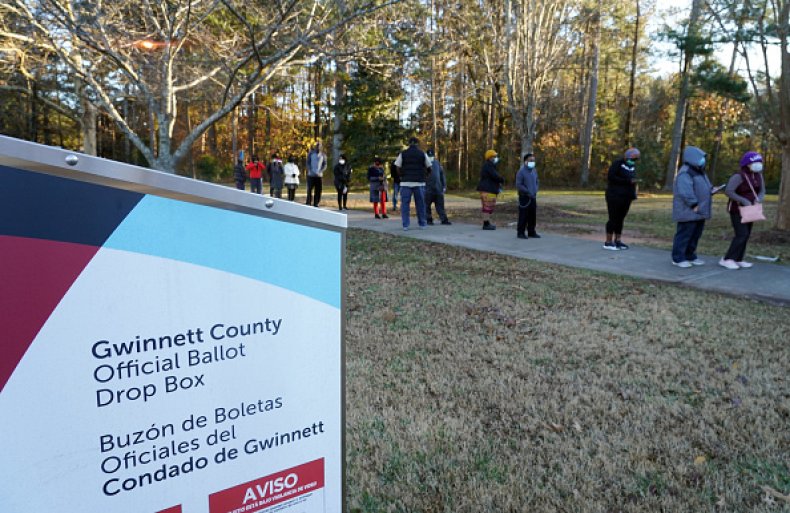 Governor Brian Kemp is among a number of Republican lawmakers who think absentee voting needs to be more secure but did not go so far as to side with Trump's election fraud claims.
"I do think there's things that we need to do, seeing how many people voted absentee. The demand and the volume is significantly more than we've ever seen in the past," Kemp said on the conservative podcast show Ruthless. "I think that gives us some reasoning to go into this session, which we're doing now, and consider other ways to make it easy to vote in Georgia but also hard to cheat."
Democrats in Georgia largely benefited from the expanded access to absentee voting in both the 2020 general election and the January runoffs. And it seems that Georgians want to see the same access in future elections.
A poll released last month by The Atlanta Journal-Constitution and the University of Georgia found that the majority of Georgia voters oppose efforts to eliminate drop boxes and no absentee voting.
In a recent fundraising email, the Democratic Legislative Campaign Committee said the proposal would "rig the playing field" in the GOP's favor.
"Republicans have decided that they cannot win fair elections, so they're doing their worst to make future elections unfair," the email reads. "All of these changes — should they become law — will make it so much harder to vote, which is exactly what Republicans want."
Newsweek reached out to Fair Fight for comment but did not hear back before publication.