Georgia GOP Sen. Perdue Quadrupled Stock Value by Selling Millions Before COVID Crash, Then Buying Back Weeks Later
As the coronavirus pandemic ravaged the U.S., Georgia Republican Senator David Perdue took steps that saw the value his stocks quadruple.
As COVID-19 was becoming a threat to the nation's economy on January 23, Perdue sold between $1 million to $5 million in Cardlytic stock—an Atlanta-based financial technology firm which Perdue reportedly served its board of directors—at $86 a share, according to congressional disclosures, reported on by the Associated Press on November 25.
Then when Cardlytics stock fell further in March, Perdue bought the stock again at $30 a share. He reportedly invested between $200,000 and $500,000 in the firm.
Perdue's Cardlytic shares have since quadrupled in value. On November 24, they closed at $121 a share.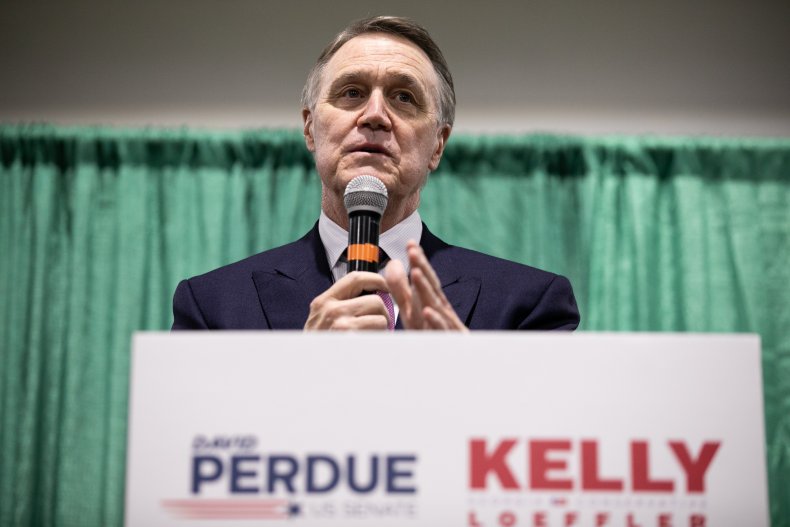 According to the AP, there is no evidence that Perdue acted on the information gained as a member of Congress or through his relationship with Cardlytic officials. Either way, it's illegal in the U.S. to use nonpublic information to make investment decisions.
Legal experts, however, claimed that the timing of Perdue's sale warranted suspicion.
"This does seem suspicious," John Coffee Jr., a Columbia University law school professor specializing in corporate and securities law, told the AP.
But, he continued, "You need more than suspicions to convict."
John Burke, a spokesperson for Perdue, told the AP that the senator had been cleared of these allegations of misconduct. But, they didn't provide further details.
"The bipartisan Senate Ethics Committee, DOJ and SEC all independently and swiftly cleared Senator Perdue months ago," said Burke.
Perdue's Cardlytic transaction was only one of many portfolio changes made during the early stages of the pandemic.
The Georgia senator also sold off some stocks, while investing in others that were predicted to fare well in the COVID-19 era. Protective equipment maker DuPont and pharmaceutical company Pfizer were among the companies Perdue invested, according to the AP.
Although Perdue's portfolio adjusted to fit the outcomes of the pandemic, publicly the senator said that the economy was strong, praising President Donald Trump for "the greatest economic turnaround in U.S. history," during a February 24 interview on Fox News.
Perdue's trades could pose a concern as the Republican faced against Democratic candidate Jon Ossoff for his reelection in Georgia's runoff.
Their race—one of two in the state—will help to determine Senate control and either secure or diminish Democratic President-elect Joe Biden's ability to get things done under his upcoming administration.
Republicans have 50 seats going into the next Congress and Democrats have 48. In order for Democrats to have a chance at controlling the upper chamber, they must win both seats open in Georgia's January 5 runoff election. Kamala Harris as vice president would break ties.
The second Senate race is between Republican Kelly Loeffler and Democrat Raphael Warnock.
Perdue's office did not respond to Newsweek's request for comment in time for publication.