Republican Senator Kelly Loeffler of Georgia will reportedly spend $4 million on advertising after internal Republican polling showed her 44 percentage points behind Republican Representative Doug Collins among GOP voters in their race for a Senate seat.
Loeffler, a former financial services executive and multimillionaire, was appointed to the U.S. Senate by Georgia Governor Brian Kemp after Senator Johnny Isakson stepped down on December 31, 2019 due to recurring health issues.
The poll, conducted for the Georgia House GOP Caucus, showed Loeffler garnering 11 percent support among all voters, essentially tying her with her Democrats opponents, Matt Lieberman and Raphael Warnock. Collins led the pack with 29 percent of voter support, according to the Atlanta Journal-Constitution.
But among Republican voters, Loeffler fared even worse. Collins led by a margin of 62-18, leaving Loeffler 44 percent behind.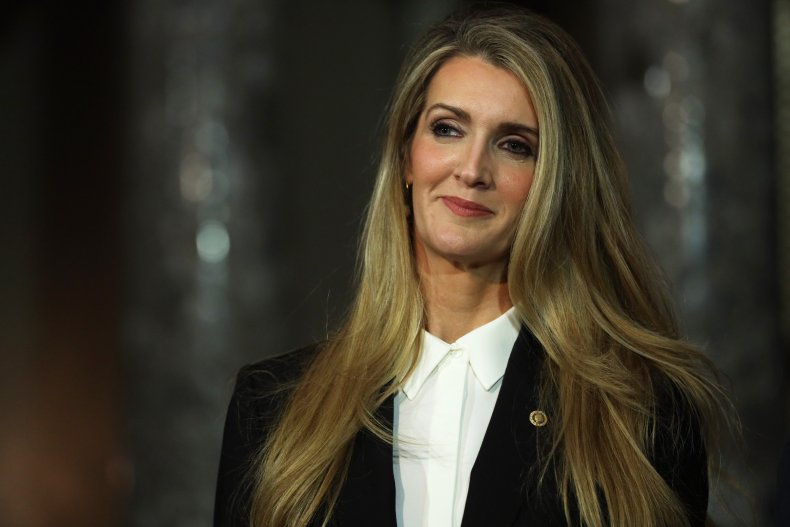 As of Monday, Loeffler announced a $4 million ad campaign for broadcast on Georgia's TV, cable, radio and digital platforms.
One of the three new TV ads highlights Loeffler's donation of her Senate salary to coronavirus efforts and a $1 million donation she made to the nonprofit run by the Phoebe Putney Memorial Hospital in Albany, Georgia.
The ad is meant to directly rebut what she calls "liberal lies" accusing the multi-millionaire former financial services executive and her husband, Richard Sprecher, chairman of the New York Stock Exchange, of selling $3.1 million in stocks just before the financial downturn, shortly after she received a January 24 Senate briefing on the coronavirus threat.
Loeffler has repeatedly claimed that Senate advisers and stock portfolio managers conduct all of her stock trades without notifying her of sales.
Loeffler is "a sitting U.S. Senator who has already spent nearly $10 million and is in 4th place. Her campaign is deader than disco," Collins spokesman Dan McLagan told the Atlanta Journal-Constitution. "No amount of money can fix this but her team is getting rich and won't tell her the truth."
Noting that the poll was conducted on behalf of a group led by House Speaker David Ralston, a Collins ally, Loeffler spokesman Stephen Lawson told the publication, "Kelly is focused on the millions of Georgians who are struggling to make ends meet during this global pandemic—not on a worthless poll manufactured by her opponents for an election that's six months away."
"Instead of trashing Trump, Kemp, and others who are delivering relief during this pandemic, maybe career politician Doug Collins and his allies should lift a finger and earn their taxpayer funded paychecks," Lawson continued.
Newsweek has reached out to Loeffler's campaign for comment. This story will be updated with any response.
While Loeffler's new ads may gain her some Republican support, she'll face more than 20 candidates from both parties on the November 3 ballot. The special election will likely lead to a January 2021 runoff election if no single candidate wins a majority of the vote.
The winner of the special election will serve out the two remaining years of Isakson's six-year term. A new election in 2022 will decide who takes over the seat for the following six years.