Georgia GOP Senator Perdue Will Skip Final Debate Against Dem Challenger to Attend Trump Event
Republican Senator David Perdue of Georgia called off his final scheduled debate with Democratic challenger Jon Ossoff only five days before Election Day in favor of attending an event with President Donald Trump.
Perdue nixed the final debate, planned to take place on Sunday, the day after he debated Ossoff in Savannah on Wednesday. A debate clip showing Ossoff attacking Perdue over his response to the COVID-19 pandemic and allegations of insider trading quickly went viral, gathering millions of views on social media.
"As lovely as another debating listening to Jon Ossoff lie to the people of Georgia sounds, Sen. Perdue will not be participating in the WSB-TV debate but will instead join the 45th president, Donald J. Trump, for a huge Get-Out-The-Vote rally in Northwest Georgia," Perdue spokesman John Burke said in a statement obtained by Newsweek.
Burke added that Perdue was "excited" to join the Trump rally and that not participating in the debate would help him "make up for lost time" by making over 20 campaign stops in the final days of the election. He insisted that the senator had spent the last 14 days working on COVID-19 relief efforts while blasting Senate Democrats for not joining Republicans in voting to confirm Supreme Court Justice Amy Coney Barrett.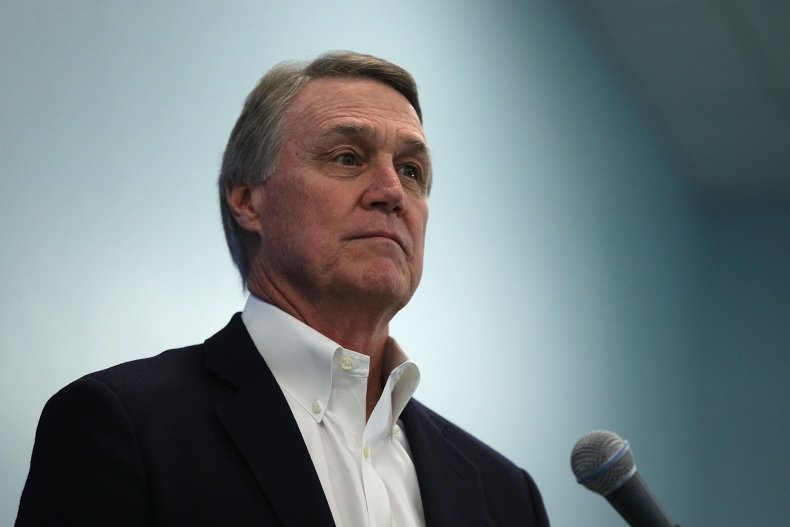 Perdue was one of several members of Congress who came under suspicion earlier this year for selling off stocks after attending classified briefings on threats posed by COVID-19. On the same day that Perdue attended a Senate briefing on the virus, he bought stock in DuPont, a company that produces personal protective equipment for health care workers, according to The Atlanta Journal-Constitution. Perdue says he did nothing wrong and that he was cleared of any wrongdoing.
In the viral debate clip, Ossoff called Perdue a "crook" who was "attacking the health" of his constituents by voting in favor of legislation that would allow health insurance companies to deny claims based on preexisting conditions, while charging the he had neglected to focus on the pandemic because he was too busy "fending off multiple federal investigations for insider trading."
Perdue has accused Ossoff of promoting a "radical socialist agenda" and of "being paid by the Chinese Communist government." After the final debate was cancelled, Ossoff called Perdue a "coward" and tied the decision to the incumbent being "exposed" during Wednesday's debate.
"At last night's debate, Senator Perdue was exposed for his personal corruption, his catastrophic failure and endless lies during this pandemic, and his ongoing efforts to deny health care to Georgians with pre-existing conditions just so insurance companies can make more money," Ossoff said in a statement.
"Senator Perdue's cowardly withdrawal from our final debate says it all: David Perdue feels entitled to his office, and he'll do anything to avoid accountability for his blatant corruption and his total failure during this unprecedented health crisis" Ossoff continued.
As of Thursday night, Ossoff was leading Perdue by a slim 3 percent margin in the two most recent polls of the race, from Monmouth University and Public Policy Polling. Overall polling of the contest was essentially deadlocked, with a RealClearPolitics average of recent polls giving Perdue a tiny 0.2 percent lead.