Georgia GOP Senator and WNBA Team Co-Owner Blasts Players for Walking Off Court During National Anthem
Georgia Senator Kelly Loeffler publicized her disapproval of the Women's National Basketball Association (WNBA) openly supporting Black Lives Matter again on Saturday. The Republican lawmaker's latest criticism came after New York Liberty and Seattle Storm players staged a national anthem walkout during an earlier game.
Loeffler described the walkout as "shameful" on Twitter Saturday afternoon.
"This isn't unifying Americans. It's a political stunt that disrespects every man, woman & child who has given their life for this country," wrote the senator, who is running for reelection in Georgia this November.
As a co-owner of the WNBA's Atlanta Dream, Loeffler clashed with the athletic organization over its recently announced social justice initiative.
"The WNBA has fully embraced the BLM political movement & turned its back on the American flag," Loeffler's tweet continued. "That's not sports-that's politics."
The WNBA, which allowed teams to return to the courts this weekend after an extended hiatus due to COVID-19, previously shared its plans to use the renewed season, in part, as a platform for advocacy.
In a press release issued ahead of its opening weekend, the WNBA said Breonna Taylor's name would appear on all players' uniforms to "raise awareness and seek justice for the women and girls who have been the forgotten victims of police brutality and racial violence."
"Black Lives Matter" and "Say Her Name" would additionally appear on all warm-up gear. New York Liberty and Seattle Storm players are seen wearing the apparel in videos recorded during Saturday's game.
Black Lives Matter demonstrations have taken place across the world since Minneapolis resident George Floyd, a Black man, died in police custody on May 25. His death sparked widespread demands for police reforms and accountability, with protesters seeking justice for others who died during fatal interactions with law enforcement, such as Taylor.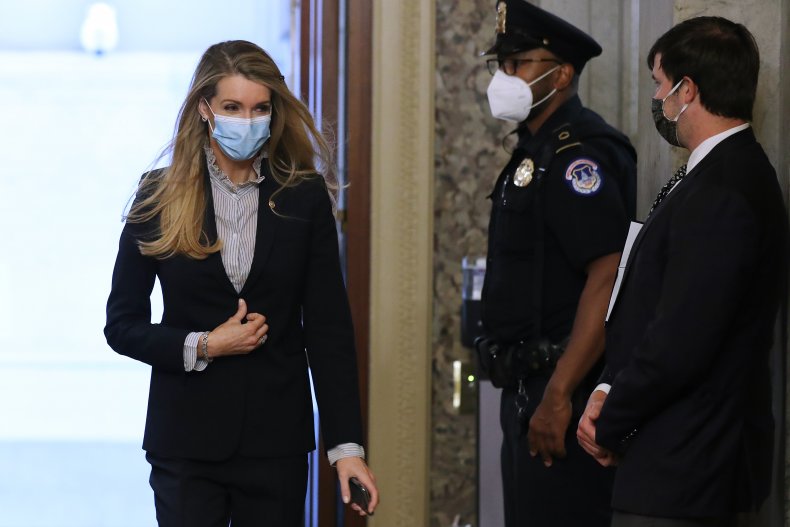 The WNBA noted that all teams will wear uniforms and warm-up gear displaying Taylor's name and BLM during opening weekend games on July 25 and July 26. Players can choose to continue wearing the apparel during future games.
Loeffler rejected the WNBA's initiative in a letter to the organization's commissioner, Cathy Engelbert, earlier this month. After the Atlanta Journal-Constitution published it, the WNBA released a statement from Engelbert in response.
"Sen. Kelly Loeffler has not served as a Governor of the Atlanta Dream since October 2019 and is no longer involved in the day-to-day business of the team," Engelbert said in the July 7 statement.
Loeffler told ESPN last week that she intends to remain a co-owner of the Atlanta Dream.
"They can't push me out for my views," she said. "I intend to own the team. I am not going."
Newsweek reached out to Loeffler's campaign, the New York Liberty, Seattle Storm and Atlanta Dream for comments, but did not receive replies in time for publication.