Georgia GOP Senators Back Texas AG's Lawsuit to Overturn Their Own State's Election
Nearly half of Georgia's Republican state senators praised Texas' attorney general for filing a lawsuit with the Supreme Court in a long shot bid to overturn their state's election results.
President-elect Joe Biden was projected as the winner more than a month ago, but President Donald Trump has refused to concede. Trump and many of his Republican supporters have pushed unsubstantiated claims of widespread vote fraud, alleging that the election was "rigged" to favor Biden. Nearly every legal challenge brought by the president and his supporters has been dismissed in court, as judges have repeatedly noted that they have not provided evidence to support their often bizarre claims.
Texas Attorney General Ken Paxton sued Georgia, Michigan, Wisconsin and Pennsylvania in the Supreme Court on Tuesday, aiming to overturn the results in the four states. Biden carried Michigan by a margin of more than 150,000 votes, Pennsylvania by more than 80,000 votes, Wisconsin by more than 20,000 votes and Georgia by nearly 12,000 votes. The results in Georgia have now been confirmed by two recounts.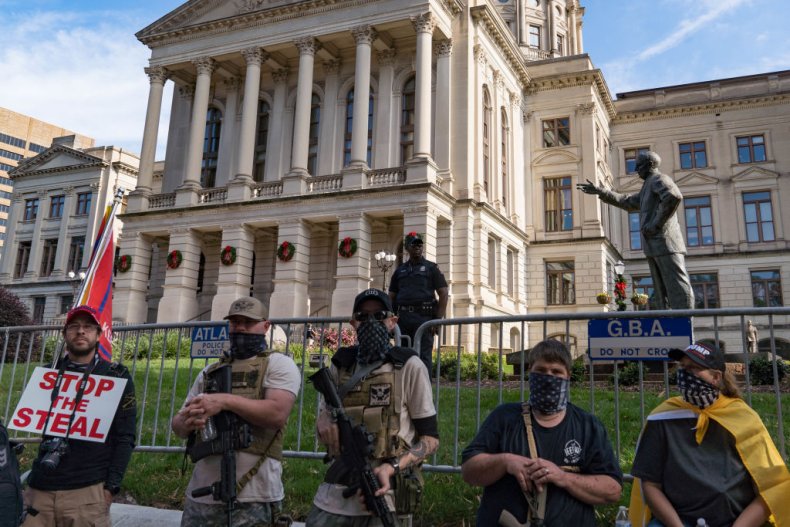 But 16 of Georgia's 34 GOP state senators lauded Texas for bringing the lawsuit.
"We applaud the State of Texas for recognizing that the failure of the State of Georgia to follow its own election laws has violated the Equal Protection Act of the U.S. Constitution," they said in a statement. "This systemic failure to follow the law has allowed misconduct, fraud, and irregularities throughout the voting process of this state." The Republican lawmakers went on to "urge" the Supreme Court to take up the case.
Katie Byrd, a spokesperson for Georgia's Republican attorney general, Chris Carr, criticized the Texas lawsuit in Tuesday remarks. "With all due respect, the Texas attorney general is constitutionally, legally and factually wrong about Georgia," she told Newsweek in an emailed statement.
Georgia, a historically red state, is led by an executive branch composed entirely of Republicans—several of whom were previously endorsed by Trump. The state's secretary of state, Brad Raffensperger, a Republican who voted for and donated to Trump, has slammed the misinformation and baseless claims promoted by the president and his supporters—pointing out that the state held a free and fair election. Trump has described Raffensperger as an "enemy of the people" for refusing to overturn his state's results.
"Whether it's the president of the United States or a failed gubernatorial candidate...disinformation about election administration should be condemned and rejected," Raffensperger said Monday as the state certified its results.
The Supreme Court on Tuesday rejected a separate lawsuit brought by Representative Mike Kelly, a Pennsylvania Republican, to overturn the election results in his state. None of the Supreme Court's justices dissented.