Georgia Gov. Kemp Bans Cities from Mandating Masks as COVID-19 Cases Surge
Georgia Governor Brian Kemp has issued an executive order that explicitly bans local officials from requiring that masks be worn in public while the state continues to experience a surge in cases of COVID-19.
Kemp on Wednesday extended several public health provisions like limiting gatherings and enforcing health guidelines for restaurants until the end of July. However, the governor's order also prohibited cities and counties from issuing requirements that masks, face shields or any other kind of personal protective equipment be worn in public, invalidating face covering orders that had already been issued by at least 15 localities.
COVID-19 cases in Georgia have continued to pile up after beginning to rise dramatically late last month. There were 3,871 new confirmed cases reported on Wednesday, bringing total cases to 127,834. The state also reported 37 new deaths, with 3,091 deaths since the pandemic began. More than 14,000 people had been hospitalized with COVID-19, over 2,700 of those in intensive care.
Kemp has resisted calls to issue a statewide mask order despite the surge in cases and a scientific consensus that masks are effective in reducing transmission. He instead "strongly encourages" residents to wear masks, although there is no requirement to do so and many have refused.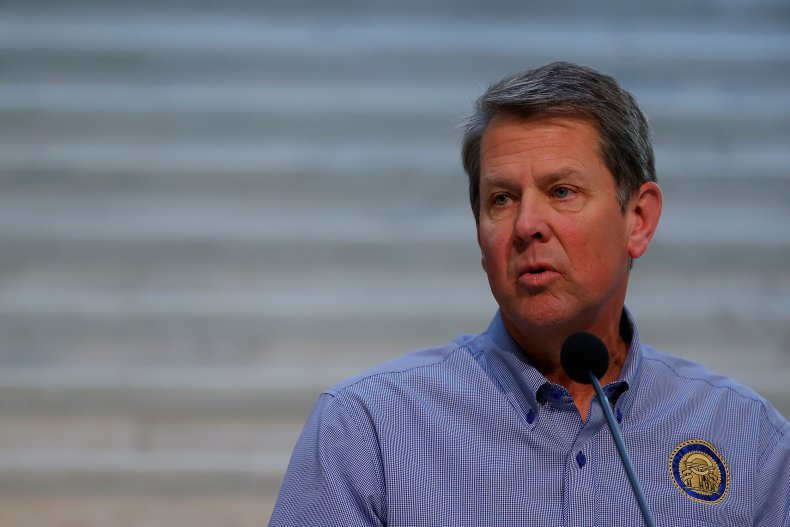 The Republican governor has also resisted moves to roll back reopening plans in light of the surge, including attempts to tighten public health measures pertaining to restaurants and bars, instead defending his looser restrictions as "common sense."
Some officials who had attempted to quell the outbreak by issuing mask requirements reacted to Kemp's new order with outrage.
"It is officially official. Governor Kemp does not give a damn about us," tweeted Savannah Mayor Van Johnson, who had been the first official to issue a mask order in the state. "Every man and woman for himself/herself. Ignore the science and survive the best you can."
"In #Savannah, we will continue to keep the faith and follow the science," he added. "Masks will continue to be available!"
Last week, Kemp's office issued a statement blasting a mandatory mask order from Democratic Atlanta Mayor Keisha Lance Bottoms, while suggesting that the governor's own order that does not mandate masks be worn could be more effective in stemming the tide of the virus.
"Like all of the local mask mandates, Mayor Bottoms' order is unenforceable," Kemp spokeswoman Candice Broce said in the statement, according to The Atlanta Journal-Constitution. "We continue to encourage Georgians to do the right thing and wear a mask voluntarily. If the Mayor wants to flatten the curve in Atlanta, she should start enforcing the current provisions of the Governor's orders."
Georgia's state of emergency due to the virus is currently slated to extend until August 11, while existing public health restrictions could expire on August 1.
Newsweek reached out to Kemp's office for comment.